'The Voice' 2020 Battles Part 2 Recap: Who Left, Who Got Stolen, Who's Headed To The Knockouts on Season 18, Episode 7?
The first round of The Voice 2020 battles begin on Monday night. Check out our live-blogged recap and results for Season 18, episode 6 here.
The teams are already starting to thin out on Season 18 of The Voice.
The battles will continue on the NBC singing competition on Monday, during which coaches Blake Shelton, Kelly Clarkson, John Legend and Nick Jonas will pair members of their teams for a singing showdown. After practice sessions with the help of team mentors, contestants will sing a song together in front of all of the coaches for their chance at moving forward in the competition. Following their sing-off, coaches will have to decide which of the two artists will head to the knockouts.
Coaches do have the chance to save an artist from elimination, and they each have the opportunity to steal an eliminated artist from another team. However, they each only get one save and one steal for the season.
Last week saw the elimination of three artists—Zach Day, Chelle and Jamal Corrie—while Team Blake's Joanna Serenko was stolen by John and Michael Williams was saved by his coach Nick. This week, we'll say goodbye to a few more hopefuls while others get to save their breath for the next round.
As The Voice airs, we'll be on hand providing live-blogged coverage of the show as well as the results for who is saved, stolen and sent home. If you missed any of the blind audition performances, check out our earlier live-blogged coverage here.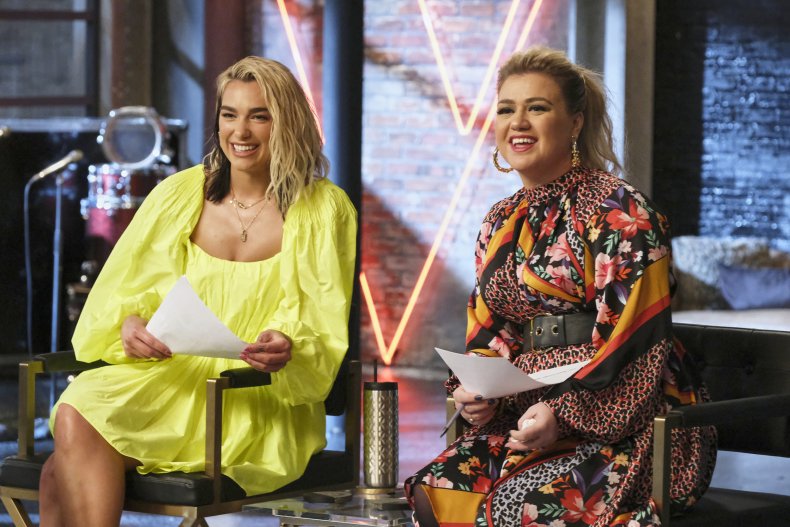 The Voice Season 18, Episode 7 Battles Part Two Results
Team Blake:
Toneisha Harris—winner
Jacob Daniel Murphy—eliminated
Cam Spinks—winner
Kailey Abel—eliminated
Team Kelly:
Gigi Hess—eliminated
Micah Iverson—winner
Team John:
CammWess—stolen by Kelly
Mandi Castillo—winner
Nelson Cade III—saved by John
Darious Lyles—winner
Team Nick:
Anders Drerup—eliminated
Tate Brusa—winner
The Voice Season 18, Episode 7 Battles Part 2 Live Blog
8:00:
Coaches Nick Jonas, Kelly Clarkson and John Legend make their way to their seats while Blake Shelton checks up on the first of his team members to hit the stage. Toneisha Harris and Jacob Daniel Murphy are up first, but before they hit the stage we get to see the behind-the-scenes moments from their song rehearsals with Blake and his team's mentor, singer Bebe Rexha. The contestants will be singing Lizzo's "Good as Hell," and Bebe thinks both artists have what it takes to come out the winner in their battle round.
8:08:
Toneisha and Jacob finally hit the stage and they totally kill it. Their energy is high and they both sound great. Jacob clearly took Bebe and Blake's advice of showcasing his falsetto and Toneisha knocks her powerhouse runs out the park. Blake has a tough decision ahead of him.
8:10:
All the coaches are out of their seats applauding the duo for their outstanding performance. Blake is especially proud. "In case it wasn't obvious, that's Team Blake," he said.
Nick was impressed with Jacob's energy and Kelly calls him a firecracker, while Toneisha is showered with praise from John.
8:13:
Blake names Toneisha the winner of the battle. With no save or steal, Jacob's run on The Voice ends here.
8:16:
Back from commercials and a cute video of Nick trying to teach Blake how to make a Tik Tok video plays before we get back into the competition. Next up is Team Kelly members Gigi Hess and Micah Iverson. Both contestants were thrilled to meet Dua Lipa, who is their team mentor.
Gigi and Micah will be singing Lewis Capaldi's "Someone You Loved," and Kelly is already worried about having to choose between the two contestants just from watching them in rehearsals. Dua is also blown away by the pair. "I'm really really excited about you guys," Dua said.
8:22:
Kelly falls even harder for the pair after watching them perform during the stage rehearsals. She even started crying watching them sing the song together. Unfortunately, we'll have to wait until after the commercial break to see the artists in action.
8:28:
We're back! Gigi and Micah hit the stage with their joint cover of "Someone You Loved." Gigi seems a bit nervous but she pulls through with strong runs. Micah also shows off his powerful vocals. They sound great together, almost as if they're performing a duet.
8:31:
All the coaches were impressed with both artists, however, Micah's confidence shined brighter than Gigi, winning him the votes of both Nick and John. Kelly noticed it too, but she couldn't deny Gigi's talent either.
In the end, Kelly chooses Micah.
"Micah is an incredible vocalist. I would be shocked if he wasn't in the finale," Kelly told producers.
8:33:
Nobody steals Gigi, and Kelly opts to not save her. So she ends her run on The Voice here.
8:38:
Back from commercials, and the next contestants to battle it out are CammWess and Mandi Castillo of Team Legend. They're both excited to work with Ella Mai, who is the mentor for John's team. They'll be singing "Señorita" by Camila Cabello and Shawn Mendes.
Ella is fond of both artists and says CammWess reminds her of John's vocals. John enjoyed watching the pair at practice but advised them to amp up the chemistry of their performance. "We want vibe between y'all," John said.
"I want charm. I want sexy. I want a rapport between the two of you," John instructed.
8:44:
A prerecorded video depicts CammWess and Mandi honing in on their charm and chemistry during rehearsals. It seems as though everything their coach requested of them is coming together. We'll see how well they do once we're back from commercials.
8:49:
CammWess and Mandi finally take the stage, and they bring the spice John was looking for. It's a flirty and sensual performance, and they both show off their vocal range in a way that lands them a standing ovation from the coaches.
Nick said it was a perfect song for the duo but noted he was really "blown away" by Camm. Kelly says she has a "complete musical crush" on Mandi. Blake said Mandi killed it but Camm sold him on his "shy but cool" personality.
"You both are fantastic singers and I really enjoy both of you so much," John said, admitting he was "back and forth about who to pick."
8:54:
It was a tough decision. And we'll have to wait until after commercials to find out who John picks.
8:59:
John decides to go with Mandi.
9:00:
Just as CammWess was preparing to leave the stage, Kelly makes a last-minute decision to steal the artist. So he's now Team Kelly.
9:01:
Next to perform in the battles are Team Blake contestants Kailey Abel and Cam Spinks. They'll be singing "What Ifs" by Kane Brown and Lauren Alaina. During rehearsals, their team mentor Bebe encourages both singers to let loose. "I feel like you both sound really incredible, but you're not owning it," Bebe said.
Both Bebe and Blake tell Cam to let go of some of his reservations and be more open-minded in performing material he's not necessarily used to. As for Kailey, they want her to push herself outside of her vocal comfort zone.
9:11:
We're back from commercials. Cam and Kailey hit the stage with a chilling performance, and it's clear they really took Bebe and Blake's advice to heart. Cam seems more confident than we've seen so far in the competition, and Kailey belts out high notes like never before.
9:14:
Blake noted the pair really struggled with the song at practice but they really pulled it together for their final run. The coaches are split on who they'd choose between the two. John and Kelly are fans of Cam while Nick is rooting for Kailey.
"So the song was completely not what you do. Both of you stepped up to the plate and it was a great performance. You put the work in, and I'm happy for you about that," Blake said.
9:17:
In the end, Blake chooses Cam.
9:22:
Team Nick contestants Anders Drerup and Tate Brusa, and they're overjoyed to work with Nick's brothers Kevin and Joe Jonas, who are their team mentors. The guys will be singing "Circles" by Post Malone, which Nick notes will be a tough song for both Anders and Tate.
At stage rehearsals, the pair look a little bit more comfortable with the material. We'll see how well they do once we're back from a quick commercial break.
9:32:
The battle begins for Anders and Tate. They mesh together a lot better in their stage performance, and it seems as though they've made the adjustments Nick and his brothers recommended during practice.
Kelly was moved by Anders' "big ole voice," and she was really impressed with Tate's interesting raspy tone. Blake, surprisingly, agrees with Kelly. John thought Anders was a more gifted vocalist but thought Tate had a more interesting tone.
As for Nick, he thought they were both great.
"Anders, this song was uncomfortable for you. I pushed you to go this direction. You did your thing with it," Nick said. "Tate, you are a phenomenal singer and there's something about you that I'm drawn to."
9:38:
Nick proclaims Tate the winner of the battle.
9:43:
The last acts of the night include Team Legend contestants Nelson Cade III and Darious Lyles. The guys are ecstatic to have Ella on hand as their team mentor and to help them work through the cover of the song they'll be singing, the rock classic "Come Together."
During rehearsals, both John and Ella were blown away with their voices. However, Ella and John advised Nelson to own the song and showcase his interesting tone a bit more.
We'll get to see them duke it out on stage right after a quick commercial break.
9:54:
Darious and Nelson take the stage and delivered a totally rocking performance. For neither of them to be rockers, they sure know how to jam out. John is out of his seat with praise for both of them.
Nick said the guys lit the stage on fire. Kelly loved Nelson's rasp as well as Darious' vocal range. Blake said he knew it was going to be a tough decision for John to make, but he would go with Darious.
"I was so proud, first of all. Every note we talked about in rehearsal it was addressed appropriately," John said.
9:58:
John admitted it was a really difficult decision to make. Overall, he names Darious as the winner. John also uses his one save to keep Nelson on his team.