Nick Jonas Fans Will See Just How Competitive He Is on 'The Voice' Season 18, Says Executive Producer Audrey Morrissey
If you thought The Voice couldn't get any more competitive, guess again. The show's 18th season, which will premiere this Monday, may just be the most rivalrous yet, thanks to the addition of new coach and platinum-selling singer Nick Jonas.
Jonas will make his grand debut on the NBC music competition when it premieres on Monday. Replacing previous coach Gwen Stefani, he'll be taking a seat in a red swivel-chair next to coaches John Legend, Kelly Clarkson and Blake Shelton, all of whom already have quite the reputation for competitive banter.
Fans shouldn't be too worried about Jonas fitting in with his older, experienced counterparts, though. Despite being the youngest coach in The Voice history, he holds his weight all on his own, and he certainly has the superstar power to back him up.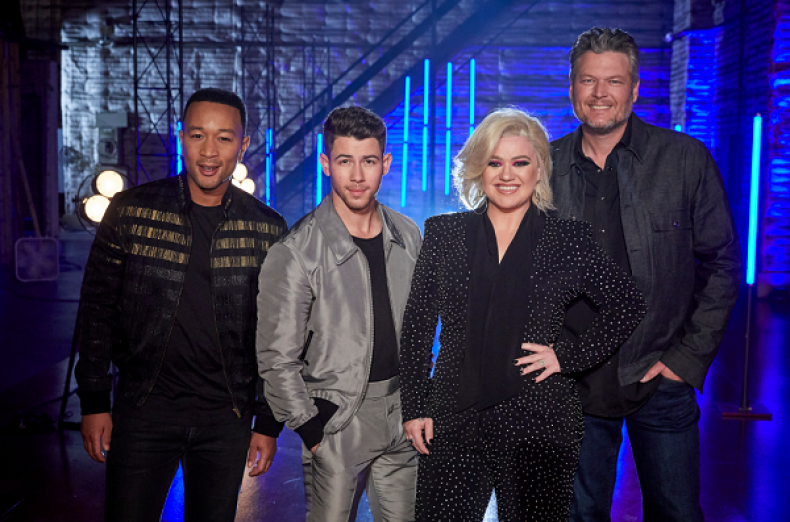 "It's always fun when we change a coach because it adds a new dynamic and a new personality that the other coaches have to learn how to contend with. They have to learn what each other's strengths are—certainly during the Blind Auditions when they make appeals to artists to go on their teams. And [Legend, Clarkson and Shelton] will have to contend with Nick Jonas, who is certainly at a career height right now," Audrey Morrissey, The Voice's showrunner and executive producer, told Newsweek in a phone interview.
"There's a ton of competition this season because Nick's very competitive. They're all really competitive," she added.
Morrissey has been with The Voice since it debuted nearly 10 years ago. And while the reality competition program has made changes and grown, welcomed new coaches and said goodbye to ones of old, there is always one element that remains the same no matter how badly each coach wants to win: it's all about the artists.
Season 18 will put the spotlight on dozens of aspiring musicians and singers derived from cities all across the U.S. And just as the coaches have squabbled over choosing artists for their teams, they'll continue to support the many new talents throughout the duration of the competition—that is, until one sensational singer is crowned The Voice of America.
"It's going to be The Voice at its best. All the things you love about the show and more," Morrissey said.
Read Newsweek's full interview with The Voice executive producer and showrunner Audrey Morrissey below.
This interview was edited and condensed for purposes of length.
You guys have had quite a run with The Voice.
It's shocking. I'm so happy. Did I think we'd be going for 18 seasons when we started? No. I had no idea. No one did.
It seems like the talent pool gets even more impressive as the seasons go by.
Every season we have incredible talent. I'm always amazed. I don't know where these people come from. Every season we think, "Are we going to find great people again? Haven't we scoured the whole country? Who could be left that we haven't found?" And every season we're shocked. Yes, some of the people are young teenagers who are just starting out, and others maybe have already given it a go or are more serious and purposeful. The one thing that's common with all of them, though, is they're excited to get coaching. They're excited to learn from the best and take that with them down the road. It's a win for everybody.
What has Nick Jonas brought to the show?
He's awesome. He is so great. He is actually the youngest coach that we've ever had, and he reminds the others of that often. He's getting along great with everybody and flowed right into the rhythm of the show. There are lots of laughs. It's good. Fans will really get to know him. That's the great thing about being a coach on The Voice. Fans really get to see [the coaches] and get to know them a lot better.
The bond between the coaches and contestants is one of the most rewarding aspects of the show. Was that always the intention behind creating a music competition under this format?
Since we've been producing this show, that has been a really strong element. It's an asset of The Voice. People love seeing that. It humanizes [the coaches] in their real raw form and their empathetic form. They're really caring people. They really care about their team and they can relate to the contestants. They've been in that exact same position—trying to make it and become an artist. In the case with Kelly, she really was on a singing competition show [American Idol, 2002]. So she really has been in their exact position. I think for Nick, what people will realize—if they don't already know—is that he's been doing this for a very long time. He got his start as a very young man working professionally in entertainment. He's got a lot of years under his belt and has a lot of knowledge to impart on his team.
Is there something that still excites you about The Voice after all this time?
To be honest, it's the artists. I find this show really meaningful. There are real relationships that form and real growth that happens. That's everything to me. Everybody that works on the show really believes in it, and every time we see this new group of artists come through during the Blind Auditions, we all become invested. It's crazy, because it's been 18 seasons, and you might think that after a while we wouldn't be as invested. But that's just not the case. We still get a fire in our bellies. We still fall in love with these people and care about them and want to help them go down their own path, whatever that is. That's the thing that doesn't wane and is consistent. It's the real fabric of the show. The other layer on top of that is just the fun—the fun camaraderie and lighthearted competitiveness between the coaches. They have a lot of fun together. Therefore, we all have a lot of fun. We all love our jobs.
How do you get anything done with Blake constantly joking around?
It's crazy! Just when you think you've heard all his jokes, here he comes with more to say! He's so quick-witted. He's so funny. He's been doing this for 18 seasons, too. It's a big part of his life. The show's been on for nearly 10 years now. It's incredible.
What do you want for the show in the future?
I'd love for The Voice to go on for as long as people will enjoy it because I think it has a real place on American television and in pop culture and artistic communities for aspiring singers. We're always trying to find openings and windows to make little changes. But at the same time, the core values and mechanics of the show are still good, and they work. You don't want to mess with it too much and mess with what's so special about the show. So it's really a balancing act when you think of that, and we're constantly thinking about it. You have to be really thoughtful when making changes on a show like The Voice because, for many people that are fans, they love it. Over the years we've added things like the option to Steal during The Battles, and a few seasons back we added the Block. That was a little more controversial when we added it, but it's found its place and it's definitely used by the coaches strategically. We're always trying to be mindful of potential changes.
Is there a winner or artist from previous seasons that stand out in your mind the most?
I always remember Season 1 for sure, Javier Colon. That was the season that started it all. I always remember Jordan Smith. He was certainly a standout just for how he got on the show. Everybody thought he was a girl before they turned their chairs because he had such a crazy range. There's so many. Jake Hoot. There's so many. The funny thing is, I don't just remember the winners, I remember the others that didn't win or maybe didn't even become a finalist. They just had something about them that was great and that sticks with you.
The Voice returns to NBC with Season 18 on Monday at 8 p.m. ET.