These Are All The Singers Headed into the Battles on 'The Voice' Season 18
Blake Shelton, Kelly Clarkson, John Legend and Nick Jonas have officially filled their Season 18 teams for The Voice—and now it's time for the coaches to make some cuts.
During a thrilling few weeks of blind auditions, each of the coaches picked 10 contestants to move forward in the NBC singing competition. Now that their rosters are full, the artists will duke it out on stage during the battle rounds, which begin on Monday.
As always, coaches will pair two artists from their teams to perform the same song together during the battles. Then coaches will have the hard decision of picking one member to move on to the next phase of the competition—the live shows—while the other is sent packing.
Before teams slim down, get to know a little more about the 40 artists who wowed the coached during the blinds and landed a spot on Season 18 of The Voice.
Team Blake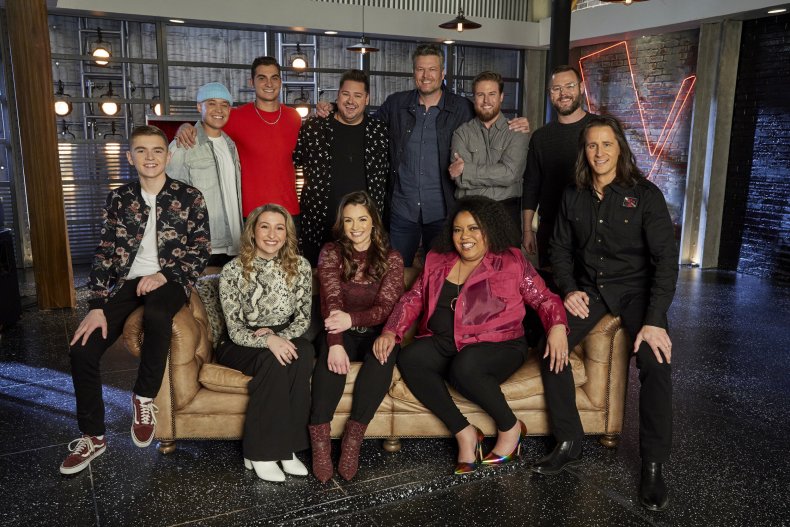 Cam Spinks
It's no surprise 29-year-old Spinks chose to roll with Team Blake after blowing both Shelton and Clarkson away with his cover of Pat Green's "Wave on Wave" during the blind auditions. Country music, which Shelton is widely known and praised for, is the genre Spinks loves and appreciates the most. Versed in the guitar and harmonica, Spinks was already performing his own songs locally before joining The Voice, and he's even released three EPs on Apple Music.
Jacob Daniel Murphy
California native Murphy flexed jazzy, bluesy vocals and a few stunning high notes during his performance of Aretha Franklin's "Until You Come Back to Me" during the blinds, but the 27-year-old is a fan of all genres and styles of music and is open to performing just about all of them. Before landing a spot on Shelton's team, Murphy was working at a recording studio, where he first started learning about the music industry.
Jamal Corrie
A musical prodigy, 26-year-old Corrie was 12 years old when he first began composing music. He completed two instrumental albums by the time he was 14. A full-time musician, the Illinois native plays eight instruments—which he self-taught himself—and would often perform on the street in his new residence of California before securing a spot on Team Blake.
Joei Fulco
Born in Tennessee, Fulco was a two-year-old when she began singing in her dad's band. She belted out "Jingle Bells" in front of an audience of more than 2,000 people. Fulco, 22, continues to perform as a full-time musician alongside her siblings in the family band.
Jon Mullins
The 32-year-old got his first shot at performing after he joined an a cappella group during high school in his Virginia hometown. He expanded his musical repertoire and studied the guitar and vocal performance in college, where he also began writing his own music. After university, Mullins and his wife relocated to Tennessee so he could pursue his dreams of becoming a professional performer.
Kailey Abel
Nineteen-year-old Abel auditioned twice before she finally charmed the coaches with a cover of "Forever Young" by Alphaville. Growing up in small-town Oklahoma, Abel began performing when she was a little girl, singing on stage at her father's church. In addition to appearing on The Voice, Abel's currently studying music therapy at Tulsa's Oral Roberts University.
Levi Watkins
The youngest member on Team Blake, 14-year-old Watkins discovered his love of for singing and playing the guitar when he was just a kid. Although his schedule is pretty busy with high school studies and running a lawn mowing service he started with one of his brothers, the Alabama native spends much of his downtime honing in on his craft. His blind audition cover Train's "Hey Soul Sister" marked his first performance in front of an audience.
Todd Michael Hall
The oldest member of Team Blake—and the overall competition—50-year-old Hall first began performing decades ago when he joined his brother's band at age 15. However, his music career was put on a halt when he joined his family's manufacturing company in Michigan after college. Only after marrying and raising his three children did Hall begin performing professionally again in his heavy metal band, Riot.
Todd Tilghman
Mississippi resident Tilghman is a lead pastor at his neighborhood church, but he's enjoyed singing for most of his life. His decision to audition for The Voice was 41-year-old Tilghman's effort to pursue a lifelong dream.
Toneisha Harris
The Maryland native started singing professionally in her mother's traveling gospel group when she was 12 years old. She later decided to pursue a music career as an R&B singer when she was 15. However, her dreams were put on old later on in life when her son was diagnosed with leukemia. Now that her son is living cancer-free, 44-year-old Harris is taking another shot at becoming a full-time singer.
Team Kelly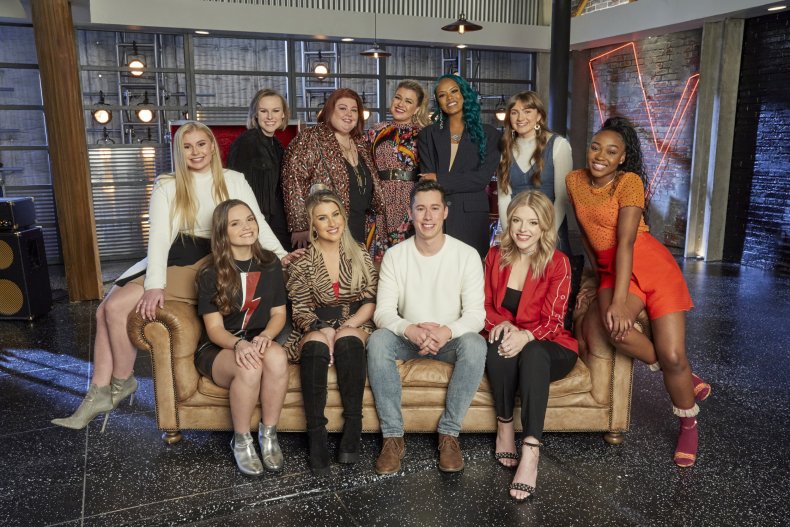 Anaya Cheyenne
Music has been 16-year-old Cheyenne's main focus since she started attending performing arts camp in the summer as a child. When she was 12, she moved from Connecticut to Georgia so she could attend the artistic program full-time. An experienced singer, Cheyenne shares most of her musical content on her YouTube, of which she has more than 80,000 subscribers. Cheyenne also has professional experience singing in front of a large audience—she once performed the National Anthem at Madison Square Garden in New York.
Chelle
Eighteen-year-old Chelle was terribly shy when she first began singing. For the longest, she'd steered clear of performing on stage and would only post covers of songs she enjoyed singing on YouTube. However, when she turned 13, she decided to finally get over her stage fright, and through the help of a program that taught children how to sing with musicians, the Indiana native found her passion for performing on stage.
Gigi Hess
A chilling rendition of "Lovesong" by The Cure landed 22-year-old Hess on Team Kelly. However, Hess' journey to becoming comfortable on stage was a long one. Although she grew up singing, drastic weight gain caused by a polycystic ovarian syndrome diagnosis nearly kept her from the stage. After facing years of bullying and torment over her weight, Hess underwent gastric sleeve surgery when she was 19. Shedding 120 pounds helped the New Mexico native gain back her confidence, and she's been performing ever since.
Jules
The Georgia-born singer started training her voice when she was just 5 years old. At age 8, she began learning to play the guitar. By 12, Jules was performing at venues around her hometown. Now at 15, the singer has experience performing three-hour-long sets and is ready to take her career to the next level.
Mandi Thomas
The 33-year-old began training in classical music when she was 11 years old. Since then, she's furthered her music education by focusing on musical studies in college, and now the Tennessee resident teaches vocal lessons to other aspiring artists. Thomas has even trained two musicians who appeared on previous seasons of The Voice, which inspired her decision to focus on her own musical pursuits.
Megan Danielle
A Georgia native, Danielle started singing at the suggestion of her grandmother. When she was 15, her mom convinced her to sing at a restaurant and that experience led the 17-year-old to pursue a professional career as a singer. She performs regularly at open mics in her hometown.
Micah Iverson
Team Kelly's lone male Iverson took up music while growing up in Tokyo, where he lived with his eight siblings and missionary parents. It wasn't until he moved to the U.S. and attended the University of Virginia when he decided to take his love of music more seriously by joining an a cappella group. Although he graduated with a degree in business finance, Iverson wants a life on the stage. The 25-year-old quit his finance job over a year ago and has since solely focused on his music career.
Samantha Howell
The 19-year-old was only 13 when she began booking her own signing gigs around her hometown in Virginia. When she was 17, she traveled to California to work on her own album. Howell's already quite known in her home state for her beautiful voice, however, she recently uprooted to Tennesse in effort to help her music career get the boost she needs.
Sara Collins
Born in Louisiana, Collins started taking guitar and vocal lessons when she was 8 years old. She's performed at school events, on stage at gigs around her hometown and has even opened for country stars like Hunter Hayes and Kane Brown. The 18-year-old traded her Louisiana digs for Tennessee where she now has a regular gig at Blake Shelton's music bar Ole Red.
Tayler Green
Green grew up singing with her brothers and sisters in New Jersey. While she helped her father, who is a paster and music producer, with his projects, she didn't begin writing and performing her own songs until college. She now lives in California.
Team Legend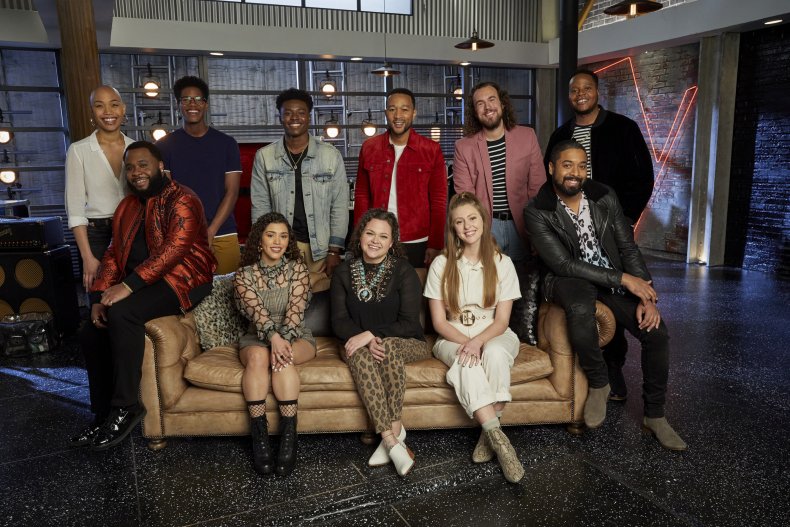 Brittney Allen
Growing up in a musical family inspired 28-year-old Allen to pursue a music career of her own. As a child, she participated in her school choirs and band, and Allen studied vocal performance in college. The Georgia-born singer performs all around the town where she now lives in Alabama when she's not working her job at an insurance company.
CammWess
The 21-year-old charmed Legend with his cover of The Weeknd's "Earned It." Hopefully, there will be more R&B performances in the South Carolina native's future on the show, perhaps one that will showcase his piano skills. After having performed in a choir for many years, CammWess expanded his musical pursuits and taught himself how to play the instrument.
Cedrice
The 28-year-old, who was diagnosed with alopecia at age 10, only began her musical journey three years ago. However, it wasn't until the California singer embraced her true identity and shaved her head when she decided to pursue her vocal talents professionally and began performing as a full-time musician.
Darious Lyles
Although he grew up singing, performing with his high school band and writing his own music as a teen, 30-year-old Lyles put his dreams on hold after the death of his father. When his mother died a few years later, the Chicago singer turned his attention back to his music.
Mandi Castillo
After spending years opening for and performing with her uncle's Tejano band in Texas, Castillo moved to California to pursue a full-time career in music. Her dreams were pushed to the backseat when she learned her mom was in need of a new kidney, so she returned to her hometown. Now that a new kidney has brought her mother back to full health, 23-year-old Castillo is focusing on her music dreams again.
Mike Jerel
The 31-year-old has his grandmother to thank for his love of music. She bought him his first drum set and would often let him tag along to her singing gigs at retirement homes. Jerel went on to study music education in college and taught music to school children as a chorus teacher before he got a job singing on cruise ships. The Georgia native still offers private vocal lessons to aspiring singers.
Nelson Cade III
The California singer started taking music lessons when he was in the first grade, mastering first the piano and then the guitar. He started singing when he turned 15, however, he only recently decided to pursue a full-time career as a musician.
Thunderstorm Artis
Hailing from Hawaii, Artis started performing with his 10 siblings in his family's band when he was just a kid. The 23-year-old and his brother performed together as a duo before Artis finally decided to go solo. He's been performing all around the U.S. on his own for the last six years.
Zach Day
The 25-year-old Kentucky resident has performed in choirs and a cappella groups, and he was a former member of a rock band. He is currently studying American Sign Language and hopes to use his own career pursuits to help the deaf community have more access to and enjoyment of music.
Zan Fiskum
Fiskum, 22, comes from a musical family. Her mother is a piano and vocal coach, and just about all of her family members have performed and participated in a local dinner theater in her Washington state hometown. When Fiskum turned 16, she began performing solo at gigs around her city and continues to serve as the worship leader at her local church.
Team Nick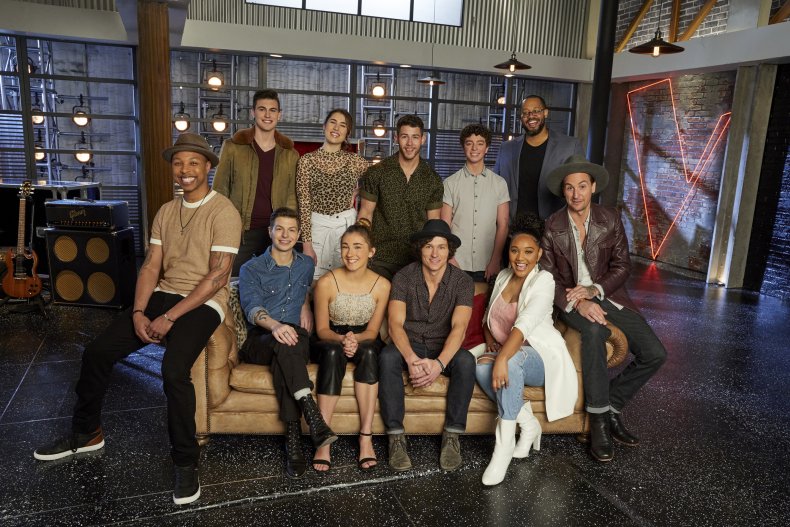 Allegra Miles
Growing up in the U.S. Virgin Islands and later Florida, Miles often performed at open mic nights with her family. At age 12, she started sharing her music online and since turning 14, Miles has performed solo at local venues weekly. The now 16-year-old is hoping to use her time on The Voice to take her career to the next level.
Anders Drerup
The 36-year-old Canada native taught himself how to play the guitar when he was 15 and following high school, Drerup began performing at jazz clubs. He spent 20 years of his life on the road, performing with a band as a backup singer and musician. Drerup, who now lives in Texas, decided to pursue a solo career last year.
Arei Moon
The 28-year-old Georgia singer wowed superstar singer Jonas so much with her cover of "Miss Independent" during the blinds, that the new coach was forced to block fellow coach Clarkson from having the opportunity to pick Moon. It was clear from her time on the stage that she's well versed in performing, and she is. The 28-year-old has been singing since childhood and even opened a show for LL Cool J when she was 12. She sang in her school's choir as well, and after college Moon began pursuing a full-time career in music.
Jacob Miller
The 29-year-old first started singing in his church choir as a kid. He learned to play the guitar at age 12 and has played in a number of bands since. He played in a ragtime band he started in 2012 for six years before opting to pursue a solo career. Since breaking out on his own, the Oregon resident has recorded an album and appeared in three solo tours in the U.S. and various other countries.
Joanna Serenko
A Missouri resident by way of Ohio, Serenko began taking vocal and piano lessons when she was 6 years old. During her school years, the 18-year-old performed in marching band, show choir and musical theater. Along with opening for a popular local artist in high school, Serenko's voice also led her to win a citywide talent competition not long before she auditioned for The Voice.
Kevin Farris
The Illinois musician began singing in his brother's band when he was 13 and has since toured the state with a number of bands. He even got to open for Fall Out Boy back in the day. The 33-year-old currently runs a music enrichment program for children when he's not performing gigs or writing songs.
Michael Williams
Williams has desired a career in music ever since he asked his parents to get him vocal lessons at 6 years old. As he grew up, the 18-year-old performed in musical theater in his small Ohio town and continues to sing at the local amusement park.
Rodrick Chambers
The 38-year-old began singing with his brother in their school chorus and performed at family functions as a child. When he was a teenager, Chambers and his brother formed a trio with a friend in their Florida town and the group spent 14 years performing at corporate events and weddings. Chambers left the group in 2015 for a shot at pursuing a solo career in music.
Samuel Wilco
The 39-year-old began singing at church when he was a young boy, but he never thought he'd make music a profession. Wilco, who was born in South Carolina, grew up joined the army where he's continued to serve as an army recruiting instructor for the last 21 years. Wilco's drill sergeant convinced him to take his vocal talents more seriously and try out for The Voice.
Tate Brusa
A Utah native, Brusa was 7 when he began singing and playing the guitar. The 16-year-old often performs at gigs around his city and headlined his own six-day set at Sundance Film Festival in 2019.