Who Is 'The Voice' 2020 Mega Mentor? Music Legend James Taylor Will Advise Season 18 Contestants
The teams on The Voice's 18th season are about to get a little slimmer.
Contestants will go note-for-note during the next phase of the competition, the Knockout Rounds, beginning on Monday. Coaches Blake Shelton, Kelly Clarkson, John Legend and Nick Jonas will pair the best singers on their teams to battle once again to secure their spot in the NBC competition.
However, they'll get some help from a legendary artist to guide them through the Knockouts. Celebrated singer, songwriter and multi-award-winner James Taylor will make his grand debut on The Voice on Monday as Season 18's Mega Mentor.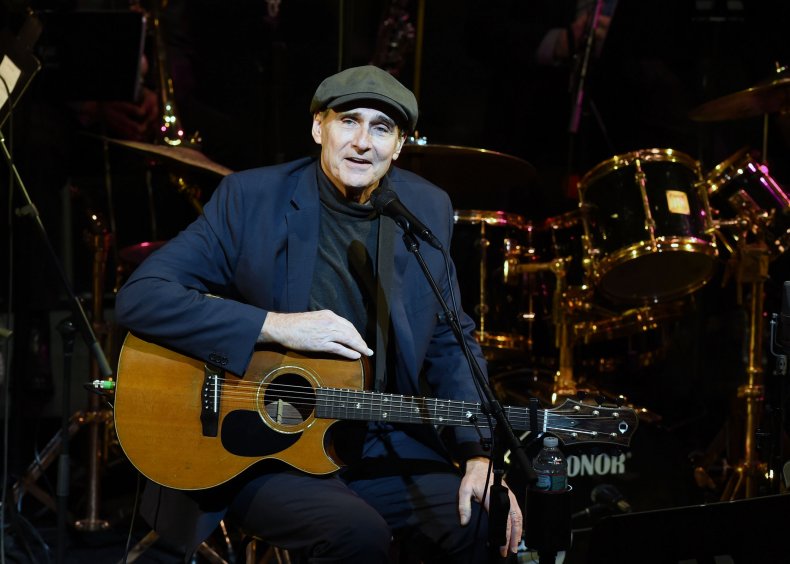 During the Knockouts, Taylor will advise all the teams as they prepare to sing against each other over the next few episodes of the show. Unlike the mix of Mentors who coaches enlist to help each pair of contestants tap into their talent before they take the stage for the Battle Rounds, during the Knockouts, Taylor will get one-on-one time with each individual artist and help them prepare for their next moment on the stage.
Taylor will also advise the four artists saved by each coach during the Battle Rounds. He'll rehearse with them, too, as they prepare for the first-ever Four-Way Knockout.
Shelton, Clarkson, Legend and Jonas were thrilled to have the 72-year-old veteran musician join the show as the Mega Mentor. In a trailer for the upcoming episode of the show, the coaches giddily play a game of telephone to announce Taylor's arrival to The Voice, but by the time the message reaches Blake, he thinks it's the late Elizabeth Taylor who's coming to lend a helping hand.
"Oh, he's awesome!" Blake said after realizing his mistake.
The American Standard singer follows in the footsteps of Taylor Swift, who served as the Mega Mentor on The Voice last season. Other mentors that have appeared on the show so far during Season 18 include Ella Mai, Dua Lipa, Bebe Rexha and Jonas' brothers (and bandmates) Kevin and Joe Jonas.
Coaches still have seven contestants remaining on their teams. The few of them set to battle it out during Monday's show include Team Blake members Joei Fulco vs. Levi Watkins and Cam Spinks vs. Todd Tilghman, Team Kelly members CammWess vs. Megan Danielle, Team Nick's Roderick Chambers vs. Tate Brusa, and Team Legend members Darious Lyles vs. Mike Jerel and Joanna Serenko vs. Zan Fiskum.
Unlike the battle rounds, in which contestants sing the same song together, the Knockouts will see each artist singing a song individually hand-picked by their coach.
The Voice will air on NBC on Monday at 8 p.m. ET.