'The Voice' 2020 Knockouts Recap: Who Left, Who Got Stolen, Who's Headed To the Next Round on Season 18, Episode 9?
The first round of The Voice 2020 Knockouts begins on Monday night. Check out our live-blogged recap and results for Season 18, episode 8 here.
The Season 18 contestants of The Voice are gearing up for the next phase of the singing competition. The knockout rounds are officially set to begin on Monday.
Coaches Blake Shelton, Kelly Clarkson, John Legend and Nick Jonas have seven members remaining on each of their teams, including the four saved artists coaches kept from elimination. The saved artists will go head-to-head in the first-ever Four-Way-Knockout later on in the season, but first, the rest of the contestants will sing their hearts out for a chance to move forward in the competition.
Unlike the battles, in which coaches paired contestants together to sing the same song at the same time before choosing one to advance, the Knockouts will see coaches choose two members of their team to compete by singing a song individually. Whichever contestant impresses their coach the most will be the one to move on to the next round of The Voice.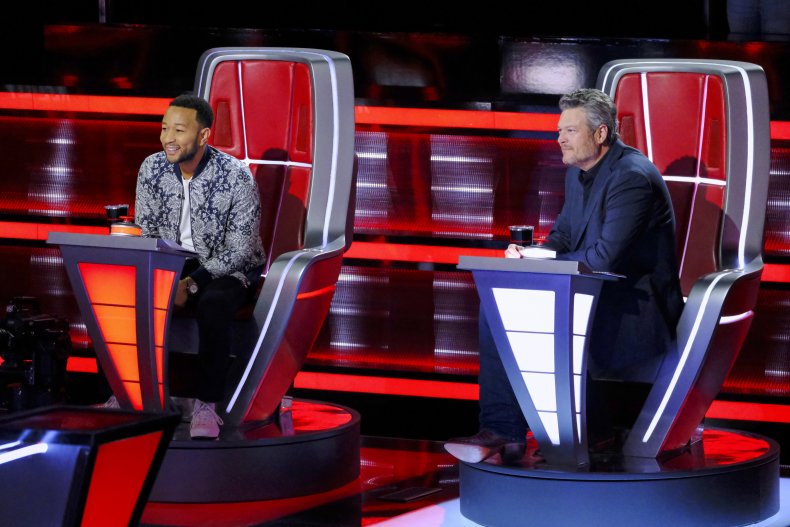 Contestants will get a little extra help during the Knockouts too. Iconic musician and songwriter James Taylor was enlisted as the Mega Mentor of the season, and he'll be making his grand debut on the show as he advises every member of every team during their prowess to the winner's circle.
As The Voice airs, we'll be here providing live-blogged coverage of the show as well as the results of the winner and eliminated contestant of each knockout round. If you missed any of the battles performances, check out our previously live-blogged coverage here.
The Voice Season 18, Episode 8 Knockout Round 1 Results
Team Blake
Joe Fulco — winner
Levi Watkins — eliminated
Team Blake
Megan Danielle — winner
CammWess — stolen by Team Legend
Team Legend
Mike Jerel — winner
Darious Lyles — eliminated
Team Nick
Roderick Chambers — winner
Tate Brusa — eliminated
Team Blake
Todd Tilghman — winner
Cam Spinks — eliminated
Team Legend
Zan Fiskum — winner
Joanna Serenko — stolen by Team Blake
The Voice Season 18, Episode 8 Live Blog
8:00:
It's officially go-time folks! The show coaches Blake Shelton, Kelly Clarkson, John Legend and Nick Jonas celebrating the Knockouts backstage before they finally take their seats. The Mega Mentor of the night is introduced, and it's none other than the renowned singer and songwriter James Taylor. A sweet pre-recorded video shows the coaches gushing over James while highlights show the multi-award-winner spending time with the contestants.
8:03:
Team Blake members Levi Watkins and Joei Fulco are the first artists to compete in the Knockouts. They're blown away when they discover James is their Mega Mentor, especially Joei who says she "basically grew up on his music."
Joe gets to rehearse with Blake and James first, and she's chosen to sing Linda Ronstadt's cover of "When Will I Be Loved." James thinks it's the perfect song for Joei.
"Joei is capable of doing everything that Linda Ronstadt with it but also adding modern touches," James said.
8:06:
Levi gets his one-on-one time with Blake and James next. He's picked Waylon Jennings' "Ain't Living Long Like This." Both Blake and James advise him to tap into the role of an outlaw, which is really what the song is all about.
Blake thinks both contestants are capable of performing well in the Knockouts in front of the stage.
8:09:
Levi is first to appear before all of the judges with his energetic and soulful cover of "Ain't Living Long."
8:11:
Joei hits the stage next with her performance of "When Will I Be Loved." She shows off her big range and vocal strengths from the very start of the song.
8:13:
All of the coaches were pleased with Levi and Joei's performances with John raving over how they both sang the notes with "power and precision." Both Kelly and John say they'd choose Levi if they had to make the decision, while Nick says he'd pick Joei.
Blake praised both of the singers before making his final decision, telling Joei she succeeded in not oversinging the song just as James advised.
"Like I said for you Levi, you're 14 and you're singing a song about being in prison. You gotta figure out a way to sell that to people, and buddy you did it," Blake said. "That was incredible."
8:17:
In the end, Blake chooses Joei to move forward in the competition.
8:21:
Next up to meet Mega Mentor James is Team Kelly members Megan Danielle and CammWess. They're both thrilled to be in the same room as someone as esteemed as Taylor.
Megan is first to be advised by James and Kelly. She's singing a Kelly song, "Piece by Piece," which makes Kelly emotional before the young artist even begins rehearsal. Of course, by the time Megan finishes singing it Kelly is in tears.
James advises Megan to remember to "look up and make eye contact" to avoid appearing "dispassionate," while Kelly tells the young singer to make the song her own.
8: 24
Camm gets his alone time with Kelly and James next. He picked the song "Say Something (I'm Giving Up on You" by A Great Big World and Christina Aguilera. Once again, Kelly is moved to tears by his performance during rehearsals. James is also taken by the singer and advises him not to oversing the song.
"Both Camm and Megan are very understated," James said. "It's going to be very difficult to say goodbye to one. I'm glad I don't have to do it."
8:27:
First to hit the stage is Camm. He delivers a raw and emotional cover of his chosen song.
8:31:
After a quick commercial break, Megan takes her place on the stage and belts out a chilling rendition of Kelly's hit song, "Piece by Piece."
8:33:
All of the coaches are stunned with both performances, and John admitted he feels "mountains of regret" for giving Kelly the chance to steal CammWess earlier in the competition. However, none of them really know who they'd choose if they had to make the decision.
"I cried during both of your performances," Kelly said. "I was sitting here watching you two the whole time going, 'God, I can't believe they're both on my team.'"
In the end, Kelly names Megan the winner of the Knockout round.
8:36:
Before Camm leaves the stage, both John and Nick opt to steal him, which will save him from elimination. We'll have to wait until after a commercial break to learn who Camm will choose.
8:42:
We're back, and Camm still has to make his decision. Is it going to be Team Nick or Team Legend?
"I'm going to go back home," Camm says.
It's back to Team Legend for Camm.
8:43:
Team Legend members Darious Lyles and Mike Jerel are up next to work with Mega Mentor James.
Darious will get to rehearse first, and he's picked Billy Paul's hit single "Me and Mrs. Jones." James is impressed right away while John reminds him to tap into the pain of the song and really hone in on the feeling of not being able to be with the one you love.
"Make sure on those higher notes, you let it ring a bit," John suggested.
8:46:
Mike gets to rehearse with James and John next. He's chosen "Versace on the Floor" by Bruno Mars. "That was great," James said.
John tells him to make sure he's supporting his notes and to stay on top of his range because Mike was a bit pitchy during the rehearsal.
"Both Darious and Mike are exceptional. This is going to be very tough," James said.
8:49:
First to hit the stage is Darious with his jazzy and modern rendition of "Me and Mrs. Jones." We'll see Mike's performance after a quick break.
8:55:
Annnnnddd we're back! Mike is center stage for his cover of "Versace on the Floor." He's apparently taken John's advice because his performance is much more controlled than what he delivered during rehearsals with James.
8:57:
The coaches are blown away by the men's confidence and control during their performances.
"You're both really really gifted, and John is screwed," Kelly joked.
Both Nick and Blake say they would pick Darious if they had to choose, but it's John who has to make the very hard decision.
In the end, he chooses Mike.
9:03:
Team Nick finally gets their moment with Mega Mentor James. Contestants Roderick Chambers and Tate Brusa are the team members competing this week, and they're astonished to meet James.
Roderick gets to rehearse first, and he reveals his chosen song is Childish Gambino's "Redbone." James said Roderick's rendition of the song made him really appreciate it while Nick advises him to "infuse a touch more personality" when he performs on stage.
9:06:
Tate gets his moment with James and Nick. He's chosen "The Scientist" by Coldplay. James was taken by Tate's musical capabilities and the fact that he's a self-taught musician.
"Tate has this ability to draw you in," Nick said. "I see a little bit of myself in him."
9:07:
Roderick takes the stage and seems to channel his inner Prince, performing a spicy and controlled cover of "Redbone" that gets Kelly dancing out of her seat.
9:14:
After a quick stage reset and short commercial break, Tate's up. The raspiness of his voice lends to a smokey and powerful rendition of "The Scientist." He really makes it his own.
9:16:
The coaches were impressed with both singers, but Kelly and John say they would pick Roderick.
9:17:
Nick notes how tough of a decision this is for him. "I love you both," he says.
Overall, Nick chooses Roderick.
9:23:
Two more members of Team Blake are set to compete in the Knockouts next. It's Cam Spinks and Todd Tilghman, and they can't believe they get to sing in front of James.
Cam gets the first one-on-one mentoring from James and Blake. He's singing "Rumor" by Lee Brice. They both suggest for him to add a little more growl and grit to his performance.
9:26:
Todd is next to rehearse with James and Blake. As a dedication to his wife and eight children, he's chosen to sing "Anymore" Travis Tritt—it's a family favorite, he reveals.
Blake advises him to settle down so he can stay on pitch while James gives him direct notes on how to sing the song during the hook. "These are two of my favorites. This is going to come down who can really sell this performance," Blake says to The Voice producers.
9:29:
Todd is first to hit the stage with his cover of "Anymore." He's calm, cool and collected and delivers an effortlessly beautiful performance.
9:36:
After a quick commercial break, Cam is up. He performs his cover of "Rumor" with the help of his acoustic guitar. He sounds pretty good but suffers a few pitchy moments.
9:37:
The judges praise both Cam and Todd, but everyone seems to be more moved by Todd's performance.
"It's crazy to see talent like this that's undiscovered," Blake said. "Cam, in our rehearsal, you had your foot on the gas just a little bit more where—on the flip side—Todd came out here, and he found a way to push the gas just a little bit more than he did in the rehearsal. He's literally an animal that feeds off of energy."
Blake chooses to send Todd to the Live show.
9:43:
Team John members Joanna Serenko and Zan Fiskum are next to meet Mega Mentor James, and they are both stunned to work with one of their musical heroes.
Joanna is first to rehearse and she's chosen to sing "Angel from Montgomery" cover by Bonnie Raitt, which was originally sung by Raitt's friend, the late John Prine, who recently died from COVID-19. James likes the modern spin Joanna's given the song while John advises her to sing it "a little bigger" when she performs in front of the coaches.
9:45:
Zan is next to rehearse with James and John. She's picked "The Story" by Brandi Carlile.
"You did it with real control, and then when you open it up with those high notes it's like whoa!" James said.
9:47:
First to hit the stage is Joanna. She sounds heavenly as she sings "Angel from Montgomery," and she's apparently taken John's advice of singing the song bigger. She hits high notes and impressive runs straight out the gate.
We'll get to see how Zan does after a short break.
9:54:
Back from break and Zan makes her way to the center of the stage. She delivers a riveting performance, bursting with energy and personality.
9:56:
Nick regrets having chosen to eliminate Joanna from his team, which gave John the chance to steal her while Kelly gushes over each of the women's performance.
John was pleased with both of his team members, although he was sad to have to eliminate one of them. He chooses to stick with Zan.
9:59:
At the very last minute, Joanna's back in the show after both Blake and Nick opt to steal her for their teams.
Joanna's headed to Team Blake.