'The Voice' 2020 Knockouts Part 2 Recap: Who Left, Who Got Stolen, Who's Headed To the Next Round on Season 18?
The first round of The Voice 2020 Knockouts begins on Monday night. Check out our live-blogged recap and results for Season 18, episode 10 here.
Coaches Blake Shelton, Kelly Clarkson, John Legend and Nick Jonas will say goodbye to a few more team members on The Voice on Monday night.
The 10th episode of Season 18 will kick off with part two of the Knockouts, which means the NBC singing competition will come to an unfortunate end for a few more contestants. But before anybody gets the boot, some of the remaining artists will take to the stage and compete against a teammate hand-picked by their coach.
Unlike the battles, during which coaches pair members of their team up to sing a song together, the Knockouts will give each competitor a chance to sing a song of their own choosing by completely solo. Whoever does the best will be chosen to move forward to the live shows.
Before they hit the stage though, performers will get some special advising by Season 18's Mega Mentor James Taylor, who will provide additional coaching to every remaining artist on Blake, Kelly, John and Nick's team.
The Voice's upcoming episode is a particularly special one, too. It marks the first time in the competition's history that the four contestants saved during the Battles will face off in a four-way sing-off. Team Blake's Todd Michael Hall will sing against Team Kelly's Samantha Howell as well as Team Legend's Nelson Cade III and Team Nick's Michael Williams. Only one person will come out of the four-way Knockout with the chance to move forward to the live shows.
While The Voice airs, we'll be here providing live-blogged coverage of the show, including the results of each Knockout battle. If you missed any of the previous performances, check out last week's live blog here.
The Voice Season 18, Episode 10 Knockouts Part 2 Results
Team Legend
Mandi Castillo — winner
Thunderstorm Artis —eliminated
Team Nick
Arei Moon — winner
Jon Mullins — eliminated
Allegra Miles — winner
Jacob Miller — eliminated
Team Kelly
Micah Iverson — winner
Tayler Green — eliminated
Mandi Thomas — winner
Anaya Cheyenne — eliminated
Team Blake
Toneisha Harris — winner
Cedrice — stolen to Team Kelly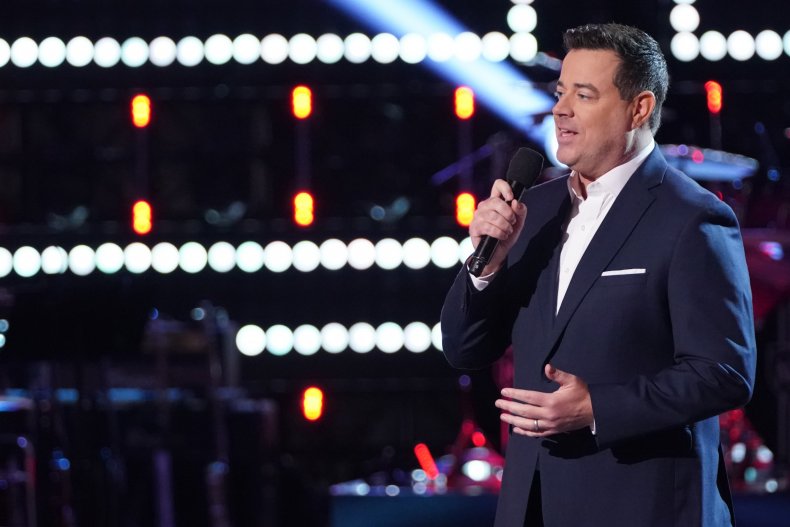 The Voice Season 18, Episode 10 Knockouts Part 2 Live Blog
8:00:
The show kicks off with two members of Team Legend, Thunderstorm Artis and Mandi Castillo, getting their moment in the sun with Mega Mentor James Taylor.
Mandi decides to sing "Stand By Me" by Ben E. King. She's dedicating the song to her good friend Raphael, who was diagnosed with cancer. Both John and James enjoy the changes Mandi made to the song to make it her own. "The tempo's faster than the original, but it feels very comfortable," James said.
Thunderstorm says he's doing an acoustic version of John's single, "Preach." John says his tone sounds warm for the song, and James thinks the young singer has good range. However, he advises him to be more comfortable opening his eyes and looking around the room.
"Thunderstorm, I think I have a good feeling coming for him," James told The Voice producers, later saying, "Team Legend is really monstrous."
8:07:
Mandi and Thunderstorm hit the stage, and Carson announces Mandi is up first. She effortlessly delivers a sensational and modern cover of "Stand By Me." She performs the song with such ease and control, but it's still full of emotion.
8:10:
Thunderstorm takes center stage and begins a raspy and acoustic cover of John's song. He's made the song his own and does an exceptional job. He even remembers to look out at the audience just as James advised. This is going to be a hard decision for John to make tonight.
8:12:
All of the coaches are impressed with both Mandi and Thunderstorm. Nick says he'd go with Thunderstorm if he had to make the choice while Kelly and Blake say they'd choose Mandi.
"This one's tough. I think the world of you as vocalists. You're just so good at what you do, and I love the heart that you put into everything that you do," John complimented the singers. "Both of you are so good, but I have to make a decision."
8:14:
It takes John a second, but in the end, he names Mandi the winner of the Knockout round. But Thunderstorm isn't going home yet. Nick steals him before he exits the stage.
8:17:
Back from the first commercial break of the night and Team Nick members Arei Moon and Jon Mullins.
Arei will get to sing for Nick and James first during rehearsals. She's decided to sing Alicia Keys' "You Don't Know My Name." They advise her to tap into her lower register in some parts of the song similar to how Alicia sings it in the original.
Jon is going to singing "Thinking Out Loud" by Ed Sheeran. James is instantly impressed by Jon's range but tells him to emphasize some of the bigger notes to really showcase his higher register.
8:22:
Arei hits the stage first, and she delivers a jazzy and smooth cover. She hits some pretty incredible high notes too while her voice sinks into the lower ones beautifully just as James wanted. We'll have to wait to see how her competitor Jon does. He's up after a quick break.
8:28:
We're back, and Jon is up with his rendition of "Thinking Out Loud." His voice has so much versatility and range. He floats between notes like it's nothing, showing off the full strength of his vocals.
8:30:
"You're both very powerful singers. You both did a great job of showing off your range," Kelly said.
Blake enjoyed both artists as well, but he says he would have gone with Jon while John is rooting for Arei.
After a bit of stalling, Nick names Arei the winner. She's going to the live shows.
"Arei's a superstar. There's no way I could let her go," Nick said in a backstage clip.
8:38:
Team Kelly members Tayler Green and Micah Iverson will perform in the Knockouts next. They're both thrilled to meet their mega mentor James too. "I can't believe I actually get to sing in front of this man," Tayler says excitedly.
Micah gets to rehearse with Kelly and James first. He's chosen to perform "Graveyard" by Halsey—a song Kelly was not expecting him to sing at all, but she's thoroughly impressed. She doesn't have many critiques for him personally but advises the musicians to go dark with the beats.
Tayler has chosen "Time After Time" by Cyndi Lauper. Kelly wants her to slow the song down a bit but has nothing but compliments for the singer's head voice and big notes. James is also full of praise for her voice.
"I think both of you have real talent," James told the contestants.
8:43:
Micah hits the stage first with his wispy and soulful cover of "Graveyard." He sounds a little out of breath at some points of the song, but overall does a good job.
Tayler will take the stage after commercials.
8:50:
Tayler begins her cover of "Time After Time." She's slowed down the track as Kelly suggested, and she sounds absolutely heavenly. Cyndi would be proud. Kelly certainly is. All the coaches are, and they give her a standing ovation as she wraps her performance.
8:52:
Blake thought they both did a phenomenal job, but he felt that Micah's song choice didn't fully show off his vocal abilities in the way Tayler's performance did. John and Nick both agree.
Kelly notes how hard of a song Micah's choice was to sing, but overall, she thought he did a great job.
"I'm so torn, I love both of you," Kelly says.
We'll have to wait to see who she chooses. Commercials are up.
8:59:
Annnndddd we're back! And Kelly's still got a decision to make.
She chooses Micah.
9:00:
Team Nick members Allegra Miles and Jacob Miller will compete in the Knockouts next.
Jacob rehearses with Nick and James first. He's going to sing "Better Now" by Post Malone, and James says he really likes the way Jacob is making it his own.
Allegra is going with Sia's "Chandelier," and James thinks it's a "totally different approach" to the song that he likes. Both James and Nick gives her the idea to hit the last high note of the song in a lower falsetto.
9:04:
Allegra is up first. Her performance is raw and full of emotion. Her voice is so mature and her range is so powerful—it's wild to think she's only 17 years old with such a big voice.
9:07:
Next up is Jacob with an acoustic and sultry rendition "Better Now." His performance is dark and chilling, and he's such a great guitar player.
9:09:
The coaches enjoyed both performances, but Blake, Kelly and John were blown away by Allegra.
"I so loved working with each of you, and I'm so frustrated at myself that I paired the two of you together," Nick says.
Overall, he decides to send Allegra to the live shows.
9:12:
Pressed for time, The Voice airs a quick snippet of Team Kelly member Mandi Thomas' performance. She belted out a rocking cover of "Church," which landed her a spot in the live shows over contestant Anaya Cheyenne. We'll get a full performance from the next two artists to compete in the Knockouts after a few short messages from The Voice sponsors.
9:16:
Team Blake members Cedrice and Toneisha Harris are up next. Toneisha totally freaks out when she discovers James, their mega mentor.
Cedrice gets to rehearse with Blake and James first. She's going to sing "Love On the Brain" by Rihanna. She knocks the rehearsal out of the park, but Blake reminds her to make sure she gets those "quick little notes up" with as much power that she uses to belt out the big, long high notes.
"Cedrice's voice is like Baked Alaska, it's like warm and very strong and piercing at the same time," James said. "Beautiful."
Toneisha is also singing a Rihanna song. She's picked "Diamonds," a song that she's dedicating to her late father who passed. Blake says she's a "world-class vocalist," and James thinks she may have "as good a voice that I've heard out of this whole group of singers." He even likens her voice to greats like Aretha Franklin and Barbra Streisand.
"It's a sucky job I got," Blake says.
9:23:
Cedrice gets to perform her Rihanna cover first. Her voice is as smooth as butter but just as James suggested, it's piercing.
9:30:
Toneisha begins her cover of "Diamonds," and it's as beautiful and soulful as expected. She really took it to church and gets a well deserved standing ovation from the coaches.
9:32:
The coaches are blown away by both singers. Nick is jealous that Toneisha is on Blake's team and jokes that he's mad that he can't belt out notes the way she can. Kelly thinks both women have talent worthy to be in the finale.
Blake admits it's a hard choice to make. He's taken by both artists. "Thank you guys for giving it your all," he says.
9:35:
Blake names Toneisha the winner of the Knockout. "Toneisha's been a frontrunner on my team since day one," he says to producers.
Cedrice isn't leaving the show just yet. Once again, she's stolen and will be making the move to Team Kelly.
9:40:
It's the moment everyone's been waiting for: the four-way Knockout round between Team Nick's Michael Williams, Team Legend's Nelson Cade III, Team Kelly's Samantha Howell and Team Blake's Todd Michael Hall.
Nelson is up for rehearsals with John and James first. He's going to sing Daniel Caesar's "Best Part," and both John and James thinks he needs to do something extra to make himself standout. "Find those ways to break it open," James says.
Then Todd Michael gets his moment with Blake and James. He's singing "Somebody To Love" by OneRepublic, and James is blown away by Todd Michael's vocal abilities.
Samantha Howell gets a salute from James while rehearsing her cover of Willie Nelson's "Always On My Mind."
Michael is last to get his moment with James, and he thoroughly impresses the legendary singer with his cover of Calum Scott's "You're the Reason."
9:47:
Carson announces the voting polls are open online and on The Voice app. Fans will get to determine which artist will move forward to the live shows.
First to the stage is Todd Michael with a killer performance. He hits high notes in a falsetto so squeaky clean and effortlessly—it's a high note we haven't heard from any other singer thus far in the competition.
9:49:
Nelson is next. He's playing the keyboard during his performance, and he dishes out a smokey and enchanting rendition of "Best Part."
After a quick break, the last two contestants will perform.
9:54:
Michael hits the stage with his beautiful and emotional cover of "You're the Reason."
9:56:
Lastly is Samantha, who belts out a riveting cover of the Willie Nelson single. She hits every high note out of the park.
9:59:
All the artists meet in the center of the stage, and the coaches flood each of them with praise. Viewers have until Tuesday at 7 a.m. ET to cast their votes. The winner will be revealed at the top of the very first live show in a few weeks.