These Are All the Finalists Headed to 'The Voice' Season 18 Live Shows
It's getting down to the wire on the 18th season of The Voice. The live shows are set to begin on Monday.
The live performances will come with a twist this year. Due to the coronavirus pandemic, contestants won't be singing in front of a live audience or coaches Blake Shelton, Kelly Clarkson, John Legend and Nick Jonas. Instead the 17 finalists will perform remotely from the comforts of their homes around the United States while Carson Daly hosts the show from a socially-distanced soundstage.
They've all been given state-of-the-art camera and audio equipment to best capture their performances, and they were each hooked up with wardrobe and choreography advise to help them put on their best performance.
Viewers will also get a more intimate view of artists' lives outside of the competition in behind-the-scenes footage of their preparation process along with their online interaction with the coaches, who will also be filming remotely. Jonas and Legend will mentor each of their artists via video chat from their digs in Los Angeles while Blake and Clarkson check in with their team members from their respective abodes in Oklahoma and Montana.
Similar to the live shows on previous seasons, viewers across America will be able to vote for their favorite artists once the show is over on Monday. Then on Tuesday's show, the voting results will be revealed and artists will learn live which of them will move forward to the next round. The bottom two contestants will perform live while America votes to save one of them in real-time on social media.
The beginning of the live shows will also mark a particularly special episode for the four contestants who were saved by the coaches earlier in the season. The singers performed in the first-ever four-way Battle Round during part two of the Knockouts in April, after which viewers were given plenty of time to vote for one artist to send to the lives. For the first order of business on the live show on Monday, Daly will reveal which of the four contestants will move ahead.
Now that we've gotten all the logistics out of the way, let's get on with the who's who the competition. Read on to find out a little bit more about each of the contestants headed to the Season 18 live shows on The Voice below.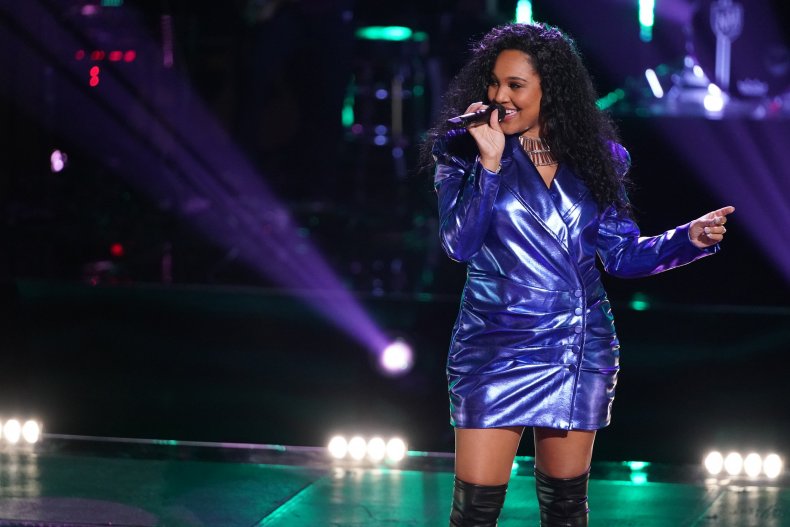 The Voice live shows air on NBC on Monday and Tuesday nights at 8 p.m.
Team Blake
Joei Fulco
A Tennessee native, 22-year-old Fulco scored two chair turns from Blake Shelton and Nick Jonas during her Blind Audition performance of Cher's "Gypsys, Tramps & Thieves." However, the country-rock singer was left with no choice but to join Team Blake after Shelton blocked Jonas. She impressed the coaches a second time when she performed "The Best" by Tina Turner alongside Todd Michael Hall during the Battles and sailed through the Knockouts with her energetic rendition of Linda Ronstadt's "When Will I Be Loved."
Toneisha Harris
It was a four-chair turn that sealed Harris' place on The Voice following her chilling Blind Audition performance of "I Want to Know What Love Is" by Foreigner. The 44-year-old Georgia resident only further proved she was one of the competition's biggest and best contenders when she out-performed Jacob Daniel Murphy during their joint cover of Lizzo's "Good As Hell" at the Battles and stole the show with her performance of "Diamonds" by Rihanna at the Knockouts.
Todd Tilghman
All four coaches wanted the father-of-eight on their teams after his performance of Bob Seger & The Silver Bullet Band's "We've Got Tonight," but it was Shelton who ended up with the winning ticket. The talented singer soared past his co-contestant Jon Mullins during their performance of Shenandoah's "Ghost in This House" during the Battles, and he solidified his spot as a mainstay during his country showdown against Cam Spinks in the Knockouts where he performed a soulful cover of "Anymore" by Travis Tritt.
Joanna Serenko
It's been quite the ride for 18-year-old Serenko on Season 18 of The Voice. She got a four-chair turn from the coaches during her Blind Audition performance of "All My Loving" by The Beatles. Serenko, an Ohio native currently living in Missouri, ultimately chose Team Nick. However, when Nick picked fellow team member Roderick Chambers over Serenko during the Battles, she was stolen by Legend. She was scooped up by Shelton following her Knockouts performance against Zan Fiskum—who Legend picked as the winner—and became a member of Team Blake.
Team Kelly
Megan Danielle
Clarkson was immediately taken by Danielle's vocal gifts during her Blind Audition performance of Adele's "Remedy." The 17-year-old Georgian continued to wow her coach, beating out the competition in the Battles with a riveting cover of Patty Griffin's "Top of the World" and A Great Big World's "Say Something" at the Knockouts.
Mandi Thomas
Thomas, 33, gave Clarkson goosebumps with her outstanding cover of Andrea Bocelli & Sarah Brightman's "Time to Say Goodbye"—one of the first opera performances to ever appear on the NBC competition. She proved herself to be a top pick for Clarkson when she flexed her vocal range during her joint performance of "My Baby Loves Me" by Martina McBride with Sara Collins during the Battles. The Tennessee native shined even brighter with her electrifying performance of Maren Morris' "My Church" at the Knockouts.
Micah Iverson
The 25-year-old scored a three-chair turn from Clarkson, Jonas and Shelton, and Legend admitted he regretted not turning for Iverson during his Blind Audition performance of Kodaline's "All I Want." Iverson surprised everyone when he chose to go with Team Kelly. The other coaches continued to be green with envy over Kelly's good fortune after Iverson wowed them with his powerful performance of Lewis Capaldi's "Someone You Love" at the Battles and Halsey's "Graveyard" at the Knockouts.
Cedrice
The 28-year-old Californian has also had a journey on The Voice. She was first picked up by Team Legend following her performance of "Fever" by Peggy Lee at the Blind Auditions. However, she was stolen by Shelton after Legend opted for Thunderstorm Artis during the Battle Rounds. When she lost to Toneisha Harris at the Knockouts, Clarkson decided to keep her in the running by stealing Cedrice for her team.
Mandi Castillo
Castillo's performance of Juan Gabriel's "Así Fue" marked another first for The Voice as the 23-year-old was the first person to sing a Spanish song during the Blind Auditions. It won her a four-chair turn, but ultimately she chose Team Legend. The Texas native has continued to hold her position as one of the season's powerhouse vocalists by wowing the coaches with her sensual cover of Camila Cabello's "Señorita" at the Battles and Ben E. King's "Stand By Me" at the Knockouts.
Mike Jerel
Yet another four-chair turn, 31-year-old Jerel knocked his Blind Auditions performance out of the park with a cover of James Brown's "It's a Man's Man's Man's World." He picked Legend's team and the Georgia native has coasted through the competition ever since, dishing out soulful a cover of Miguel's "Adorn" at the Battles and an effortlessly smooth performance of "Versace on the Floor" by Bruno Mars at the Knockouts.
Zan Fiskum
Born and raised in Washington state, Fiskum delivered an ethereal cover of Maggie Roger's "Light On," forcing Legend, Jonas and Clarkson to battle it out for her. In the end, Fiskum chose Legend, and the 22-year-old has proven to be a blissful addition to his team with her graceful yet strong covers of Indigo Girls' "Closer to the Fire" at the Battles and Brandi Carlile's "The Story" at the Knockouts.
CammWess
The 21-year-old earned his place on Team Legend with his jazzy rendition of The Weeknd's "Earned It." However, CammWess was up for grabs when he failed to outshine Mandi Castillo during the Battles. Lucky for the South Carolina resident, he was stolen by Clarkson and moved to Team Kelly. However, he found his way back on Team Legend when was stolen for a second time by Legend following his incredible performance of "Say Something" by A Great Big World at the Knockouts.
Team Nick
Allegra Miles
The 16-year-old Floridian shocked the judges with her smoky cover of "Use Somebody" by King's of Leon, resulting in a two-chair turn from Clarkson and Jonas. She picked the Jonas Brothers singer and proven to be a frontrunner on his team with her show-stopping covers of Whitney Houston's "How Will I Know" at the Battles and Sia's "Chandelier" at the Knockouts.
Aeri Moon
A Georgia transplant from Massachusetts and Florida, Moon was a two-chair turn but ended up on Team Nick after Jonas blocked Clarkson from being an option during her performance of Clarkson's "Miss Independent." Moon, 28, only got better with time, showing off her control and powerful range in her Battles cover of "Missing You" by John Waithe and Alicia Keys' "You Don't Know My Name" at the Knockouts.
Roderick Chambers
The 38-year-old crooner impressed Jonas straight out the gate with his cover of Brian McKnight's "Back At One" at the Blinds, and he continued to make his coach proud with his performance of "When the Party's Over" by Billie Eilish at the Battles and his eccentric cover of "Redbone" by Childish Gambino at the Knockouts.
Thunderstorm Artis
A Hawaii native, all four coaches wanted Artis for their team following his performance of the classic hit "Blackbird" at the Blind Auditions. He originally picked Legend's team and managed to remain on the team after his joint performance with Cedrice at the Battles. However, when Legend chose Mandi Castillo as the winner of their Knockout round, he was stolen by Jonas at the very last minute, maintaining his place in the competition.
Saved Artist
Each of the four saved artists—Team Blake's Todd Michael Hall, Team Kelly's Samantha Howell, Team Legend's Nelson Cade II and Michael Williams of Team Nick—were nearly eliminated from the competition, they were all saved by their coaches during the Battles and Knockouts. However, only one of them will remain in the running following their four-way-battle during the Knockouts part 2. With America's votes all tallied, viewers and contestants will find out who will move forward during Monday's live show.