These Are the Top Five Artists Competing In 'The Voice' Season 18 Final Live Show
The 18th season of The Voice is one that viewers will likely never forget.
Contestants have delivered some of the best performances the NBC singing competition has ever seen. The great James Taylor advised artists through the Knockouts. The show's live audience was suspended because of the coronavirus pandemic, and for the past few weeks, coaches Blake Shelton, Kelly Clarkson, John Legend and Nick Jonas, as well as viewers, have watched performances from home via web video. To say the least, the show, this year, has been extremely different but thrilling nonetheless.
And now, it will all come to a head as the top five contestants gear up to compete in Monday's final round of live performances. Todd Tilghman and Toneisha Harris of Team Blake, Team Kelly's Micah Iverson, Team Legend's CammWess and Team Nick member Thunderstorm Artis will sing for the final time in front of coaches and viewers at home.
At the end of the performances, viewers will get to vote for their favorite artist. The person with the highest number of votes will be named the Season 18 winner during Tuesday's finale live show.
Some singing will take place on Tuesday too. During the two-hour finale special, a few former coaches from the show will return to The Voice, including one of the originals, CeeLo Green. The music magnate first sat in the famous red swivel chairs alongside Shelton and former coaches Adam Levine and Christina Aguilera in The Voice's debut season in 2011. He left after the fifth season of the show.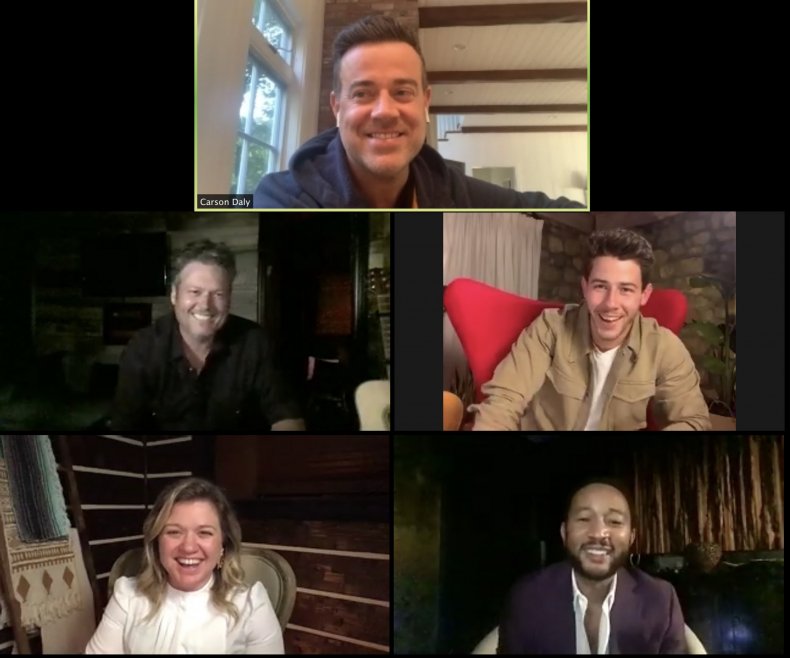 For the finale episode, Green will join former Voice judge Shakira, who was on the show for Seasons 4 and 6, as well as the current coaches and Season 18's Battle Round adviser Bebe Rexha for a supergroup performance. The musicians will perform a version of Pete Townshend's "Let My Love Open the Door."
That's not the only special performance set for the season finale. Former coach Gwen Stefani, who appeared on Seasons 7, 9, 12 and 17, will join her boyfriend Shelton to perform from home the duet "Nobody but You." Clarkson will debut her new single, "I Dare You," while Jonas is slated to sing twice—a solo cover of "Until We Meet Again" and the Jonas Brothers' newest single, "X," alongside his brothers Kevin and Joe.
Bon Jovi and Lady Antebellum are also expected to drop in on the live competition from home.
The final two episodes of The Voice's 18th season will air Monday and Tuesday at 8 p.m. ET on NBC.