How to Watch 'The Voice' Season 18 Premiere: Live Stream, Channel and More Show Info
Blake Shelton has a new person to taunt and tease on The Voice. Along with his usual targets, Kelly Clarkson and John Legend, Nick Jonas is now on the list of coaches Shelton will likely torment while they all compete for singers on the 18th season of The Voice.
The coaches will be in their red swivel chairs when the NBC singing competition premieres on Monday. Like always, the new season will begin with the Blind Auditions, during which Shelton, Clarkson, Legend and Jonas will have to vie for contestants to fill their teams.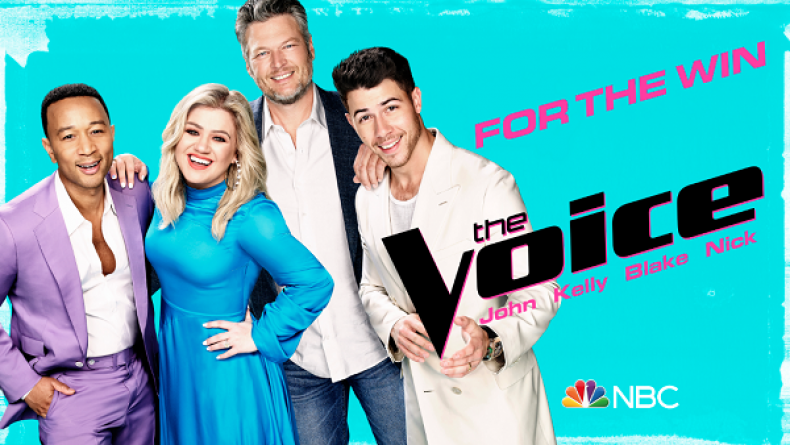 The coaches have their backs turned to each contestant as they begin their performances. Only once a coach has pressed their red buttons can they turn around to see who's singing. Once the performance is over, if more than one coach has turned for a contestant, then the coaches will have to persuade an artist to join their respective team. It's usually during their "pick me" speeches when the gloves come off and Shelton, Legend and Clarkson's playful rivalry rears its head. With the addition of Jonas, who is said to be as competitive as the other coaches, viewers should expect to see even more jabs being thrown.
"There's a ton of competition this season because Nick's very competitive. They are all really competitive," Audrey Morrissey, The Voice showrunner and executive producer, recently told Newsweek.
The friendly competition between the coaches will be front and center on the premiere episode. A sneak peek of one lucky contestant's audition teased the coaches pounding their Block buttons at the very start of the season. The button allows coaches to prevent a contestant from choosing a "Blocked" team.
In the clip, Jonas turned his chair for singer Nelson Cade III. Despite the fact that Clarkson and Shelton have also turned for Cade, it's Jonas who ends up getting blocked by Legend. "Nick, did you turn for him? Oh, oh, what happened?" Legend teased.
"You know, we're going to talk later John. We're going to talk about this outside," Jonas replied.
Artists from all over the country will perform for the coaches in hopes of being crowned The Voice following Season 17's winner, Jake Hoot.
The Voice's two-hour premiere begins on NBC on Monday at 8 p.m., while the one-hour-long continuation airs on Tuesday at 8 p.m.
Viewers can live stream the show on NBC's website and app. The Voice will also become available for viewing on-demand each day after the show airs. Those with streaming platforms like Hulu +Live TV and YouTube TV can also live stream The Voice through their subscriptions.