Need to Catch Up on 'The Voice' Season 18 Before the Live Shows? Now's Your Chance
It's almost time for the live shows on The Voice's 18th season.
Contestants have auditioned and performed in the Battle Rounds, and now they've made it through the Knockouts. So the next phase of the NBC singing competition is set to begin, and soon, Blake Shelton, Kelly Clarkson, John Legend and Nick Jonas' team members will perform for America's votes.
But before the live shows begin, viewers will get to take a trip down memory lane and see just how we got so far into Season 18. In the "Road to Live Shows" special, airing on Monday, The Voice will take a look back at the most memorable moments of the season so far including each contestants' journey to where they are now in the competition. Hosted by Carson Daly, the show will include never-before-seen footage of coaches Shelton, Clarkson, Legend and Jonas interacting with each other and their respective team members as well as recaps of each contestants' Blind Audition, Battle Rounds and performances during the Knockouts.
'So far, there are still 20 contestants in the running, including the four "saved" artists who went head-to-head in the first-ever four-way-knockout round during last week's episode. Todd Michael Hall of Team Blake, Samantha Howell of Team Kelly, Nelson Cade II of Team Legend and Michael Williams of Team Nick each had the opportunity to sing one final song in effort to convince America's viewers to vote for one singer to move ahead in the competition. The person with the highest number of votes will move forward to the lives, however, we won't find out which lucky contestant made the cut until the live round begins.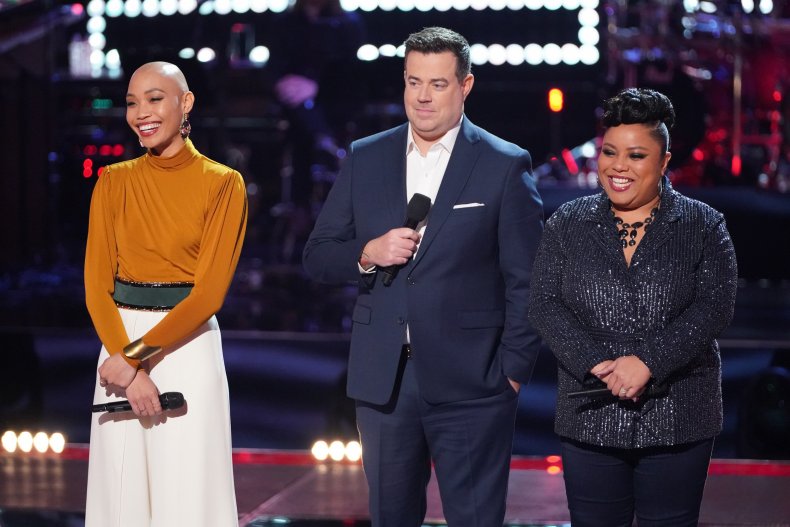 Although production for many live NBC shows has halted in response to the coronavirus outbreak, The Voice is still expected to move along with the live shows on May 4. NBC has yet to reveal exactly how the live episodes will be formatted while most places, including California, are under shelter-in-place orders. However, Shelton recently suggested the live portion of the competition may take place via video stream.
During an appearance on The Tonight Show in early April, Shelton said coaches will likely be advising their team members through video chat and their performances will probably air remotely too.
"Obviously the live shows are coming up here in a matter of weeks. Especially in L.A. we're not going to be ready to have events again," he said. "It's gonna be crazy. We're gonna have to coach like this ... it's gonna be nuts."
Shelton said producers have been steadily working to figure out the best way to go about the lives while spending so much time self-isolated at home.
"I think they have a plan and they're gonna tell me when to be at the computer," he said. "And I'll listen to (contestants) I guess, perform, and give 'em some pointers. I don't know."
See below for the full list of artists remaining on the competition. The Voice airs on NBC on Monday nights at 8 p.m.
Team Blake
Joanna Serenko — stolen
Joei Fulco
Toneisha Harris
Todd Tilghman
Todd Michael Hall — saved
Team Kelly
Cedrice — stolen
Mandi Thomas
Megan Danielle
Micah Iverson
Samantha Howell — saved
Team Legend
CammWess — stolen
Mandi Castillo
Mike Jerel
Zan Fiskum
Nelson Cade III — saved
Team Nick
Thunderstorm Artis — stolen
Roderick Chambers
Allegra Miles
Arei Moon
Michael Williams — saved