Devoted husband, loving father of eight and cherished pastor are just a few words used to describe Mississippi native Todd Tilghman. He's still all those wonderful things, but he has a new shiny title to add to the list: the Season 18 winner of The Voice.
Tilghman's journey on the NBC singing competition started at the Blind Auditions with a four-chair turn, meaning each of the show's coaches—Blake Shelton, Kelly Clarkson, John Legend and Nick Jonas—wanted the country crooner for their teams. However, he found his home on Team Blake, where he fostered a lovable bromance with country icon Shelton that helped 42-year-old Tilghman hone in on his sound and soar to the winner's circle on Tuesday night—making him the oldest person to ever earn the title of The Voice champion.
Along with the bragging rights, Tilghman will receive a $100,000 grand prize and a record deal with Universal Music Group. Although only a few days have passed and already singer is already ready to get to work.
"Yes, I actually have some music of my own," Tilghman told Newsweek on Wednesday. "I want to do some mixture of my own music and maybe find some songs. I don't want to be that guys that's like, 'Nobody else's songs are good enough for me.'"
More importantly, though, Tilghman, having no professional singing experience before snagging a spot on The Voice, wants to take the time to learn all the tricks of the trade.
"Really the first thing that I want to do is just spend some time and learn at the feet at these people that I have met in this process and glean from them everything I can about moving forward," he said, "because this is really, legitimately my first endeavor at all musically aside from singing at church."
Get to know a little more about Tilghman and read Newsweek's full interview with the Season 18 winner of The Voice below.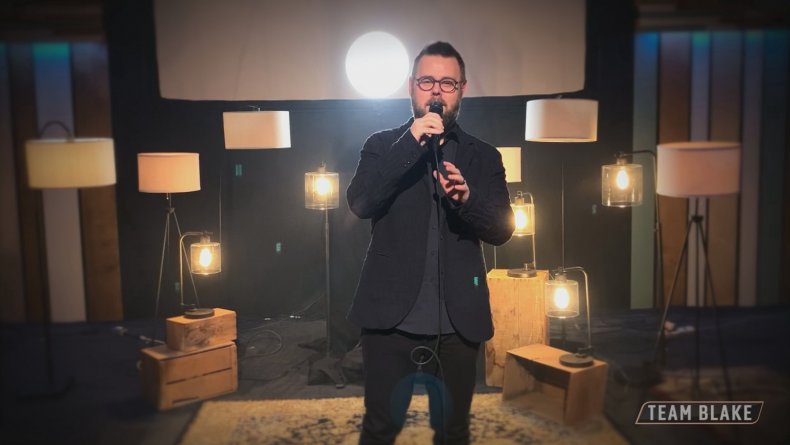 How did it feel to wake up knowing you were with the winner of The Voice?
I don't know that I really believe it yet.
Were you really surprised to hear Carson call your name?
I don't know that I was expecting it at all, but I will say I felt like I had a solid one-in-five chance. I realize that seems like common sense, but everyone was so great. Everyone this whole season has been so great. Believe it or not—just because we had already made Top 5, which is a solid win—I was not quite as nervous [Tuesday night during the live results show] because I was like, "Whatever happens from this, it's all good news." So when he said my name, I remember we went nuts for a little bit, and by the time I came to my senses they were talking to me on the tablet. It was just so surreal.
How have your family and church responded to your big win?
Right now I have somewhere in the neighborhood of 500 unread text messages that I'm going to have to eventually get through. My 15-year-old son has said, "I can't believe we won," like 50 times if he said it once. Everybody has been so great to me.
It seemed like pure kismet from the moment Blake turned his chair for you. What impact has he had on you and your artistry?
He's just given me a ton of confidence. He is successful and connected and well established in the music industry, and he has put his seal of approval on me, which is like a huge, huge vote of confidence. But also I was in the air about [my music] direction, and he's helped me with that. I've always loved country music, but I never knew that I could pull it off. He's shown me the type of direction I want to go in, and that I could probably be very successful.
Is there one slice of advice he gave you that you'll be taking with you in the future?
He and I had a whole lot of good conversations, but I think the one thing that really stood out to me that I hadn't even really thought about before this interview is just to pour your heart out. He said a couple of times on the show that "it's not necessarily just the music but it's the heart that brings the music." That's been some really good advice.
Even though you couldn't meet with him physically, it seemed like you guys—and all the contestants and coaches, really—were able to foster deeper bonds than what I've seen on The Voice before. Do you think the current lockdown situation helped you two better work together compared to when you were meeting in person earlier in the season?
Oh yea, I certainly do. I feel like we were able to work better as a team member and a coach, and I feel like were able to build more of a friendship. When you're out there [in the production studio], there's just so many different things going on in your peripheral. But here [with the video chats] it's just me and him having a conversation. We had the opportunity to sort of cut up and chat for a little bit before we got to business. Blake is great and I hope he thinks I am, but I don't know that we would have built the relationship that we did had [the show] been there [in Hollywood].
Your final performance songs were so uplifting and positive, and it just felt like something everyone needed to hear during these times. Were you thinking about the pandemic and everything that's going on when you decided to sing "I Can Only Imagine" and your original song "Long Way Home?"
I would say yes, but more in a roundabout way. When you're choosing those cover songs you're working in collaboration with your coach, but in doing that I knew that I wanted something that would encourage me or move me. If it's moving me and I'm signing it to you, then maybe it will move you too. That's the way that I looked at it. The original song actually was one that was from Songland. They sent me a few songs, and I listened to "Long Way Home" and just personally—and I think this applies to everybody if you listen to those lyrics—I could connect to that. I feel like if I'm connecting, then maybe listeners will connect. We want music to move us, and that song moved me. The lyric that says, "Life's a melody of hope that we're all singing," I felt like that is exactly what we all need right now. We need a melody of hope that everybody is a part of the song. That's probably one of my favorite lyrics on "Long Way Home."
How does it feel knowing that so many people around the country connected to your voice?
It makes me feel super grateful, for one. The best way I can describe this is like it's sort of a mixture between validation and humility. It's really humbling that all these people love [my voice] so much, but it's also some validation that I can do this, and people want to hear it.
You already got to perform with Blake. Are there any other artists you hope to collaborate with in the future?
It depends on what kind of angle you're thinking. If I could just go out and sing with anybody, I don't know, I might pick Dolly Parton. But that would just be because she's so fun and she's so great. I love John Legend. His voice is just like velvet. I love that about him. Dolly Parton can sing, but it's really more Dolly Patron outside of the singing that draws me to her. It's her whole persona. It's really hard to say. Blake Shelton—I'd love to sing with him again.
You guys killed that "Authority Song" cover.
I really enjoyed doing that. Even though it was remote, it was a neat experience.
Any big plans for that cash prize?
First of all, it's public knowledge now that—without my consent—my wife promised our kids we'd all go to Disney World. So that's probably part of it. Honestly, I don't know 100 percent how my life is going to change moving forward. There's a slight possibility that money might pay the bills. So I don't know. I'm not exactly sure how everything's going to happen moving forward. Right now I haven't made any big plans except for taking these kids to Disney World. But with a big family like mine, that might take the whole prize money.
What do you hope people can learn from watching your journey on The Voice?
I hope people can learn to just do it. Take the risk and just do it. One thing that I would have loved to say that I learned growing up—but apparently it took me to my 40s—is to just do it afraid. I was afraid the whole competition. I was afraid at open call. I was afraid at my blind audition. I was afraid at the Battles and the Knockouts. I was afraid every time we had a results show these last few weeks. But you just have to do it afraid. You never know what might become of that, so you just have to go for it.