Why Isn't 'The Voice' Airing Tonight? How Election Day 2020 Impacts the Show's Schedule
The Season 19 teams of The Voice are all filled up, but viewers won't get to see them move on to the next round of the NBC competition just yet.
The Voice will not be airing during its usual time slot on Tuesday. In fact, Monday's episode of the show is the only one that's scheduled for the week, so fans will have to wait to get another dose of coaches Blake Shelton, John Legend, Gwen Stefani and Kelly Clarkson—oh, and show host Carson Daly, too.
There's, of course, a very good reason why you won't get a chance to see Shelton trolling his castmates or see Stefani in some sparkling getup on The Voice on NBC on Tuesday. The network is dedicating its evening to its 2020 election coverage—aptly dubbed Decision 2020—and is set to begin airing news coverage of the presidential race between President Donald Trump and his Democratic rival, former Vice President Joe Biden, beginning at 7 p.m. ET.
Election coverage is expected to continue until 4 a.m., although NBC announced it would continue focusing specifically on the election for "as long as the race continues to unfold."
Network all-stars including Savannah Guthrie, Lester Holt, Chuck Todd and Andrea Mitchell will lead coverage throughout the night, with Kate Snow scheduled to join the pack around 2 a.m. ET.
Season 19 of The Voice will resume airing on NBC during its usual 8 p.m. ET time slot on November 9, with its follow-up episode of the week scheduled for November 10.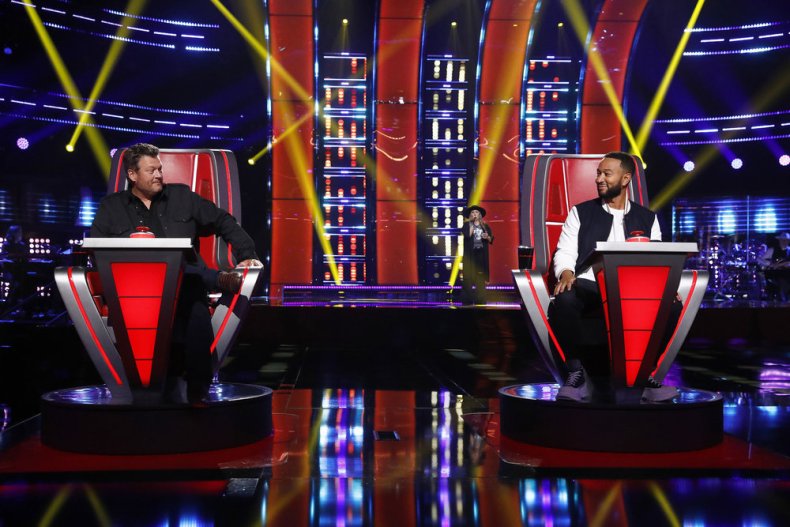 The Blind Auditions concluded during Monday night's episode, with the coaches finally having 10 members each on their teams.
Shelton's final pick of the night is the first trio to make it on the show—the mother-daughter country group Worth the Wait. They join Aaron Scott, Ben Allen, Ian Flanigan, Jim Ranger, John Sullivan, Jus Jon, Payton Lamar, Sam Stacy and Taryn Papa.
Team Legend also scored its first country artist. Despite not being a country singer and having no real experience with the genre, Legend has been hellbent on working with a country artist since the beginning of the season. He finally found one in Oklahoma native Bailey Rae, who earned a spot on Legend's team on Monday. She joins fellow Team Legend members Cami Clune, Casmé, James Pyle, John Holiday, Julia Cooper, Olivia Reyes, Rio Souma, Sid Kingsley and Tamara Jade.
Team Gwen and Team Kelly each have a mix genres on their teams. Stefani is set to coach Carter Rubin, Chloé Hogan, Lain Roy, Larriah Jackson, Lauren Frihauf, Liam St. John, Payge Turner, Ryan Berg, Tori Miller and Van Andrew. Meanwhile, Clarkson has taken on Desz, Eli Zamora, Emmalee, Joseph Soul, Kelsie Watts, Madaline Conosoer, Marisa Covo, Ryan Gallagher, Skylar Alyvia Mayton and Tammer Gomes.
Now that the Blinds are out of the way, the remaining contestants on The Voice are headed to the Battle Rounds, during which their coach will pair them up with a teammate and have them sing against each other. During this phase of the competition, coaches will also have the opportunity to steal a contestant from another team and save contestants from elimination.