'The Voice': Why Ryan Gallagher Was Missing From Season 19 Live Show?
The Season 19 live shows kicked off on The Voice on Monday night, with a puzzling surprise. Team Kelly contestant Ryan Gallagher was nowhere to be found when show host Carson Daly revealed the results of the four-way knockout round.
Team Blake contestant Taryn Papa was named winner of the four-way knockout—beating out Team Legend contestant Julia Cooper and Larriah Jackson from Team Gwen—but not before Daly explained that 31-year-old classical singer Gallagher had to "exit the competition."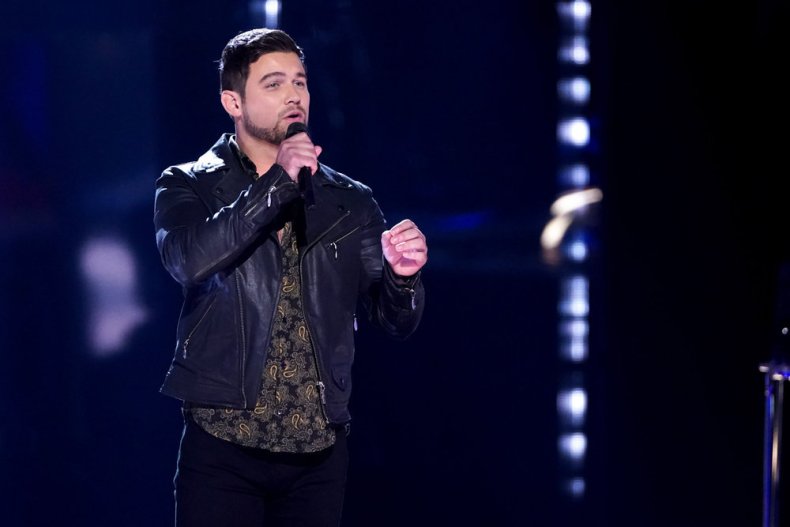 Fans on social media immediately began to speculate over Gallagher's sudden departure, and some worried that he may have decided not to return to the competition due to complications with his family. Earlier in the singing competition, Michigan native Gallagher revealed that his mother had been hospitalized with COVID-19.
"And now it's time for #TheVoice ...Ryan Gallagher had to leave the competition? What?! Is his mother okay? I *loved* him!" one fan tweeted on Monday.
"I'm so bummed Ryan Gallagher had to exit #TheVoice Gah, I loved him," wrote another.
Gallagher later took to his Instagram stories and said that it wasn't anything family-related that kept him from joining The Voice cast at the first live show of Season 19.
"Thank you everybody for your concern for my family. However everybody's fine, that's not the cause of what happened tonight on The Voice. I didn't drop out of the show," he explained. "Details are still to come, I'll keep you posted."
Newsweek confirmed with the show that Gallagher was actually removed from the competition after he violated The Voice's strict coronavirus protocols. He was dismissed in an effort to prevent putting any contestants, coaches and crew members at risk.
The health of The Voice cast and crew has been a top priority since Season 19 began, and the production has taken extra care to keep contestants, coaches and staffers safe by conducting regular COVID testing for everyone, temperature checks and constantly sanitizing the set.
Glass shields were even installed in rehearsal rooms to keep coaches and artists separated, and coaches were prohibited from hugging and shaking hands with their chosen artists, causing some of the coaches to take alternative measures to congratulate constants onto the show. During the blind auditions, coach John Legend used a six-foot stick with a gloved hand attached at the end, to welcome members to his team, while Gwen Stefani shot team t-shirts out of a small cannon to her chosen contestants.
The Voice airs on Monday and Tuesday nights on NBC at 8 p.m. ET.