'The Voice' 2021: Who Made the Teams on Night 6 of Season 20 Blind Auditions?
The competition is heating up on the 20th season of The Voice.
Coaches Blake Shelton, Kelly Clarkson, John Legend and Nick Jonas filled the final spots on their respective teams on Monday, concluding the Season 20 Blind Auditions. That means the person who's destined to be the next winner of The Voice is now somewhere in the mix. It also means viewers will start saying goodbye to artists as they compete against one another in the upcoming Battle Rounds, which will begin on next week, and in the Knockouts later in the season.
But before the teams start dwindling down, see which contestants made the final cut for Blind Auditions on Monday below.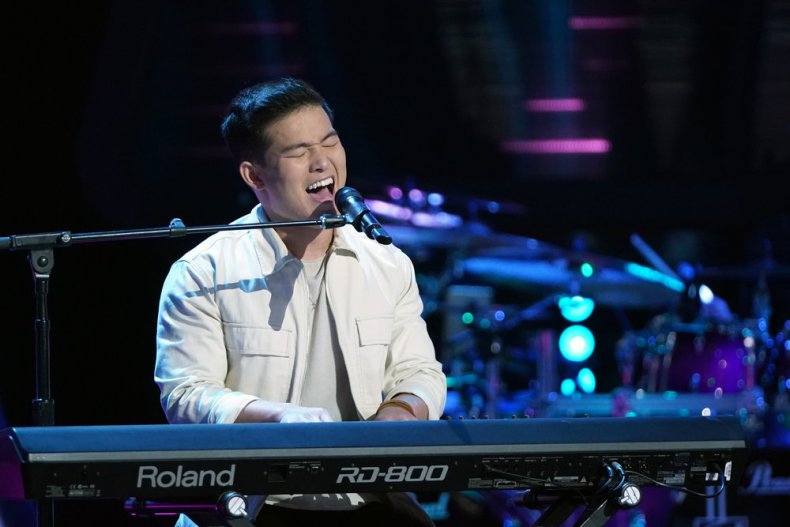 Team Blake
Keegan Ferrell
Twenty-one-year-old Keegan Ferrell had Clarkson and Shelton fighting with each other after he left them both fanning-out over his impeccable cover of Maroon 5's "She Will Be Loved." In the end, though, the aspiring pop star Ferrell shocked everyone when he opted for Team Blake over Team Kelly.
Born in China and raised by his adoptive family in Indiana, Ferrell started taking music seriously when he was 7 years old. His mother discovered his pristine voice and enrolled him in piano lessons. By the time he reached his teen years, he was teaching others to play the instrument, in addition to performing with a band he formed. Ferrell attends college full-time at Belmont University, with a focus on music business and production—but the singer hopes that The Voice will help launch his career as a solo artist.
Complete list of Team Blake members:
Aaron Konzelman, Avery Roberson, Cam Anthony, Connor Christian, Emma Caroline, Ethan Lively, Jordan Matthew Young, Pete Mroz, Savanna Chestnut, Keegan Ferrell
Team Kelly
Ainae
This airy-voiced 21-year-old charmed Clarkson with her jazzy rendition of Daniel Caesar's "Best Part" during her Blind Audition. Legend and Jonas also admitted that they wanted to turn for the Washington D.C. native, but their teams were already filled, leaving Clarkson to claim the singer for herself.
"This whole show is about finding a voice that's special. And you, my friend, are super-special—different from anybody else on the show," Clarkson said.
Ainae was born into a musical family. Her grandmother owned and operated a jazz club while her father worked as an audio engineer. Her mother also works in music as a marketer. And although Ainae was involved in community arts and competitive swimming throughout her upbringing, the gift of song was always within her. Ainae started focusing solely on her career as an artist when she was a senior in high school, and while she attends Howard University as a full-time student, she continues to sing and perform at events around her city.
Complete list of Team Kelly members:
Anna Grace, Cory Ward, Gean Garcia, Gihanna Zoë, Halley Greg, JD Casper, Kenzie Wheeler, Ryleigh Modig, Savannah Woods, Ainae
Team Legend
Denisha Dalton
It was a three-chair turn for 22-year-old Denisha Dalton following her energetic cover of "Pillowtalk" by Zayn. Legend, Clarkson and Shelton all wanted the New Yorker-turned-Texan on their teams, but Legend had the most compelling hook.
Dalton's mother was a singer, and it was her mom who first inspired her to use her own voice. Although she was a member of two girl groups throughout her youth, Dalton didn't necessarily think she'd use her talent to share on the big stage as a solo performer. However, during her time as a music business major at Belmont University, Dalton also focused on developing her craft and gaining confidence, which essentially led her to The Voice.
Complete list of Team Legend members:
Carolina Rail, Christine Cain, Ciana Pelekai, Deion Warren, Durrell Anthony, Pia Renee, Rio Doyle, Victor Solomon, Zania Alaké, Denisha Denton
Team Nick
Awari
Awari's soulful cover of SWV's "Weak" landed the smoky-voiced 35-year-old singer the final spot on Jonas' team—although Jonas did have to compete with Clarkson.
"Awari, [Kelly] has won the show. But I have not, which actually—I think— gives me a healthy chip on my shoulder to work extra hard to help get you to the finals," Jonas said. "It's the right choice."
An Air Force veteran, Awari has loved music since he was a child. He used to sing around his neighborhood when he was growing up, and was even invited to sing the National Anthem during an NFL game honoring those in the military.
Complete list of Team Nick members:
Andrew Marshall, Bradley Sinclair, Dana Monique, Devan Blake Jones, Jose Figuero, Lindsay Joan, Rachel Mac, Raine Stern, Zae Romeo, Awari