Who Was Eliminated on 'The Voice' Final Battle Round? Season 19 Saves and Steals of Episode 8
The competition is heating up but the teams are slimming down on Season 19 of The Voice.
Blake Shelton, John Legend, Kelly Clarkson and Gwen Stefani's teams performed in the final night of the battles on Monday. And boy, did the coaches have a hard time choosing between contestants as they sang together, yet against one another.
The first battle round was between Team Gwen contestants Carter Rubin and Lariah Jackson, who performed a beautiful cover of Megan Trainor and John Legend's duet, "Like I'm Gonna Lose You." The teenage singers did such an incredible job that Clarkson couldn't give Stefani any advice as to who she should pick to stay on her team. Although Shelton claimed NBC would fine her for not helping Stefani, Clarkson said she'd rather cough up the dough than to have to choose between the teens.
Stefani decided to go with 14-year-old Rubin, noting his "unique sound to his voice." However, the coach wasn't ready to part ways with Jackson either, so Stefani used her final save of the season to keep Jackson in the game.
"Since rehearsals, I have not stopped thinking about you. You have so much to give the world. I can just feel it. I'm so happy I got to save you," Stefani said to Jackson, later telling show producers that she felt as though the 15-year-old is "singing from a real place in her heart."
Stefani had another tough choice to make between Van Andrew and Tori Miller, who performed Taylor Swift's "Exile," but opted to go with Andrew. As for her choice between Liam St. John and Ryan Berg, who delivered an energetic and suave cover of Aloe Blacc's "I Need Dollar," Stefani decided to keep Berg, much to her fellow coaches' approval.
Ian Flanigan and Ben Allen got to keep their spots on Team Blake after outperforming teammates Aaron Scott and Sam Stacy, respectively. Team Blake also gained a new member, James Pyle, after Shelton used his one and only steal for him once Legend picked Cami Clune over Pyle, following their powerhouse performance of "Wicked Game" by Chris Isaak.
"I'm so happy I got a chance to steal James. He's just got this under-the-radar talent. The ones that people don't expect to break out, those are the ones you gotta keep your eye on once they do it, because it's hard to stop them," Shelton said.
Speaking of Team Legend, New Orleans native Casmè moved ahead, over Detroiter Rio Souma following their energetic rendition of "You're All I Need to Get By" by Marvin Gaye and Tammi Terrell.
"Everyone loves Casmè. Her energy is so infectious. She's so soulful and charming. Her presence onstage is just superstar quality," Legend said.
Clarkson had to choose between Emmalee and Kelsie Watts after they sang "I Love Me" by Demi Lovato. She ultimately sided with Watts. The former American Idol winner had her toughest choice of the night when it came time for Marisa Corvo and Ryan Gallagher to compete against each other. The pair were given "I Surrender" by Celine Dion and, just as Clarkson predicted, they blew the roof off the building with their stunning performance.
In the end, Clarkson chose Corvo, but in a last-minute move, she used her only save to keep Gallagher, too. "Marisa versus Ryan was the worst battle I've ever had to choose between because they're both incredible singers. I couldn't deny how Marisa just nailed it. She was just [clicks tongue] knock it out of the park," Clarkson said.
She added: "Ryan, I just don't want him to go home. I think he's so gifted. His voice is so moving."
The final night of battles leaves just seven members on each team. They'll get cut down again as performers head to the next round of the competition, knockouts.
See all the contestants set to move on to the knockouts below. The Voice airs on Monday and Tuesday nights at 8 p.m. ET.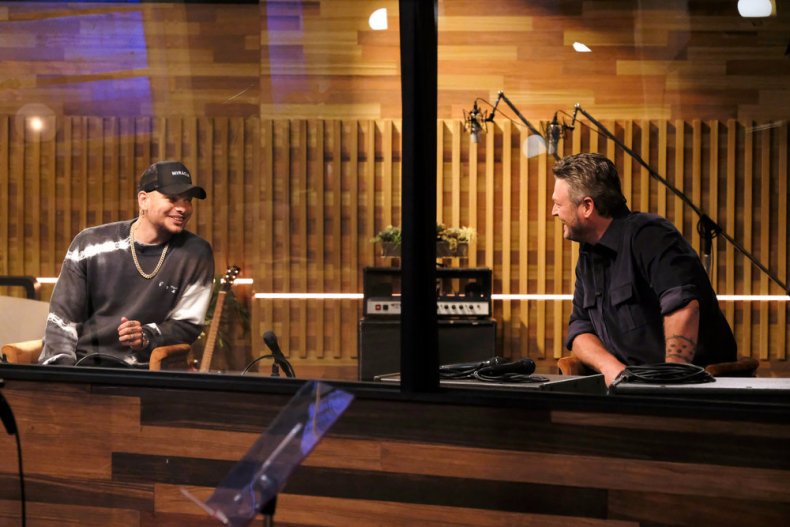 Team Kelly: Madeline Consoer, Sid Kingsley (steal), Desz, Tanner Gomes, Marisa Corvo, Ryan Galagher (saved), Kelsie Watts
Team Gwen: Payge Turner, Joseph Soul (steal), Chloé Hogan, Carter Rubin, Lariah Jackson (save), Van Andrew, Ryan Berg
Team Legend: Tamara Jade, Lauren Frihauf (steal), Bailey Rae, John Holiday, Julia Cooper (save), Casmè, Cami Clune
Team Blake: Worth the Wait, Taryn Papa (save), Jus Jon, Jim Ranger, Ian Flanigan, Ben Allen, James Pyle (steal)