These Are 'The Voice' Contestants Headed to Season 19 Live Shows
The knockouts are officially done on Season 19 of The Voice.
It's been a long journey, but coaches Blake Shelton, Kelly Clarkson, Gwen Stefani and John Legend have chosen the final artists of their teams to move forward to the live shows. With the help of mega mentor Usher, the last members of Team Kelly and Team Legend laid everything on the stage to secure their spots in the competition during Tuesday night's final knockouts.
Team Kelly members Marisa Corvo and Tanner Gomez were first to perform. Corvo delivered a cover of Cher's "If I Could Turn Back Time" that gave the coaches goosebumps. Unfortunately, though, it couldn't compete with Gomez's upbeat and energetic cover of the Tim McGraw hit song, "Real Good Man."
"Marisa and Tanner, they're both really great at taking advice. And I ended up going with Tanner because Tanner has really shown me different sides. He's shown me, like, this kind of charisma," Clarkson said.
Legend had the hard decision between the ethereal Cami Clune and soulful John Holiday, who performed "I Put a Spell on You" by Annie Lennox and "All By Myself" by Celine Dion, respectively.
Although Legend thought they both gave "fantastic" performances, he decided to move Holiday on to the live shows.
"Cami gave one of the best performances I've seen this season. Her only problem is that she's going against John, who sings just out of this world. He is the voice," Legend said.
It wasn't quite the end of the road for Clune, either. Before the artist could even say her final words to her coach, Clarkson decided to use her one and only steal to send Clune to the live shows as her newest team member. "I would like to say thank you to John for screwing up because you are awesome and I can't wait to go through songs with you and see what you are going to do next," Clarkson said.
"I stole Cami because I think she is the dark horse right now, y'all. And I can't believe she was up to steal. So, boom! I'm gone come back with that one and I'm going to rub it in John's face," Clarkson teased.
Then it was on to the four-way knock out between Team Legend member Julia Cooper, Team Gwen's Larriah Jackson, Team Kelly's Ryan Gallagher and Taryn Papa of Team Blake. It was a stressful choice, considering how good and different each of the artists are, but luckily for the coaches, it isn't a decision any of them have to make.
America gets to cast their votes for their top pick of the four-way knockouts. The winner will be announced at the beginning of the first live show of Season 19, on December 30. Viewers can continue to cast their ballots for their favorite contestants on The Voice app and NBC.com until Wednesday at 7 a.m. ET.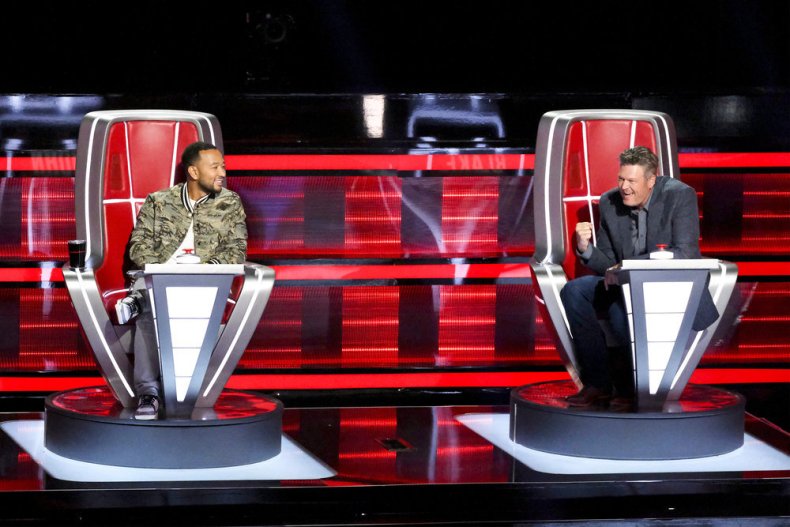 Who's going to The Voice live shows?
Well, the final knockout rounds are over, and now the fate of the remaining artists lies in the hands of the viewers. Fans will get to vote for their favorite artists of Season 19 during the live shows, which begin on December 30, and they'll find out which of the four-way knockout artists will move on to the live shows then, too. See the artists left to compete for The Voice champion below.
Team Kelly: Desz, Madeline Consoer, Tanner Gomez, Cami Clune (steal)
Team Gwen: Payge Turner, Ben Allen (steal), Joseph Soul, Carter Rubin
Team Legend: Tamara Jade, Bailey Rae, Chloé Hogan (steal)
Team Blake: Worth the Wait, Sid Kingsley (steal), Jim Ranger, Ian Flanigan