'The Voice' Eliminations: Who's Out and Who's In the Top 5 on Season 19?
It seems just like yesterday when coaches Blake Shelton, Gwen Stefani, Kelly Clarkson and John Legend were picking members for their teams on the 19th season of The Voice. And now we're headed to the finals.
The week started with nine contestants still in the running for the title of The Voice champion. Carter Rubin, Tamara Jade, Ian Flanigan, John Holiday, Bailey Rae, Desz, Ben Allen, Jim Ranger and Cami Clune gave stunning performances during Monday's semi-finals live show, however, their time was limited. Following their semi-finals performances, America was left with the hard task of voting for the best artists of the night. Show host Carson Daly revealed voter's results during the elimination show on Tuesday, during which four artists with the most votes were named. An instant save at the end of the show rounded out Season 19's top five.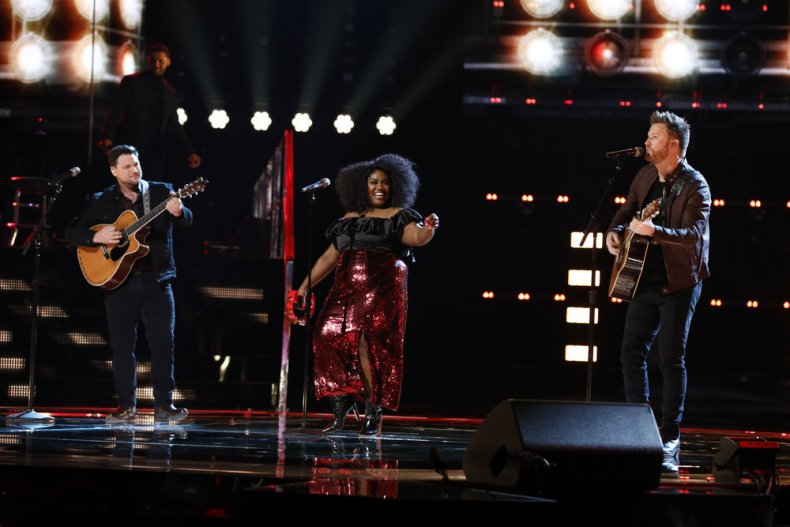 Although the show got off to a holly jolly start with a holiday performance from Clarkson and country music star Brett Eldredge, it wasn't long before Daly announced the top performers of the competition starting with members of Team Kelly including Clune and Desz, the latter of whom received the highest number of America's votes and is set to move on to the season finale.
Out of Team John members Rae, Holiday and Jade, the one to advance to the final round of the competition was Holiday. Team Blake members Ranger and Flanagan were up next to find out their fates. They both impressed their coach and voters with their sensational performances, however, it was Ranger who was named winner of the round. As for Rubin and Allen, the last remaining members of Team Gwen, Rubin secured the most of America's votes, leading him to compete in the top five.
That left Allen, Flanigan, Rae, Jade and Clune having to duke it out in the instant save round, during which each of them performed one final time in attempts to get the most of America's votes.
Up first was Allen, who performed a heartfelt cover of Matt Stell's "Prayed For You." Clune was next to hit the stage with her cover of Billie Eilish's "When The Party's Over," followed by Rae, who sang Hank Williams' "Your Cheatin' Heart." Jade delivered a stellar performance of the Nina Simone classic, "Feeling Good," while Flanigan gave a swoon-worthy cover of Travis Tritt's "Anymore."
After a few minutes of flash voting on Twitter, America's decision was delivered: voters chose to move Flanigan on to the Season 19 top five.
The Voice airs on NBC on Mondays and Tuesdays at 8 p.m. ET.
The Voice Season 19, Episode 18 Finalists
Team Kelly: Desz
Team Gwen: Carter Rubin
Team Legend: John Holiday
Team Blake: Jim Ranger, Ian Flanigan
The Voice Season 19, Episode 18 Eliminated Artists
Team Kelly: Cami Clune
Team Gwen: Ben Allen
Team Legend: Bailey Rae, Tamara Jade