'The Voice': Who Are the Top 5 Performers Headed to Season 19's Final Eliminations?
There's a reason why The Voice is called The Voice—the NBC singing competition has proven season after season that there are some truly unique and powerful voices that deserve to be heard. And the top five contestants of the show's 19th season were certainly heard loud and clear during the final night of performances on Monday.
Each of the members on coaches Blake Shelton, Gwen Stefani, John Legend and Kelly Clarkson's teams performed two songs during the first part of the Season 19 finale shows, including a cover of a classic and an original song of their own, written with the help of a songwriter of their coach's choosing.
It was a high note to end the competition, as the singers delivered perhaps their best performances of the season. But while they all did an incredible job, only one of them will be named winner of The Voice on Tuesday's elimination episode.
But before all that, brush up on all you need to know about Season 19's final five contestants below.
Carter Rubin, Team Gwen
Since the moment he first hit the stage during the blind auditions, 15-year-old Carter Rubin has remained a fan favorite, and it's likely that he could be the one to win it all after his riveting performances on Monday.
Rubin kicked off the show with a cover of Miley Cyrus' song "The Climb," which he sang with great emotion and confidence. He nearly brought his coach to tears a second time later in the show, when he performed his inspirational new (and first-ever) single, "Up From Here," written with the help of star songwriter Justin Tranter.
"I can't wait to see what happens [for you] after this show," Stefani said following Rubin's final performance. "Thank you for trusting me. You're a beautiful person, in and out."
Desz, Team Kelly
No matter how the results turn out, at least Desz already has a designated background singer in her coach. Clarkson reiterated her desire to sing background during Desz's performances after The Voice is over, and Desz is selling out her own shows because stardom is definitely where she's headed after her finals performances.
For her first set, Desz—with the help of a choir—gave an impeccable performance of her single "Holy Ground," touching on the sentiments many people have been feeling in the times of coronavirus and constant quarantining. Then, Desz blew everyone away with her sensational cover of Fleetwood Mac's classic "Landslide," which, naturally, brought on the waterworks for Clarkson.
"I have to stand because I wish I could've said this in your last performance, too: You do things vocally ... that no one I know can do. Your runs, your precision with it, and also it's believable, it's felt, it's pure, it's raw, it's all the things I desire to be as a vocalist and honest to God, will never reach," Clarkson told Desz while fighting back tears. "You have an amazing gift. If you win or not, know that you sang your behind off on this stage. And you deserve it. You are so blessed."
Jim Ranger, Team Blake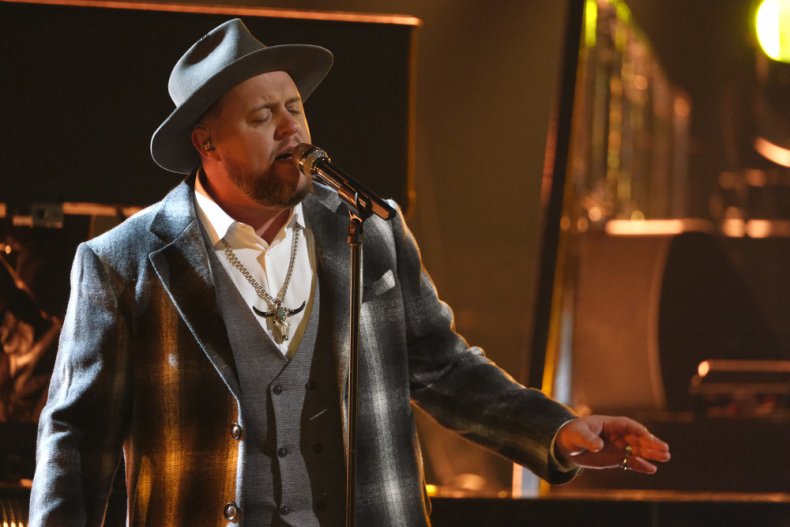 Jim Ranger laid it all on the line during his final two performances of the season, and showed the coaches and viewers what he is truly capable of: a lot. His powerhouse vocals shined in his original song, "Last," but it was his cover of The Beatles' "With a Little Help From My Friends," done in a way more reminiscent of Joe Cocker's famous version, that got all the coaches up out of their seats.
"That was your best performance of this show," Clarkson said. "That felt like it could have been your original. It was so well-suited to your voice, to the moment, great job!"
Ranger's coach, Shelton, explained that earlier on in the season, Ranger expressed that over-singing was his greatest fear. Turns out, that may be his best attribute. "Jim, great job over-singing, man," Shelton raved.
John Holiday, Team Legend
Of all the contestants on Season 19 of The Voice, John Holiday may have the biggest range. He hits notes that are out of this world and he's done it so effortlessly, performance after performance. So, of course, he delivered a pristine performance of his original song, "Where Do We Go," and showed off his stunning falsetto and piercing high notes in an angelic cover of Beyoncé's "Halo."
"I love that you continue to show America more of yourself," Legend told Holiday after his last performance of the night. "You put your heart out there every single week. You have an out of this world gift. What a magical voice you have... I'm so glad you got to soar on this song. I'm so proud of you and so happy for you."
Ian Flanigan, Team Blake
Ian Flanigan first flexed his husky, smoky voice with a heartfelt performance of "In Color" by Jamey Johnson—a song that he sang so well, it was almost as if he wrote it himself. The Saugerties, New York, singer just has a way of telling a story through music that pulls listeners in and makes them want to sit and stay for a while—at least, that's how his coach feels about Flanigan's performance. When he belted out his own original single, "Never Learn," Flanigan had all the coaches feeling nostalgic.
"I don't know if Ian is from the past or from the future," Shelton said of Flanigan. "I can't think of where he belongs, there's never been anyone that sounds anything like him. Even though you're new, it's iconic-sounding. It's truly amazing, man."