Watch This 14-Year-Old Singer Blow 'The Voice' Coaches Away During Blind Auditions Week 2—Sneak Peek
The Voice is back on Monday to kick off the second week of Season 19 Blind Auditions, and it seems that the youngest contestant of the competition will get a chance to move on to the next round after stunning the judges with a powerful performance.
Of course, there's been a fair share of young people who have appeared on The Voice over the years. Last season, 13-year-old singer Ava August gave her all with a cover of Georgia Turner and Bert Martin's hit, "House of the Rising Sun." Unfortunately, she didn't get any chair turns, but that won't be the case for the teen set to appear before coaches Blake Shelton, John Legend, Gwen Stefani and Kelly Clarkson during week two of the blinds.
In fact, the judges are as blown away by Carter Lewis' voice as they are by his age. In a sneak peek of the third episode of Season 19 (below), Lewis performs such a breathtaking cover of "Before You Go" by Lewis Capaldi that the coaches are completely gobsmacked to discover a 14-year-old is the one with such pristine pipes.
"I cannot believe what I'm hearing and seeing right now. This is a shock," Stefani says following Lewis' performance.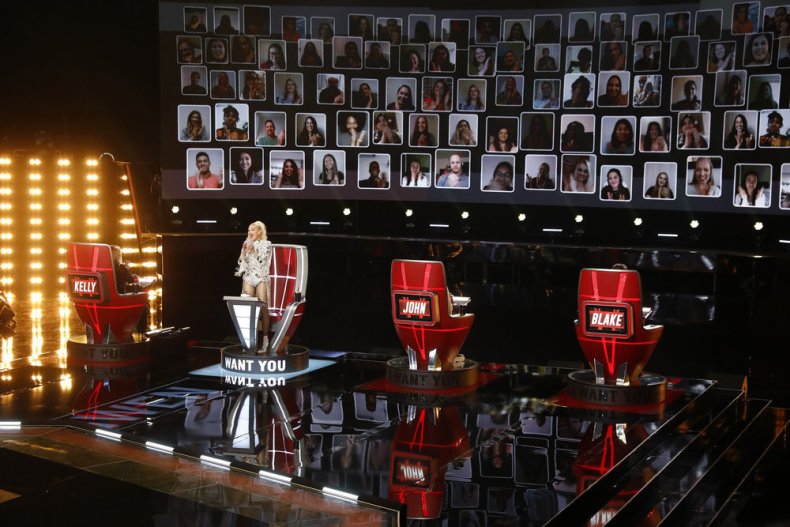 Although he only gets chair-turns from Stefani and Legend, fellow coaches Clarkson and Shelton admit that he certainly has a musical future ahead of him.
"You have the most incredible smile I think I've possibly ever seen on any human. I know you keep looking at me like, 'Why is the weirdo smiling at me,' and I cannot stop smiling because it's so beautiful. You have a great voice, especially finding out that you're 14—that's insane," Clarkson says.
Shelton agrees that Lewis is an "incredible singer," and notes that he never would have guessed the Long Island native was as young as he is. Shelton also knows just the right coach to work with the teenager.
"You've got one great coach that did turn around in this situation and I'm very happy for you," Shelton teases. "I'm just going to leave it up to your imagination who I'm talking about."
While everyone knows Shelton is likely advocating for his girlfriend Stefani, Legend thanks the country singer anyway for the recommendation before pouring out the compliments in an effort to convince Lewis to join Team Legend.
"Carter, I turned for you very early on. You sounded polished. You sounded strong. Your voice has control, which a lot of people your age wouldn't have, and your tone is just piercing and brilliant and it just shimmers out there," Legend says, later adding that Lewis is the first young singer he's ever turned for on the show.
"I'm usually like the one who's a little too snobbish to turn because most of the young people that come here, they're talented but they don't have the control. I'd love for you to be the youngest person I've ever coached on The Voice," Legend continues.
As for Stefani, well, she already knows what it's like to work with a 14-year-old since she has a son that age, and she tells Lewis she could make the competition incredibly comfortable for him. Not to mention, help him with all the important things like stage presence and style.
"I loved your voice. When you got into your full voice the tone was so beautiful, it was shocking to me," she says. "The one thing I think I can help you with that you probably don't have tons of experience with is being on TV and being able to have that stage presence because you're going to be picking songs that need to be age-appropriate. This song might be maybe something that you didn't experience yet, I can help you to wrap your head around that emotion and your style and how you're going to dress and present yourself. I would love to be doing that for you."
It's a tough choice, but the teen can only pick one team to continue with in the competition.
The Voice airs on NBC on Monday and Tuesday nights at 8 p.m. ET.