Watch These Contestants on 'The Voice' In The Final Battle Round of Season 19—Sneak Peek
It's the final night of battles on Season 19 of The Voice.
The remaining contestants on coaches Blake Shelton, Gwen Stefani, John Legend and Kelly Clarkson's teams will go head-to-head on stage in the last round of sing-off-style competitions on Monday night's eighth episode of the season. Like with last week's battles, coaches will pair up artists on their team, after which the contestants will have to sing the same song against one another at the same time in front of all four coaches. Their respective coach will choose the best performer to move on to the next round of the competition while the other singer will be sent home.
There's still a chance for two lucky contestants to be saved and sent to the four-way-battle round. Last week, Team Legend member Julia Cooper was saved while Shelton used his only save for Taryn Papa. And there's still at least one contestant that may have the chance to be stolen by another team, as Shelton has yet to use his only steal of the season. There will be plenty of artists for him to choose from, too.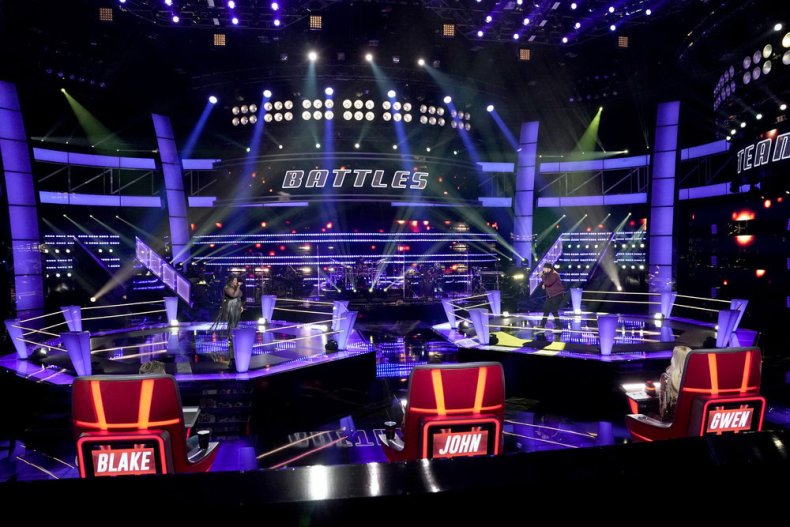 Three pairs of contestants from Team Gwen will battle on Monday night, including 29-year-old Liam St. John and 28-year-old Ryan Berg. They're set to sing "I Need a Dollar" by Aloe Blacc—a song Stefani specifically chose to encourage the men to show off their soulful side.
"Ryan has a really beautiful tone, and Liam has a lot of charisma. I paired them together because they're in the same space as far as the way they sing soulfully," Stefani says in a sneak peek clip of episode 8.
The youngest contestants on the show, Team Gwen members Carter Rubin, 14, and 15-year-old Larriah Jackson, are also set to compete in a performance of "Like I'm Gonna Lose You" by Megan Trainor and John Legend. Meanwhile, 26-year-old Tori Miller and 29-year-old Van Andrew will battle it out with a joint cover of Taylor Swift's "Exile."
Only two pairs of artists from Team Blake, Team Shelton and Team Clarkson will perform on the final night of battles.
Aaron Scott, 37, will face off with fellow Team Blake member Ian Flanigan, 30, in a battle performance of "Have You Ever Seen the Rain" by Creedence Clearwater Revival. In the episode clip, Shelton says he chose the song because it "lands right in the middle of what they both do."
"The is absolutely the perfect song for these two," he notes.
Team Blake contestants Ben Allen, 42, and Sam Stacy, 27, will also hit the stage to sing "Free" by the Zac Brown Band.
In the sneak peek, Legend says the battle between his team members Casmè, 39, and Rio Souma, 28, is likely going to be "one of our favorites of the battles." The R&B singers are slated to perform Marvin Gaye and Tammi Terrell's song, "You're All I Need to Get By." Meanwhile, 20-year-old Cami Clune and 30-year-old James Pyle will perform a battle rendition of "Wicked Game" by Chris Isaac.
As for Team Kelly, members Emmalee, 20, and Kelsie Watts, 29, are up to sing "I Love Me" by Demi Lovato. Clarkson is especially excited to see 33-year-old Marisa Corvo and 31-year-old Ryan Gallagher perform against one another—although choosing between the two powerhouse singers will be an incredibly challenging feat.
"Marisa has an incredible gift. She can hit any note, and Ryan is more than just an opera singer. So I immediately thought of 'I Surrender' by Celine Dion. They're going to blow the roof off the house," Clarkson says.
The contestants will face off in the final battle round of The Voice's 19th season on NBC on Monday, beginning at 8 p.m. ET.