Sneak Peek: Watch 'The Voice' Coaches Pair Artists in Night 2 of Knockouts
Performers will sing it out for their chance to stay on The Voice in another round of Season 19 knockouts this week.
On Monday's upcoming episode of the NBC musical competition, Blake Shelton, Kelly Clarkson, John Legend and Gwen Stefani's teams will pair members of their teams to duel it out on stage. Unlike the battle rounds, in which coaches chose the song for team members to perform, artists will get the chance to choose the songs they feel best showcase their vocal strengths and talent. Following their performance, coaches will have to pick a winner, who will move forward to the live shows.
Usher is back as the mega mentor to help guide contestants through the knockouts, too.
Four members of Team Kelly are set to hit the stage during part two of the knockouts. Clarkson paired Desz and Sid Kingsley against each other for the first match, and they'll be singing "Can We Talk" by Kevin Campbell and "Make it Rain" by Foy Vance, respectively.
In a sneak peek for the episode, Clarkson admitted she paired Deszy and Kingsley because they both perform with such soulful vibes, but Usher notes Kingsley's musical talents may make him hard to beat. "Sid is a very soulful singer and as a pianist, he can create the emotion through what he plays," Usher says in the clip.
Clarkson knows it's going to be tough choosing between the artists. "These two singers are so undeniably gifted so this is going to be really hard and I really hope somebody gets stolen," she said.
Team Kelly member Kelsie Watts is expected to belt out a cover of Alanis Morissette's "You Oughta Know" against Madeline Consoer, who is set to sing "Die From a Broken Heart" by Maddie & Tae.
Legend paired Bailey Rae versus Lauren Frihauf, who will be singing "Let Me Down Easy" by Billy Currington and "Cry Baby" by Janis Joplin, respectively. Although both women are powerhouses in their own right, Legend says choosing between them will boil down to "who goes out there and delivers a performance that's so compelling that I have to choose them."
The soulful pairings will continue for Team Blake, with Jus Jon and Jim Ranger expected to compete against one another. "I paired Jim Ranger and Jus Jon because even though they're in different lanes musically, they both have the most soulful sounding voices on my team," Shelton said in the sneak peek.
Choosing between those two contestants will likely be just as challenging as the second Team Blake pairing of James Pyle and Ian Flanigan, who are both different as performers but equally talented.
"I think James has a real shot. When he belts, man it's like it rings out," Usher said. "Ian has something really special with the raspiness and the raw nature of what he offers. I think that's one of Blake's top guns."
As for Stefani's team, teens Carter Rubin and Chloe are expected to go head to head. Rubin will sing "You Say" by Lauren Daigle while Chloe takes on a cover of "Weak" by SWV. Also set to perform from Team Gwen are Joseph Soul and Van Andrew, who will offer their renditions of "Lovely" by Billie Eilish and The Killers' "Human," respectively.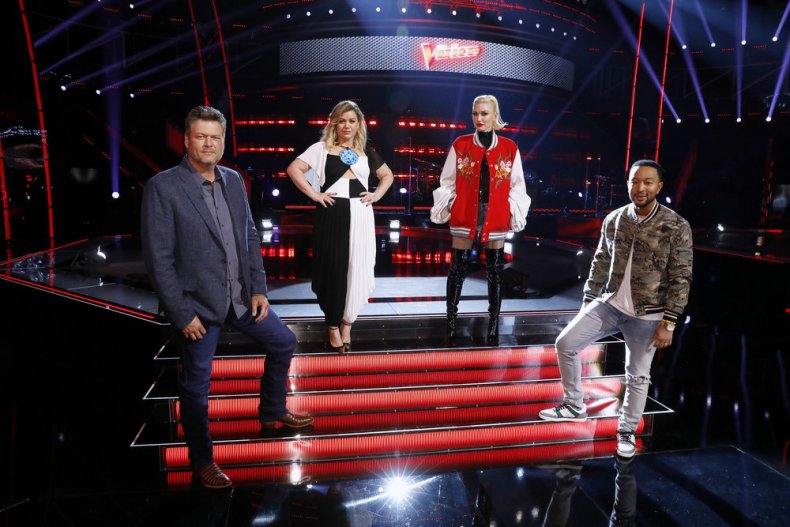 The Voice airs on NBC on Monday and Tuesday at 8 p.m. ET.