Watch Kelly Clarkson and Blake Shelton Fight Over This Contestant in 'The Voice' Season 20 Sneak Peek
The teams are nearly completely full on the 20th season of The Voice.
The NBC singing competition will return on Monday night with the final leg of the Blind Auditions, during which coaches Blake Shelton, Kelly Clarkson, John Legend and Nick Jonas will each choose the 10th and final artist to add to their respective teams.
At least one of the last remaining contestants will have Shelton and Clarkson battling each other. In a sneak peek for Season 20, episode 6, the longtime coaches engage in a friendly war of words when they both turn their red swivel chairs for 21-year-old Keegan Ferrell, who serenades them with a smooth, breezy cover of Maroon 5's hit song, "She Will Be Loved."
Shelton thinks he has Ferrell in the bag since he "happens to be buddies with the guy who wrote and sang that song"—meaning Adam Levine, a former coach on The Voice. Clarkson is familiar with Levine, too, but Shelton kids that her relationship with the singer may not be as friendly as she portrays.
"I want you to look for just a second at this coaching panel. Take note of who's missing and who's in that chair. Now I'm not saying that Kelly Clarkson got Adam fired, but he's gone and she's sitting there," Shelton says.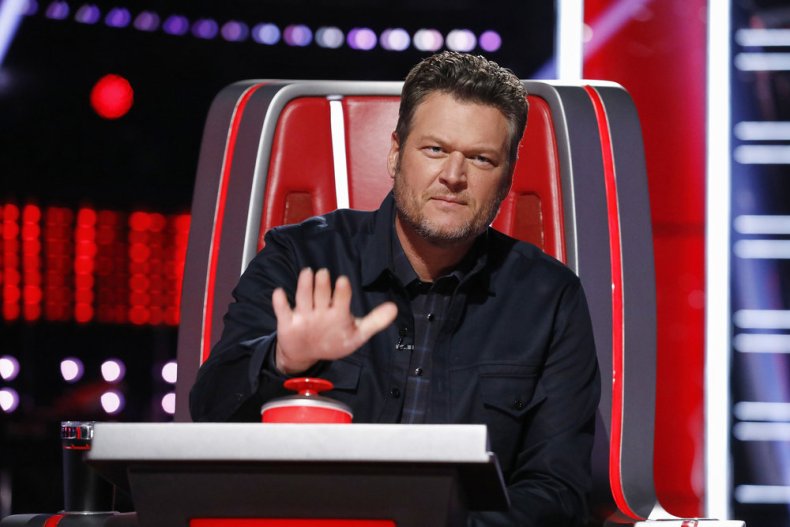 Legend jokingly backs up Shelton's suggestion by claiming that Clarkson has a talk show on the NBC network, too, so she probably has enough power and connections to help edge Levine off the show.
"This network stands for Nothing But Clarkson," Shelton adds.
Kelly chimes in: "You know what, who do you want to go for? Powerful or weak?"
Maroon 5 frontman Levine served as a coach on The Voice for 16 seasons before his exit was announced in 2019. Levine later shared a lengthy Instagram post explaining the reason for his departure and claiming that it was simply just "time to move on."
Ferrell may have been inspired by Levine, and he certainly has the pipes to sing the Maroon 5 number, but later in the clip, Clarkson goes on to remind him that he needs a coach that can do more than just brag about having a friendship with Levine: Ferrell needs a coach that can guide him on the path to pop stardom, which is something she's incredibly familiar with.
"I know, love and breathe pop music, have for, like, 20 years. And I really, really feel like we would be a great team together, and that's why I turned around lightyears before Shelton. This is my lane," Clarkson says.
The singer will make his final decision and claim the remaining spot on Clarkson or Shelton's team when The Voice airs on NBC on Monday at 8 p.m. ET.