'The Voice' 2021: Who Made the Teams on Night 4 of Season 20 Blind Auditions?
The Blind Auditions on the 20th season of The Voice are chugging along, and the teams are starting to stack up. Each of the coaches—Blake Shelton, Kelly Clarkson, John Legend and Nick Jonas—have seven artists on their teams following Tuesday night's fourth round of Blind Auditions.
But there is still another round of Blind Auditions to go. So while the Season 20 winner could already be placed on a team, there is a possibility that the champion-to-be hasn't arrived just yet. Nonetheless, the latest batch of contestants to land a proper spot on the show are full of talent and sure to compete with everything they've got when they face off during the Battle Rounds, which will begin next week.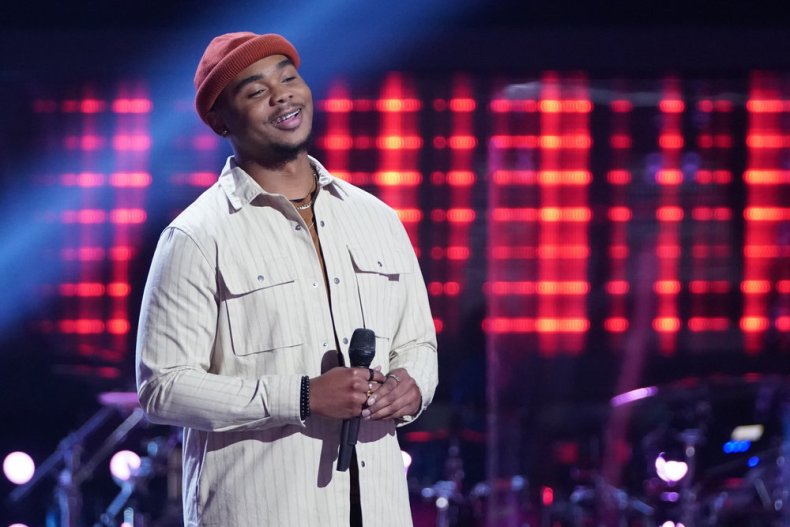 Head below to see who made the cut on Shelton, Clarkson, Legend and Jonas' teams on Tuesday.
Team Blake
Connor Christian
Shelton, Jonas and Clarkson wanted Connor Christian for their respective teams, thanks to the raspy-voiced rocker's energetic and thrilling performance of Gary Clark Jr.'s "Bright Lights." But the 23-year-old musician thought his "blues-bar kinda vibe" was a better fit for Team Blake.
Possessing one of the more unique voices to appear on the show so far, Christian was born and raised in Ohio, and began singing in church when he was a kid. He credits the hymns that folks sang during Sunday service with sparking his passion for music and his desire to learn the guitar. He currently plays in his church band in Colorado, where he now lives and works as a full-time tennis coach.
Team Blake members so far: Cam Anthony, Pete Mroz, Ethan Lively, Emma Caroline, Aaron Konzelman, Avery Roberson, Connor Christain
Team Kelly
Gihanna Zoë
Seventeen-year-old Gihanna Zoë's rendition of Sara Bareilles' "She Used to Be Mine" landed her a two-chair turn from Clarkson and Jonas. Both coaches seemed like a good fit for the powerhouse singer, and Clarkson and Jonas both claimed that they'd be able to help ease her performance nerves later on down the line. In the end, though, it was Clarkson and her cute team jackets that won Zoë over.
A California native, Zoë started singing in church when she was 6 years old. She began piano lessons shortly after and went on to attend a performing arts school in her hometown. Although music is her first love, Zoë is a fan of several other arts as well. Along with songs, she's written two movies, 12 short films and four plays all while attending an online school.
JD Casper
Texas singer JD Casper was quite literally a one-man band for his Blind Audition. He performed a cover of The Fray's hit song, "How to Save a Life," all while playing the fiddle, banjo and bass player simultaneously. It was an impressive enough performance to convince Clarkson to turn her chair for the folksy singer.
"This is a really cool thing for me because, usually, guys like you who look cool like this never choose me. And you have no choice," Clarkson said.
Before landing a spot on The Voice, Casper was a member of the Navy, working on an aircraft carrier as a member of the Primary Flight Control where he often performed for his shipmates. Casper's love for music pushed him to make a career out of his talent, so he decided to leave the service and become a full-time musician. He now plays gigs all over Austin, Texas, where he lives.
Team Kelly members so far: Corey Ward, Kenzie Wheeler, Gean Garcia, Ryleigh Modig, Halley Greg, Gihanna Zoë, JD Casper
Team Legend
Deion Warren
The only reason Deion Warren didn't get a four-chair turn was because Shelton promised his team member Cam Anthony that he would "keep the lane clear for him" and for once, Shelton kept his word. That might a tough decision to live with, considering the powerful pipes that Warren displayed during his cover of "Shallow" by Lady Gaga and Bradley Cooper.
Warren has sung most of his life. To keep out of trouble, he joined the church choir as a kid and continued to sing throughout school and college. Now he has a degree in criminal justice and works as a parole officer, but he still makes time to sing and perform with his band in North Carolina.
Team Legend members so far: Christine Cain, Victor Solomon, Carolina Rail, Ciana Pelekai, Durrell Anthony, Pia Renee, Deion Warren
Team Nick
Bradley Sinclair
There was another showdown between Jonas and Clarkson when 22-year-old Bradley Sinclair hit the stage with his upbeat rendition of "Say You Won't Let Go" by James Arthur. Jonas, who thought Sinclair's "pure tone" and range were magnificent, came out the winner this time around.
A Michigan transplant living in Nashville, Tennessee, Sinclair became enthralled with music the first time he played his brother's drum set as a kid. That led him to join the choir, and over time he taught himself how to play a number of instruments. The 22-year-old works in tech, but now he's ready to give his music career a real shot.
Team Nick Members so far: Dana Monique, Devan Blake Jones, Raine Stern, Zae Romeo, Andrew Marshall, Jose Figueroa Jr., Bradley Sinclair