Watch Team Blake Members Cam and Emma Face Off in 'The Voice' Season 20 Sneak Peek
The Battle Rounds are underway on the 20th season of The Voice.
When the NBC singing competition airs on Monday night, more members of coaches Blake Shelton, Kelly Clarkson, John Legend and Nick Jonas' teams will hit the stage. During the Battles, the coaches pair their team contestants up to sing a song together, and after the performance, the coaches critique and make their final decision as to which team member will move forward to the next section of the competition—the Knockout Rounds.
Shelton will have his work cut out for him on Monday night when he pairs Cam Anthony and Emma Carolina together for a Battles showdown of Dan + Shay and Justin Bieber's hit song, "10,000 Hours." Both Anthony and Caroline sound great in a sneak peek of the performance released by NBC, and their syrupy tones and effortless control as they belt out the song's lyrics will make it difficult for Shelton to choose between the two of them.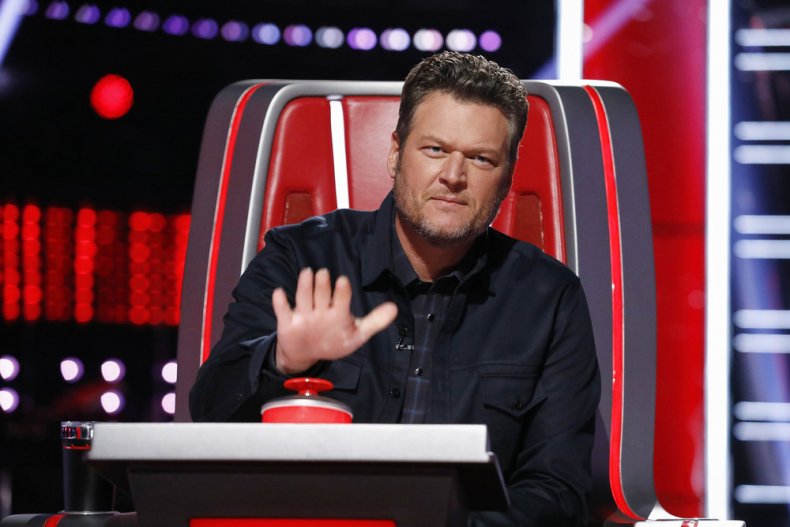 All of the coaches enjoy watching the performance, but Legend and Jonas try to help Shelton make his decision by explaining exactly who they'd choose to advance in the competition and why.
"Emma, you've got this really pure, beautiful tone that I think makes you stand out," Jonas says in the clip. "Cam, you have a real gift. There's no denying this. Your stage presence, your breath control was phenomenal, and you made some really cool choices. I would have to say I'd go with Cam, but Emma, I think you are phenomenal."
Legend, noting that the only reason why Anthony isn't on his team is likely because Jonas blocked him during the Blind Auditions, agrees that Anthony gave the more compelling performance.
"You really seem to sing with passion and fire and conviction. That conviction pushed me over the edge with you a little bit more, but I think [Blake] couldn't go wrong either way," Legend says.
Guest coach and country-pop star Kelsea Ballerini, who is filling in for Clarkson on Monday night's episode, is impressed with both vocalists. However, she points out that Caroline's confidence—or lack thereof—may have prevented her from showing off just how great of a singer she really is.
"When John, Nick and Blake all talk about your tone and how amazing it is, I hope it makes you feel like a superhero, because it would make me feel like a superhero. That's your magic power, and I want to see you put your shoulders back and own it a little bit more," Kelsea Ballerini tells Caroline.
As for Anthony, Ballerini says that the 19-year-old singer is beyond his years when it comes to his talent.
"Cam, you're so confident on stage and it's beautiful to see the way you played to [Emma], the way you played to us and the cameras and people at home watching. That is so impressive. You're 19. When I was 19, I was just like, 'What's up? Am I in college? I don't know.' Congratulations for being so awesome," Ballerini says.
After all of the other coaches share their opinions, Shelton offers his critique and agrees that while Caroline has a beautiful voice, her performance would have been better if only she actually believed in herself more.
"Emma, you're an incredible vocalist, and it only appeared that you were having as much fun as we were listening to you in the moments when you weren't singing. It's frustrating to know that you're that great of a singer, and I don't know that you believe that you're that great of a singer because of your body language," Shelton explains before turning his attention to Anthony. "Cam, your singing is unbelievable. Your presence onstage, you look like you were born to do that."
It seems like Anthony may have this round in the bag, but the decision ultimately lies in Coach Shelton's hands.
The Voice airs on NBC on Mondays at 8 p.m. ET.