Watch Nick Jonas Make Toughest Battles Choice Yet in 'The Voice' Season 20 Sneak Peek
Nick Jonas will have to make his hardest decision yet when it comes time to choose between two phenomenal contestants on his team on the 20th season of The Voice.
It's the final night of the Battle Rounds on The Voice, and in a sneak peek video of Monday night's upcoming episode, the award-winning singer finds himself torn between 22-year-old contestant Bradley Sinclair and his 16-year-old competitor, Rachel Mac.
The two singers deliver a compelling rendition of Elton John's hit song "Your Song" that really wows Jonas and fellow coaches Blake Shelton, John Legend and Kelsea Ballerini, who is filling in for Kelly Clarkson. Sinclair and Mac even land the first—and, so far, only—standing ovation from all four coaches when the performance ends. And just like Jonas, they're also stuck on whom he should choose to move forward.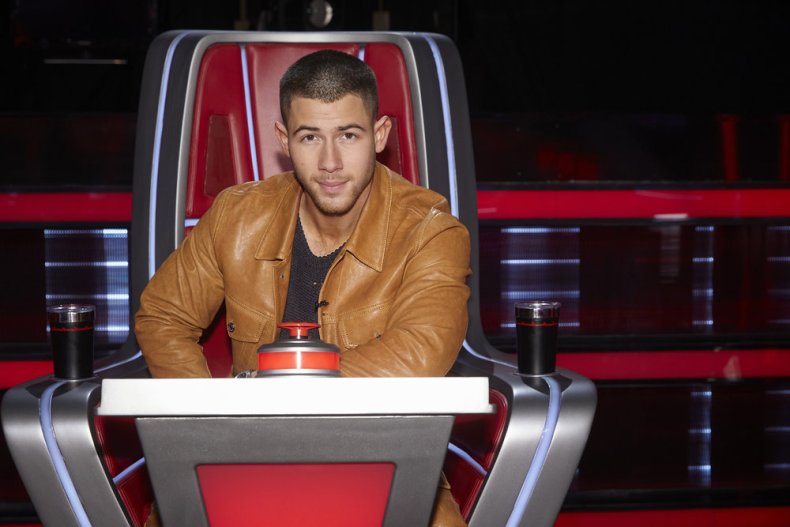 "You two were beautiful just now. When we have these moments it reminds us why we love music. It's like, ah, this is what music is supposed to feel like," Legend says in the clip. "Honestly I don't know how you decide between what we just saw just now because they were both perfect."
Ballerini is impressed with Mac's vocal control and range, considering how young she is. Meanwhile, the country-pop star wishes Clarkson, who is out sick, would have had the chance to hear the way Sinclair uses his voice.
"That's a tough choice," Ballerini tells Jonas, "But I would be really interested to see more from Bradley."
Country legend Shelton also thinks the way Sinclair's voice "kinda shreds a little bit" when he sings is really cool.
"I wanted you to do that more, but it's good that you didn't because now I'm dying to hear you sing again," Shelton says.
However, Shelton is just as moved by Mac's vocal abilities, and points out that since Jonas had his big breakthrough in the music industry when he was 13, he'd really be able to help Mac navigate stardom as a teenager.
"Rachel is going to begin experiencing [her music industry breakthrough], and if this was a dead-even tie, I'd start thinking about what are the other things to consider here. And that would be one—for me—is that you know how to handle what she's about to go through. I'd probably pick Rachel," Shelton says.
According to Jonas, Sinclair and Mac "both just gave the best performance of the Battle Round. He admits that deciding between the two singers is a "really tough call." Although he agrees with Shelton's comments that his age and experience could be really beneficial for her growth in the industry, Jonas can't deny how talented an artist Sinclair is.
"Bradley, you've got confidence for days, and I think you even gave some of that to Rachel, which was so important and something that I think sets you apart," Jonas says.
As great as Sinclair and Mac's performance was, Jonas can move only one of the contestants to the next round of the competition.
The Voice airs on NBC on Monday nights at 8 p.m. ET.