'The Voice' Season 20 Battles Results: Who Was Eliminated and Who Was Saved
The Voice coaches Blake Shelton, Kelly Clarkson, John Legend and Nick Jonas have only just filled their Season 20 teams, but they've already begun making cuts.
The Voice Battle Rounds continued on Monday night and coaches had to eliminate some members of their teams. But the good news in all of this is that viewers are one step closer to determining the winner of the NBC singing competition's 20th season. There were, however, a few lucky artists who were saved by their coach—or stolen onto another coach's team—which means that they'll get to stay on board for yet another week.
Read on to see how the teams checked out during part two of the Battles on the 20th season of The Voice below.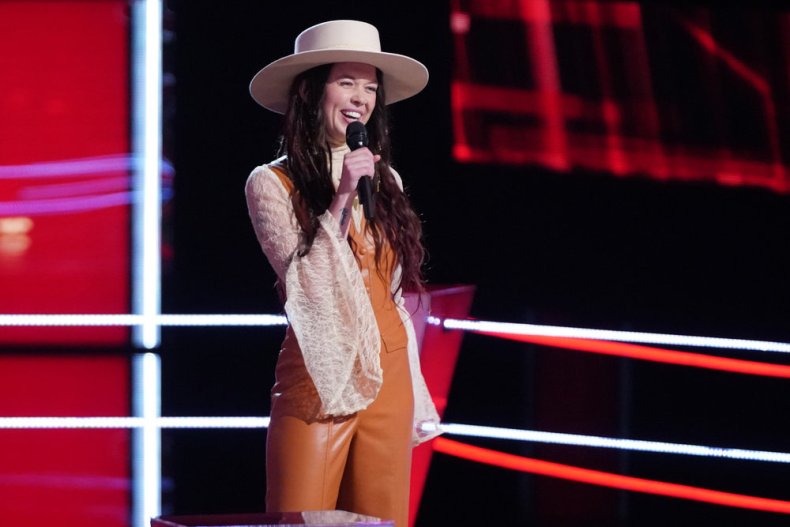 Team Blake
Cam Anthony vs. Emma Caroline
Shelton paired 19-year-old Philadelphia native Cam Anthony and 25-year-old Nashville resident Emma Caroline to battle it out with the song "10,000 Hours" by Dan + Shay featuring Justin Bieber. While both artists gave it their all, Anthony's confidence outshined Caroline.
"Emma, you're an incredible vocalist, and it only appeared that you were having as much fun as we were listening to you in the moments where you weren't singing. It's frustrating to know that you're that great of a singer, and I don't know that you believe that you're that great of a singer because of your body language," Shelton explained. "Cam, your singing is unbelievable. Your presence onstage—you look like you were born to do that."
In the end, Shelton chose to keep Anthony on his team. But hope wasn't lost for Caroline, either. At the last minute, Shelton opted to give the singer another chance and used his only save of the season for her. Viewers will get to see her compete in the Four-Way Knockout round later in the season.
Jordan Matthew Young vs. Keegan Ferrell
Texas rocker Jordan Matthew Young, 34, and 21-year-old Indiana native Keegan Ferrell went head-to-head with a performance of Train's "Calling All Angels." The guys displayed good vocals and great range, and it was pretty clear Ferrell listened to his coach during rehearsals, when Shelton advised him that he'd need to really beef up his stage presence while contending against an artist as seasoned as Young.
"One of the things that we talked about in rehearsals was that Keegan's a guy where music is second nature to him. Performing is a little bit of a different thing. He's a producer. He's got his headphones on. He's on his laptop. He's making music how really everybody, I guess, is making music these days," Shelton said. "The flip side of that is Jordan, who's spent the last 10 years in bars or wherever in the hell you're playing. But at the end of the day, you both had incredible performances, and I couldn't be happier about it."
Although Shelton was pleased with both artists, he decided to keep Young on for another round of the competition. Meanwhile, Jonas snatched up Ferrell for his own team, saving him from elimination.
Team Blake members so far
Connor Christian, Ethan Lively, Cam Anthony, Emma Caroline (saved) Jordan Matthew Young, Pete Mroz, Savanna Chestnut
Team Kelly
Halley Greg vs Gihanna Zoë
Clarkson was missing in action during the episode, but country-pop star Kelsea Ballerini was there in her stead, keeping the coach updated via text and announcing Clarkson's decisions for folks on set and at home. The first big decision Ballerini had to deliver was the choice between Clarkson team members Halley Greg and Gihanna Zoë, who performed "Thinking Out Loud" by Ed Sheeran.
Although 17-year-old Zoë and 29-year-old Greg sang their hearts out, Zoë's insane high note helped her edge out the competition. Ballerini revealed that Zoë is the one moving ahead.
Corey Ward and Savanna Woods, "Dreams" by Fleetwood Mac
Even Stevie Nicks would have been impressed with Corey Ward and Savannah Woods' cover of the classic Fleetwood Mac tune "Dreams." The pair delivered a phenomenal performance and left Ballerini in a tough spot when it came time to choose only one artist to advance to the Knockouts.
"You know how to use your gift and your tool. It made a song that I've known since I was a kid sound like your song. That's artistry," Ballerini told Woods before turning her attention to Ward. "And Corey, when I watched your Blinds I couldn't decide if you were country, or singer-songwriter, alt, or what you were. And I'm obsessed with that."
When it came down to reveal the results, Ballerini went with Ward but opted to use Team Kelly's only save to keep Woods from elimination as well.
Team Kelly members so far
Ryleigh Modig, Avery Roberson (steal), Gihanna Zoë, Corey Ward, Savanna Woods (save), Kenzie Wheeler, JD Casper, Anna Grace, Ainae
Eliminated: Halley Greg
Team Legend
Ciana Pelekai vs. Denisha Dalton
Hawaii native Ciana Pelekai went against New Yorker Denisha Dalton with a cover of Tate McRae's "You Broke Me First." Both ladies gave a powerful performance that made their coach incredibly proud.
"You both come to this experience with so much positivity and such great energy, and I do love that both of you take vocal risks with your performance," Legend said.
In the end, though, Legend chose to stick with Pelekai, telling producers that the 20-year-old has a "really cool voice" and a "great sense of rhythm" that has "pop star-in-the-making" written all over it.
Zania Alaké vs. Durell Anthony, "Emotions" by the Bee Gees
All of the coaches were blown away by 34-year-olds Zania Alaké and Durell Anthony's smooth and jazzy rendition of "Emotions" by the Bee Gees. Although Legend said his "favorite part" of Anthony's voice was his falsetto, he couldn't get over Alaké's "poise and grace."
It was a tough choice, but Legend chose to keep Alaké on his team.
Team Legend members so far
Gean Garcia (steal), Pia Renee, Zania Alaké, Ciana Pelekai, Victor Solomon, Carolina Rial, Deion Warren, Rio Doyle
Eliminated: Denisha Dalton, Durell Anthony
Team Nick
Zae Romeo vs Lindsay Joan
Jonas paired his musical theater artist Lindsay Joan, 22, and the "chameleon" of his team, 21-year-old Texas native Zae Romeo, together for what turned out to be a beautiful performance of "Rewrite the Stars" from the 2017 musical The Greatest Showman. The pair did such a good job that they left most of the coaches torn on who to choose, including Jonas.
"Zae, Lindsay, this performance should be a learning opportunity, right? You move forward with confidence. And whoever I don't pick, just know that this journey has been incredible and I am honored to have had the chance to coach you," Jonas said.
Ultimately, Romeo was named the winner of the round.
Team Nick members so far
Dana Monique, Devan Blake Jones (save), Jose Figueroa Jr., Zae Romeo, Keegan Ferrell (steal), Raine Stern, Andrew Marshall, Bradley Sinclair, Rachel Mac
Eliminated: Lindsay Joan