'The Voice' Season 20: Who Is Headed to the Live Shows and Who Was Eliminated During First Knockout Round?
A few lucky contestants on the 20th season of The Voice are headed off to the Live Shows.
Coaches Blake Shelton, Kelly Clarkson, John Legend and Nick Jonas had the tough task of choosing artists to advance to the next round of the NBC singing competition after contestants faced off in the first night of the Knockouts on Monday. Artists got to pick their own songs to sing and, after some guidance from their mega mentor Snoop Dogg, performed against one another on the big stage.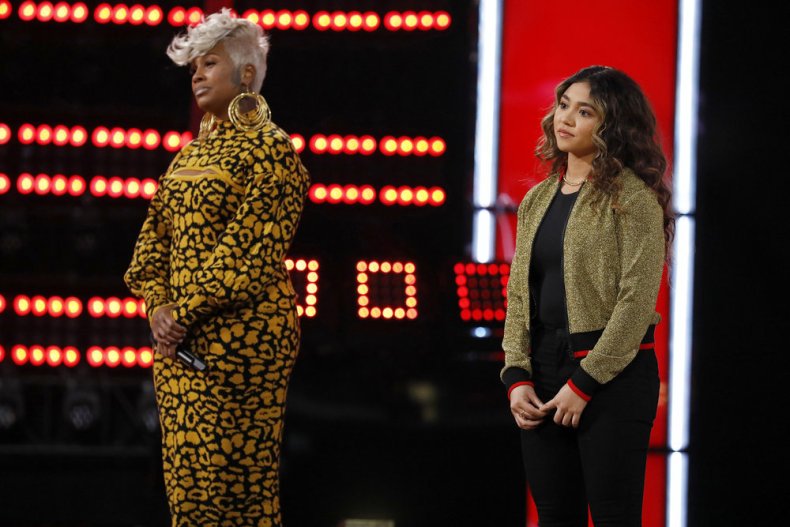 But as all competitions go, the coaches could not save everybody—though, at least two lucky artists did get stolen onto another team.
See who made the cut and is set to advance to the Live Shows after Monday's first Knockout round below.
Team Blake
Ethan Lively vs Jordan Michael Young
Shelton paired country rocker Jordan Michael Young, who performed a passionate cover of the Black Crowes' "She Talks to Angels" against the classic country crooner of his team, Ethan Lively, who sang a soothing cover of the Travis Tritt song "Help Me Hold On." The guys' strong performances really put their coach in the hot seat, and Shelton even joked that he wished he could've taken a sick day so he wouldn't have to choose between the two of them.
"This sucks," Shelton said.
In the end, Shelton chose to keep Young on his team, which means this is the last fans will see of Lively.
Pete Mroz vs Andrew Marshall
Shelton had yet another hard choice to make when he paired 21-year-old Andrew Marshall, whom he stole from Team Nick, against his old bandmate, 45-year-old Pete Mroz. Both Marshall and Mroz gave stellar performances of their chosen songs—"I Won't Give Up" by Jason Mraz and "Before You Go" by Lewis Capaldi, respectively—and left Shelton struggling to choose between the two of them.
"I honestly think that you guys both had great moments. It almost comes down to a tie here, you know?" Shelton said.
Shelton opted to keep Mroz, but Marshall lucked out once again. His former coach, Jonas, decided to save the singer from elimination by stealing Marshall back to his team.
Team Kelly
Ryleigh Modig vs Corey Ward
Team Kelly members Ryleigh Modig and Corey Ward set the tone of the night with their raw and powerful performances. Ward, 34, kicked off the show with an emotional cover of his coach's hit song "Already Gone," while 18-year-old Modig offered a pretty and soft rendition of "Use Somebody" by Kings of Leon. All of the coaches were impressed with the duo's performances, but no one was more proud of the pair than Clarkson.
"Ryleigh, you have this really cool vibe that no one can duplicate. Your voice is leading the entire record. Like, everything else just complements your voice," Clarkson said before turning her attention to Ward. "And then, this one over here... the coolest thing a songwriter can experience. I literally was like, 'Well, he just killed my song in front of me. I feel like that's how that was supposed to sound.'"
While Clarkson admitted choosing between the artists was "really hard," she ultimately decided to keep Ward in the game. Modig isn't going home just yet though. In a last-ditch effort to keep the singer in the running, Legend opted to use his one and only steal to move Modig over to his team.
Team Legend
Ciana Pelekai vs Pia Renee
Twenty-year-old Ciana Pelekai brought so much fun energy to her cover of Lizzo's "Cuz I Love You," and as great of a performance as the Hawaii native gave, it just couldn't compete with 37-year-old Pia Renee's chilling rendition of "What the World Needs Now" by Jackie DeShannon. She nearly moved the coaches to tears with her heartfelt performance, and Legend was compelled to move Renee onto the Lives and send Pelekai home.
"Pia, people don't know how meaningful this song was to you. Pia lost her mother recently, and the fact that everyone on this dais felt it, and you managed to flawlessly deliver the song without getting overwhelmed by the emotion of it, it was remarkable," Legend said.
Victor Solomon vs Gean Garcia
There's no denying that Victor Solomon, 22, absolutely lights up the stage every time he performs, and he did just that with his cover of "My Girl" by the Temptations. The coaches also couldn't take their eyes off of 19-year-old Gean Garcia, who performed a lovely cover of Ed Sheeran's "Afterglow." However, Legend felt that Solomon really made the song his own.
"I truly loved both of these performances, and this is not easy," Legend said, before ultimately choosing to send Solomon to the Lives.
Team Nick
Dana Monique vs Keegan Ferrell
During rehearsals, Jonas pointed out how "electric" of a performer Texas native Dana Monique is, and she brought all of that magnetism and energy to her powerhouse performance of Ike & Tina Turner's "Nutbush City Limits." Meanwhile, Nashville singer Keegan Ferrell, whom Jonas stole from Team Blake during the Battles, serenaded the coaches with a sweet and soulful cover of "Just My Imagination (Running Away With Me)" by the Temptations.
Legend said he "really loves the tone" of Ferrell's voice, while Clarkson couldn't deny that "Dana Monique just sang the hell out of that song." Shelton thought Ferrell "never seemed happier" than he did while singing his song, but noted that God definitely gave Monique an extra serving of talent.
When it was all said and done, it was Monique who Jonas decided to push through to the Live shows, while Ferrell said his final goodbye.