'The Voice' Singer Jordan Pruitt Files Suit Against Disney and Her Former Manager, Alleging Sexual Abuse Beginning When She Was 14
Last year, Jordan Pruitt, a contestant on The Voice, said that she was an abuse survivor. At the time, she wasn't willing to name her abuser, but Tuesday, she came forward — she had filed suit, at first anonymously, against her former manager, Keith Thomas and his company. She also named her former record label, Hollywood Records in the suit, as well as Hollywood's corporate parent, the Walt Disney Co.
In December, Pruitt shared a now-deleted Facebook post detailing her story. According to USA Today, she wrote, "I do remember having a childish crush. This person was helping make ALL of my dreams come true, and thought I was so talented at every single thing I did. I didn't think anything was wrong until I felt this pit in my stomach. I KNEW something was wrong."
"At fifteen this person had brainwashed me into thinking that the things that were happening were 'natural' and 'okay,'" she continued. "While I will spare you any of the mind-piercing details, I can honestly and unfortunately say that this man sexually abused me for almost two years of my life. I am a victim of child molestation because of him."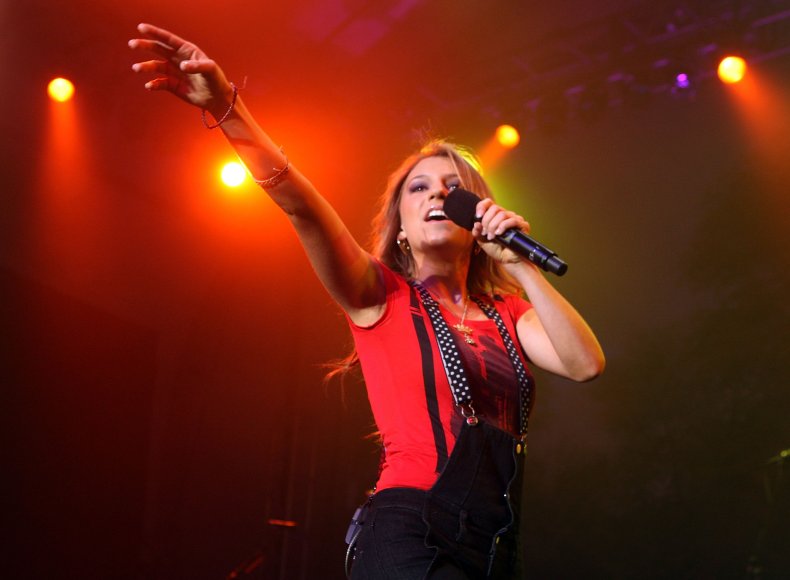 Though her post then didn't name names, it did reveal that the man who abused her was engaged at the time. Pruitt said she told a friend, who notified her parents, who then told the police. However, at the time, Pruitt told police her abuser was just obsessed with her.
"They didn't file anything and my parents even knowing that this man was fantasizing about me, were obviously enraged," she wrote. "This was another reason why I didn't say [anything] until now. I was scared. I am still scared sometimes at 27."
Pruitt continued to speak out about her abuse while withholding her abuser's identity, telling Fox News in June, that her abuser had groomed her beginning in 2006.
"This all started when I was about 13 and the advances really kind of started around 14, but nothing was ever sexual until I was about 15," Pruitt told Fox News. "I can remember him saying, you know; 'Let me teach you how to kiss. You don't want to get out into the world and be a bad kisser.' I vividly remember that."
She also described her abuser to Fox News as "the biggest narcissistic person I have ever met in my entire life who can manipulate just about anyone into doing anything."
"I just hope to see him in an orange jumpsuit someday on my television screen. That will give me my greatest joy," she added.
On August 14, Pruitt filed her lawsuit against her former manager, Keith Thomas, his company Levosia Entertainment, along with Disney and Hollywood Records as a Jane Doe. However, on Tuesday, an amended complaint was filed that used Pruitt's name.
The suit accuses Thomas of grooming Pruitt to accept sexual abuse, controlling her professional life and forcing Pruitt to cut off contact with boys her own age, among other complaints. The suit also claims Thomas convinced Pruitt's mother to trust him.
According to Pruitt, the abuse began when she was 14, ending just before her 16th birthday. She says Thomas took her virginity, and alleges that Thomas drugged and anally raped her.
The lawsuit also alleges that Disney and Hollywood Records either knew or should have known that Thomas was an abuser, and allowed him to work unsupervised as her mentor and producer.
"Unfortunately, these large companies are primarily concerned with sales, money and charts," Pruitt said in a statement to Variety. "I couldn't be more disappointed in how Disney treats their underage talent like cash cows."
Her attorney, Keith M. Davidson, echoed Pruitt's complaints about Disney.
"Jordan Pruitt, like far too many child stars, was exploited by the very people who should have been protecting her. Jordan's innocence was robbed from her as she was systematically groomed, molested, and controlled by a predator employed by Disney, a company that sells happiness to children. Disney had a duty to protect Jordan from Keith Thomas, and failed at every step," Davidson said in a statement provided to TheWrap.
Thomas is a widely-respected country music and contemporary Christian music producer. His first big-name artist was Ronnie Milsap, and "Baby Baby" by Amy Grant was his first No. 1 hit. Other hits Thomas produced include "Save the Best for Last" by Vanessa Williams, "I Could Fall in Love" by Selena and "I Do (Cherish You)" by 98 Degrees. In 2013, he starred in Chasing Nashville, a Lifetime reality series about four girls trying to be country music stars.
Pruitt was first signed to Hollywood Records in 2005, and recorded two albums for the label. She appeared on the third season of The Voice, and retired from music in 2017. She and her husband Brian Fuente co-own The Aero Bar in Nashville. Fuente also appeared on The Voice.
Newsweek reached out to Thomas, Hollywood Records and the Walt Disney Co. for comment, but did not hear back by press time.