'The Voice' Season 17 Spoilers: All the Contestants on Teams Blake, Gwen, Kelly and Legend So Far
The teams are filling up on Season 17 of The Voice. Judges Gwen Stefani, Kelly Clarkson, John Legend and Blake Shelton turned their chairs for eight contestants during Monday's episode of the NBC singing competition. While seven performers picked their teams—in some cases, forcing some judges to use the power of persuasion to win contestants over the others—the chosen team of the night's final singer won't be revealed until the fourth round blind auditions.
So who made the cut during the latest round of auditions? See the newest members to place on a team below.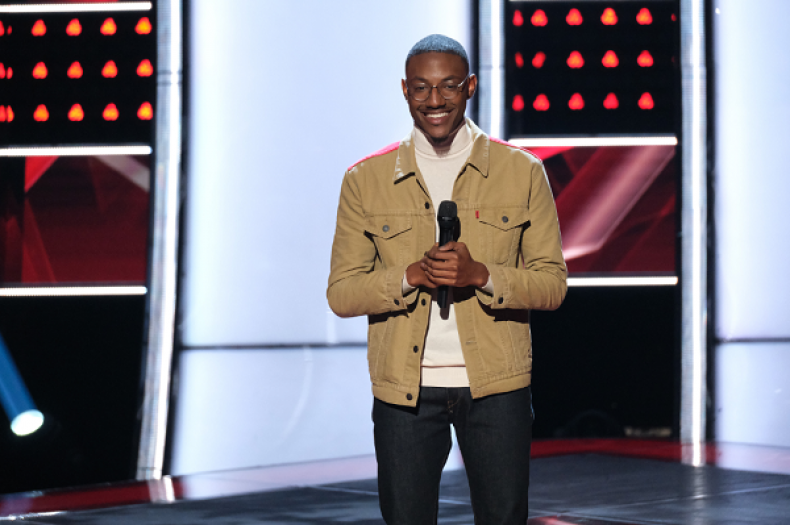 Team Gwen
The "Hollaback Girl" singer started the night with five contestants already on her team—Elise Azkoul, Jake HaldenVang, Kyndal Inskeep, Rose Short and Royce Lovett—and she added two more before the show was over.
Nashville native Calvin Lockett had Gwen, Blake and John fighting over him following his performance of The Temptations' "Just My Imagination (Running Away With Me)," but it was the former No Doubt singer's passion that convinced 25-year-old Calvin the most.
Gwen also snagged 21-year-old Kiara Brown after nearly starting a war with her co-star and boyfriend Blake. However, he hilariously silenced himself by mistakenly hitting the "Don't Speak" button, forcing himself to cut his persuasive speech for Kiara short and thus allowing Gwen to one-up him with her incredibly convincing tactics.
Team Kelly
The former American Idol winner picked up two more contestants, rounding her team out to a total of six so far. Melinda Rodriguez sold Gwen and Kelly with her impeccable performance of "What a Wonderful World" by Eva Cassidy, but ultimately, the 23-year-old singer went with the latter.
Meanwhile, Jake Hoot's emotional rendition of "When it Rains, It Pours" could have potentially caused a showdown between Kelly and Blake, but, surprisingly, no fight to the death occurred. Country star Blake didn't want to risk Clarkson using her block button against him, so he didn't turn his chair. That left Kelly as the lone judge to turn for Jake. She eventually did use her block button against Blake, preventing him from landing another singer he was really vying for.
The pair join Alex Guthrie, Brennan Lassiter, Shane Q and sibling duo Hello Sunday on Kelly's team.
Team Legend
Everyone wanted Venice, California singer Mendeleyev after his powerful cover of Bob Dylan's "Girl from the North Country," but it was John who sealed the deal when he started randomly singing a song by Lev's folk music idol, Richie Havens.
The EGOT winner had a little help from Kelly with his second pick-up of the night, 18-year-old contestant Marybeth Byrd. All four judges turned for the Arkansas native while she belted out "Angel From Montgomery" by Bonnie Raitt. Blake likely would have put it all out on the line for Marybeth, but a stealthy block from Kelly prevented him from doing so. Too bad for Kelly, though. Marybeth didn't pick her either.
In addition to Marybeth and Lev, John's team includes Katie Kadan, Max Boyle and Will Breman.
Team Blake
Surprisingly, the man to lead the most contestants to victory on The Voice is now the judge with the least spots filled on his Season 17 team. Only 16-year-old country music hopeful Josie Jones chose to be on Blake's team on Monday—John also turned for her but the Alabama native had her heart set on working with Blake. She joins fellow Team Blake members Cory Jackson, Kat Hammock and Marina Chello.
There's a possibility Blake may have picked up one other team member during the blind auditions. The episode ended just before Iowa resident Cali Wilson made her choice between Blake, Gwen and John.
More contestants will fill up teams during the upcoming final round of blind auditions on NBC's The Voice on Tuesday at 9 p.m. ET.