'The Voice' Season 17 Spoilers: Which Singers Will Compete in First Battle Round?
Now that the Blake Shelton, Gwen Stefani, Kelly Clarkson and John Legend have filled their teams on NBC's The Voice, the contestants will finally go head-to-head on the first battle round of Season 17 on Monday.
There was an onslaught of talent to wow the judges with their voices during the last three weeks of blind auditions, resulting in 11 acts being added to teams. The final four slots will be filled on each team on Monday, however, some members will get the axe on the same night during the first battle round.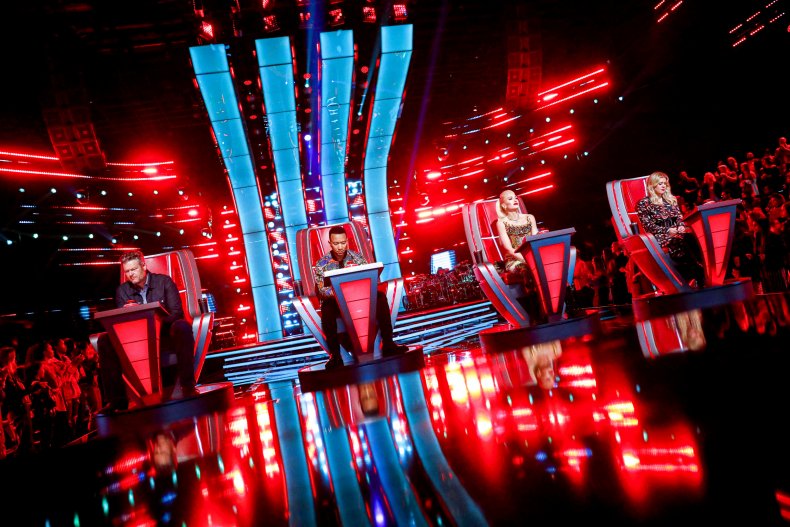 The competition will be even slimmer following the battle rounds, which will pit two members from each of the coaches' teams against one another and force them to sing the same song together in front of a live audience. After the face-off, the coaches will have to choose one performer to advance to the next round while the other contestant says goodbye to The Voice stage and audience for good.
Who's set to sing for their lives on the first battle round of Season 17? See below for the full breakdown of teams and contestants competing in the next phase of The Voice below.
Team Blake
Only four contestants from the country music star's team will take to the stage on Monday. First up is 28-year-old Nashville native Cali Wilson. She will sing a song alongside 21-year-old EllieMae, who hails from Ames, Iowa. Then Alabama country singer Josie Jones, 16, will deliver a duet with 18-year-old Encinitas, California, resident Kat Hammock.
Team Gwen
Myracle Holloway, 44, and Elise Azkoul, 28, will be the first and only competitors from the former No Doubt singer's team to face off during the battle round.
Team Kelly
What happens when a jazz artist and a choir singer go toe-to-toe on stage? You'll have to watch The Voice to find out when 23-year-old jazz singer Melinda Rodriguez battles musician Shane Q, 28, on Monday. Kelly will also have to choose between 25-year-old Alex Guthrie—who was convinced to try out for The Voice by former judge Jennifer Hudson—and 29-year-old Injoy Fountain.
Team Legend
There's certainly a showdown in store for Team Legend as six members from the EGOT winner's camp are slated to compete in the first battle round. Mother of two Khalea Lyne will sing against high schooler Zoe Upkins. It's the Midwest versus the south when Ohio native Max Boyle battles Texas singer Matt New followed by Florida's Destiny Rayne will do her best to out-sing Chicago performer Katie Kadan.
The Voice airs on NBC at 8 p.m. ET.