'The Voice' Top 10 Results & Recap: Who's Going to the Semi-Finals?
Not all hopefuls on The Voice 2018 will make it to the competition's semi-finals round following Season 15, episode 22 on Tuesday. Who will land a spot in the Top 8? Who will have their journey cut short? Below, check out all there is to know about the results in Tuesday's round of eliminations.
The pressure for the remaining 10 contenders partaking in The Voice Season 15 to hold their spot is higher than ever before. As the show is moving quickly toward its finale, some contestants will be given the boot. Therefore, they'll have to fight much harder and put their best foot forward to avoid facing the inevitable.
Going into Tuesday's results round, coaches Kelly Clarkson and Blake Shelton both have three singers left to compete. Jennifer Hudson and Adam Levine, however, only have two singers left standing. Monday's episode featured standout performances, including Kirk Jay's rendition of "Tomorrow" by Chris Young and MaKenzie Thomas's cover of "Because You Loved Me" by Céline Dion. In last Tuesday's elimination round, DeAndre Nico landed in the bottom two alongside Lynnea Moorer, who was eliminated.
To watch The Voice live on Tuesday, viewers can head to NBC at 8 p.m. ET on NBC for the hour-long event. For those without access to a television, the show can be streamed for free through NBC's website and app. Fans can also see the show live via The Voice app.
Newsweek will continue to update this post live throughout The Voice's broadcast with important details, including information on the evening's performances and who was eliminated. For those who are behind and missed Monday's episode, there's a recap available to read, here.
'The Voice' 2018 Semi-Final Results: Who Made it Into the Top 8 and Who Went Home?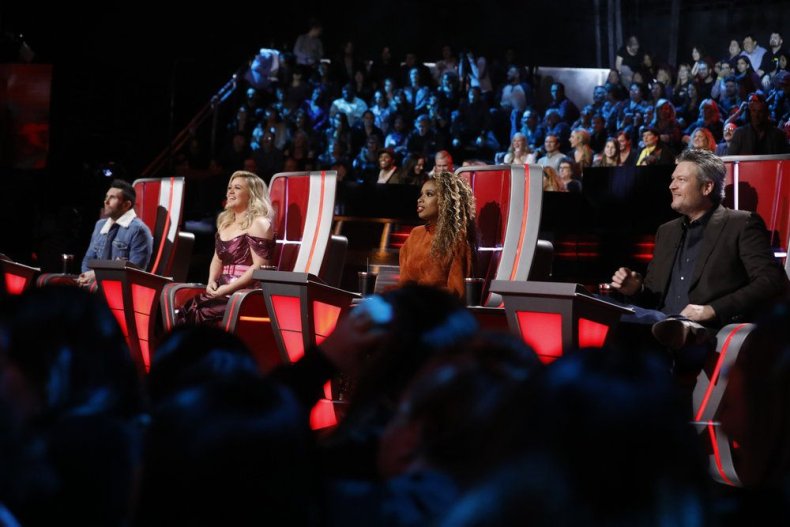 Kirk Jay — Team Blake
Kennedy Holmes — Team Jennifer
MaKenzie Thomas — Team Jennifer
Chevel Shepherd — Team Kelly
Sarah Grace — Team Kelly
Chris Kroeze — Team Blake
Kymberli Joye — Team Kelly
Reagan Strange — Team Adam
Results for the Top 8 contenders were revealed throughout the live broadcast in no particular order. Host Carson Daly revealed two semi-finalists at once. DeAndre Nico (Team Adam), Reagan Strange (Team Adam) and Dave Fenley (Team Blake) were in jeopardy. Nico and Fenley gave one last performance to save their spot in the competition, but Strange couldn't perform since she was feeling unwell. Strange did, however, sit in the studio audience during Tuesday's episode.
DeAndre Nico and Dave Fenley were eliminated.
What Songs Were Performed During Top 10 Elimination Round?
The first performer of Tuesday's episode was by Anne-Marie & James Arthur. They sang "Rewrite The Stars" from The Greatest Showman.
The second performer was Kelly Clarkson. The American Idol alum sang her new single, "Heat."
The third performance was by Gwen Stefani and Chilean singer Mon Laferte. The pair sang "Feliz Navidad."
The fourth performer was Dave Fenley. He sang "Amazed" by Lonestar.
The fifth performer was DeAndre Nico. He sang "All of Me" by John Legend.
When Will 'The Voice' Return to Air?
Fear not, The Voice Season 15 is far from over. The reality competition show will return with an all-new two-hour episode on December 10. This will be followed by an hour-long episode to reveal the who will be eliminated next.