Everything to Know About 'The Voice' Season 17 Top 4 Contestants Jake Hoot, Ricky Duran, Katie Kadan and Rose Short
The Voice Season 17 has its final four. Contestants Jake Hoot, Ricky Duran, Katie Kadan and Rose Short advanced past Tuesday night's eliminations and are headed to the final round of the competition, which is set to air live on NBC next week.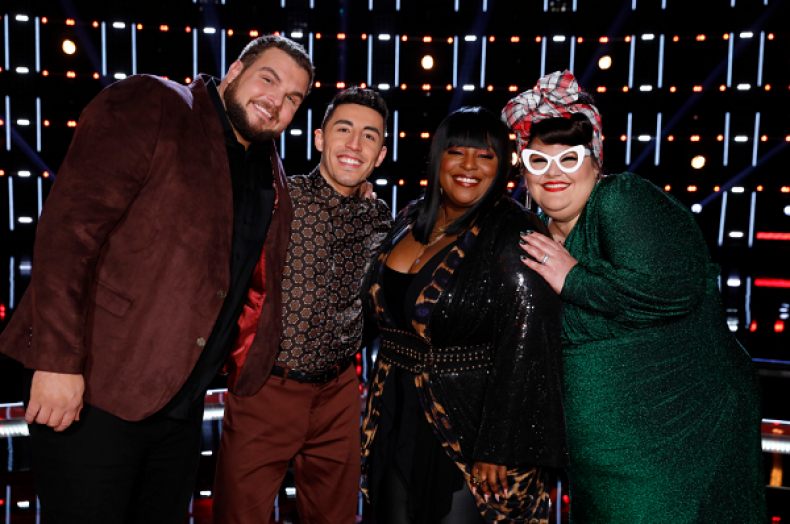 This season marks a special group for The Voice coaches Blake Shelton, Gwen Stefani, Kelly Clarkson and John Legend. For the first time in seven seasons, all four coaches will have a team member represented in the finale. Legend, who won Season 16 with singer Maelyn Jarmon, is looking to defend the title with Kadan, while Clarkson is searching for her third win after back to back victories in Season 14 and Season 15 with Hoot. A win for Shelton and Duran would mark the country singer's seventh win on the series while Stefani with soul singer Short is looking for her first win.
While only one person can take home the title of The Voice winner—and that lofty grand prize of $100,000 and a Universal Music Group record deal—one thing is certain about Season 17's Top 4: Each of them deserves to be exactly where they are.
Read on to learn more about the final four contestants on The Voice Season 17 below.
Jake Hoot
Although everything about his smooth country style and sound scream Team Blake, he's actually a member of Team Kelly as the former American Idol winner was the only person to turn around for Jake during his Blind Audition (Blake didn't bother to under the assumption Kelly would try to block him). Kelly made a good choice because 31-year-old Jake was an instant fan favorite thanks to his husky and powerful vocals. Born in Texas and raised in the Dominican Republic by his missionary parents, it was in the Caribbean country where Jake first fell in love with music and learned to play the guitar. In Tennessee, where the single dad now lives with his four-year-old daughter Macy, he's become a known musician, often performing in local bars and restaurants.
Ricky Duran
The Texas musician sold audiences and all four coaches when he first stepped on The Voice stage with his impeccable cover of Leon Bridges' "River" during the Blind Auditions. The 29-year-old chose Team Blake at the urging of his mother, who died to breast cancer in early 2019. "My mom always loved Blake Shelton, and when my mom would say something about something, she was usually right," Ricky told Parade earlier this month.
His mother's suggestion paid off because Ricky's now in the Top 4 and is positioned to have a successful music career regardless of what happens on the show. His coach Blake is sure of that—the country star already said on the show that he wants to help Ricky with his career after The Voice.
Ricky's rise in the competition is no surprise though. The former Berklee College of Music student has shared his talent with the world for years and even has experience performing. He first played in a band alongside his late father, who was a full-time musician and taught Ricky to play the guitar. His dad also managed Ricky's college band before his death by suicide in 2012.
Katie Kadan
Another of the few contestants to get chair turns from each judge during the Blind Auditions, Team Legend member Katie has impressed the coaches and audiences week after week with her funky flair and soulful voice. It's almost hard to believe the 38-year-old only recently started performing solo.
Despite singing in choirs throughout her youth, the Chicago native didn't feel confident enough in her skills to perform on her own until she was 30. Now she not only has a growing fan base in Chicago's music scene—Katie's become quite the known figure on stages at music venues in the Windy City—but all across America thanks to her spot on The Voice. A classically-trained pianist, Katie already has experience recording and releasing music. Her first self-titled 11-track solo album is available for listening on Spotify and Apple Music.
Rose Short
Rose's musical journey is quite an interesting one. She first started singing publicly when she was just 5 years old in Germany where her father was stationed with the military, performing at community events on the army base and later in choir and theater when her family moved to Texas. The longtime Killeen resident always had a passion for music and the pipes to back up a potential career as a singer, however, she put those dreams on the back burner in exchange for a job that could cover the bills.
Rose spent the last eight years working as a corrections officer at a maximum-security prison before quitting to pursue a professional career as a singer. Her decision wasn't in vain as her YouTube videos caught the attention of The Voice producers, who suggested she try out in the Blind Auditions.
"From the time that I did the Blinds, I was so nervous," she told Parade in early December. "I almost broke the ankle straps on my shoes, child! But now it feels like this is where I'm supposed to be, not just with the show, but just period."