A Voice for the Voiceless: How One Undergrad Created a Device to Give People with Speech Altering Disabilities an Outlet to Speak
When I was 18 years old, I spent a year in Ecuador through Rotary Youth Exchange, a program which hosts exchanges for young students in countries around the world. A few months into my trip, I decided to volunteer at an orphanage in the Andes mountains in a village called Racar. This orphanage was specifically for children and adults with disabilities. I quickly noticed that the residents with cerebral palsy were quietly sitting by the windows.
With little experience dealing with cerebral palsy and complex communication needs (CCNs), I started asking them questions about what they liked. Getting no verbal response, I worked to establish "yes" or "no" answers using their vocalizations, facial expressions, and movements. I then asked binary response questions, prompting them to respond through their own unique way of communicating "yes" and "no."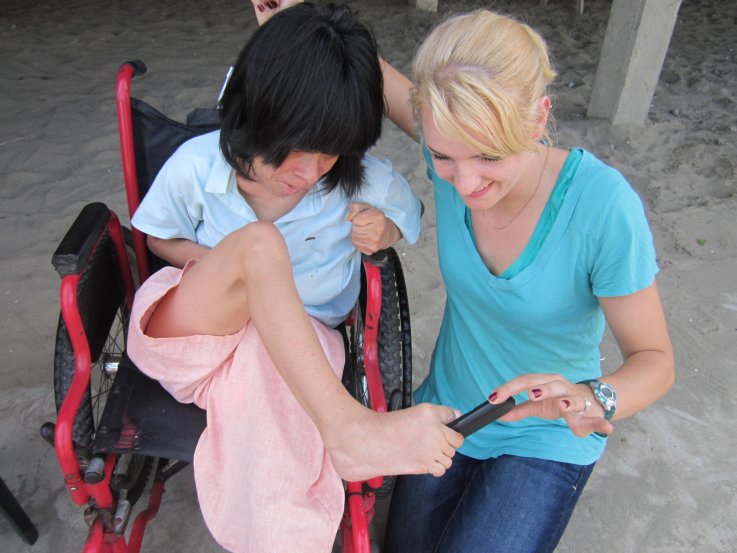 And then it hit me hard. I realized that these people, in this remote town outside of Cuenca, were trapped inside bodies that wouldn't allow them to communicate what their brains wanted to say. They each had likes and dislikes, dreams and nightmares; but no one had taken the time to ask them. The workers rotated on eight-hour shifts; while the residents were fed, taken to the bathroom, and washed, no one had established a reliable form of communication for the residents.
I was confused: why were people reluctant to help them communicate? Why were they seemingly forgotten in this society? Why were so many people with disabilities in orphanages? I was heartbroken.
During college, I realized there is a lot I did not understand about disabilities and the stigma that comes with them. Some 4.6 million people on earth have cerebral palsy or ALS and cannot speak. Moreover, is estimated that 70 million people in the world have a communication disability. Many people believe that if a person cannot talk, they cannot understand conversation, and therefore are unable to participate in society. This stigma exists in places like the Dominican Republic, India, Sri Lanka, and in the United States.
It's no surprise, then, that people with disabilities experience adverse socioeconomic outcomes, from low education rates and poor health outcomes to unemployment and higher poverty rates. These factors are multiplied when children with disabilities live in resource-constrained settings and low-income communities. In many places, because they lack any other option, these children are abandoned on church doorsteps and taken in by local orphanages.
When I returned from Ecuador, I began studying biomedical engineering at Penn State. I focused on developing a solution for people with disabilities to communicate, and learned about the field of Assistive Technology (AT). AT is any piece of technology that can be used to increase the functional capabilities of a person with disabilities. Devices currently taking advantage of AT range from wheelchairs to computers outfitted with advanced eye recognition software.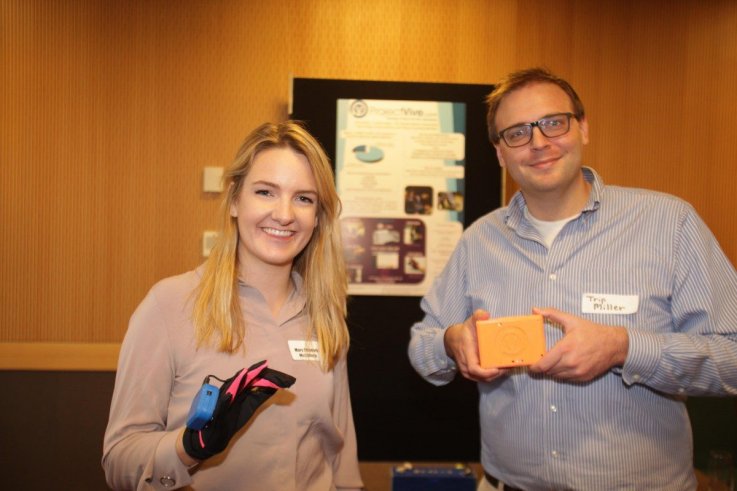 I knew I needed something that was low-cost, durable, and wearable to ensure independent communication. At the time, many solutions on the market were high-cost and high-maintenance, making them completely inaccessible to people in low-income communities.
And so my team, Project Vive, and I created the Voz Box, which transforms a consumer tablet into an affordable, durable speech-generating device (SGD) that takes advantage of digitization and is a fifth the cost of competition.
We created and made our device compatible with a large variety of sensors to fit the breadth of abilities people with neuromuscular conditions possess, including Bluetooth sensors that detect low-motor control movement in the finger, elbow, knee, foot, and eye.
We received support from Penn State programs during college such as Inc U., Summer Founders Program and Happy Valley Launchbox to help make our company a reality.
I took the entrepreneurial route because I found something I was passionate about and a big problem I wanted to solve. By the time I graduated college I knew I could make something new that current companies weren't doing to solve this problem.
A Voice for the Voiceless: How One Undergrad Created a Device to Give People with Speech Altering Disabilities an Outlet to Speak | Opinion