It was the moment fans waited all season for—Carson Daly, standing on stage with a little index card in his hand, was going to reveal the name of the winner of The Voice. There was a long pause filled with anticipation, and, finally, a name was called: Jake Hoot.
The audience roared with applause while Hoot's fans—the Hooters as they're affectionately referred to—chanted his name. The 31-year-old champion was doubled over with surprise and happiness.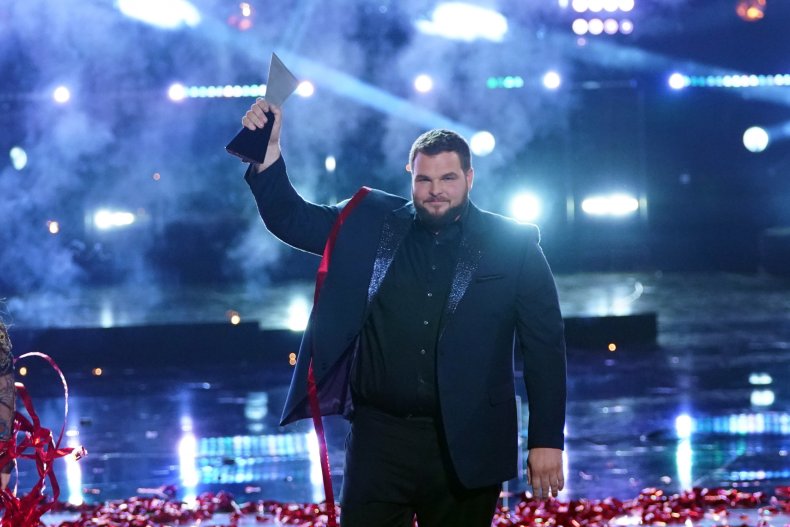 The win was somewhat of a fairytale ending for the single father, who first discovered his love for music while living in the Dominican Republic with his missionary parents. He learned to play the guitar as a kid and began singing while living on the island, but despite gigging around Tennessee when he returned to the U.S. to play college football, a career as a country crooner wasn't initially what Hoot planned for his life. It wasn't until after he married, welcomed his daughter Macy, and then divorced when he decided to turn his passion for music into his profession by signing up for The Voice—a decision Hoot said was sparked by his desire to make his daughter proud and show her that anything is possible.
When he started his journey on the NBC singing competition, only Kelly Clarkson turned a chair for him during the Blind Auditions. Hoot remained on Team Kelly for the duration of the competition, and eventually, delivered the singer with her third win as a coach on The Voice.
The country star-in-the-making told Newsweek during an interview Wednesday that winning The Voice is just the beginning. Hoot has big plans for the next chapter of his life and it definitely includes more music, which he hopes to start working on in early 2020.
Read Newsweek's interview with Jake Hoot, the winner of The Voice Season 17, below.
How did it feel to wake up this morning knowing you are the new winner of The Voice?
I don't think it's fully set in yet. I'm still trying to process everything, but I got on Facebook for a couple of minutes and saw a ton of love from everybody back home. It's been pretty special.
You were really shocked when Carson called your name last night.
Absolutely! From a while back I assumed at least Katie [Kadan], Ricky [Duran] and Rose [Short] were going to be in the finale. I never thought I'd be there. Then when it was just me and Ricky, I thought for sure he would take it. And then Carson called my name and I 'bout passed out. It was a really special moment.
Have you had any time to think about what your next move will be now that you've won the record deal? What do you want to happen next?
Honestly, I think the first step is just to go home and spend some time with family. It's the holidays so I'm assuming everybody else is going to be going home and doing their thing. I think early next year—maybe the beginning of January—I can take a running shot at this thing and pursue it full time.
You already got to sing with Kelly and Little Big Town. Do you hope to collaborate with any big artists for your own record?
Absolutely! People asked me yesterday if I've processed it yet, and I haven't processed everything, because for one, I shared the stage with Kelly. The next night I shared the stage with Little Big Town and then won The Voice. That collaboration with Kelly was probably one of my favorite things I've ever done. The same with Little Big Town. So if anybody would have me on one of their songs or grace me with singing on one of my songs, I'd be more than happy.
What's the slice of advice Kelly gave you that you plan to take with you going forward?
Aside from telling me to have more confidence in myself and act like I belong on that stage, she gave me a bit of advice on being a parent. I asked her how she does her millions of jobs and also stays present in her kids' lives. With me having my daughter and my girlfriend's daughter, I wondered how she managed it all.
She told me to be present, no matter where I'm at. Just be in the moment. If I'm at work, focus on work and get it done but if I'm with family and the kids, be present. Be in the moment. Don't let any distractions take away from that time. That was really special because that is something that I worry about—balancing family life in this kind of a career. But if Kelly can do it, it's definitely something that I can take a shot at.
Does your daughter Macy fully understand the significance of your big win yet?
I don't think she fully understands. But I will say her and my girlfriend's daughter, Hadley, they ran up on the stage and were excited. I think they were excited for all the confetti and all the streams that came down. It was a big moment, and having them there made it that much more special. I was crying like a baby. That was a little embarrassing having them see me cry, but it was really special to have them there. I hope when Macy gets older, she understands a little bit more. I hope she understands what all I did for her. I'm trying to give her a better life and I hope I'm doing that now.
What do you hope people learn from watching your story and journey on The Voice?
Just get up there, get out of your comfort zone and chase your dreams. No matter what you're feeling. Every step of the way I thought it was either fate or I was going to be gone the very next week, and I told everyone that every single week. But Kelly kept pushing me. My family kept pushing me. My girlfriend kept pushing me. And somehow, here I am sitting the very next day after winning Season 17—and I still haven't fully processed it yet—but if I can tell anybody anything it's don't doubt yourself. Just because you've got stuff going on or you've been through hard times, anything is possible. So just get out there and chase it.
Do you have any special plans for that big cash prize you won?
Well, I'll probably be able to buy some pretty nice presents for the girls and my girlfriend, but I've had my eye on a house back home in Tennessee that's from the early 1900s. I think it was actually built in 1900. So that will be a nice little down payment on that. I'm looking forward to getting home.
In this exact moment right now, what are you most thankful for?
I'm most thankful for my family putting up with me, being patient with me, my girlfriend taking on the workload for so long while I was gone. And also I'm thankful for Kelly for giving me the opportunity and believing in me every step of the way. And all the Hooters out there that helped make this possible. They're just as much a part of this win as I am. I'm super grateful to everyone who got behind me.