Two Weeks Before Switching Parties, Rep. Jeff Van Drew Left Voicemail Saying He Would Not Vote for Trump
New Jersey Representative Jeff Van Drew made headlines in December 2019 when he announced he was changing his party affiliation from Democrat to Republican. But a recently released voicemail he left with a constituent has drawn his motives into question.
The Philadelphia Inquirer reported that a voter in Van Drew's southern New Jersey district forwarded a recording of a message the representative left on November 30. In the message, Van Drew can be heard saying, "I haven't voted for him, I didn't support him, I will not vote for him," in reference to the president.
Less than three weeks after leaving the voicemail, Van Drew announced that he was leaving the Democratic Party and supporting President Trump.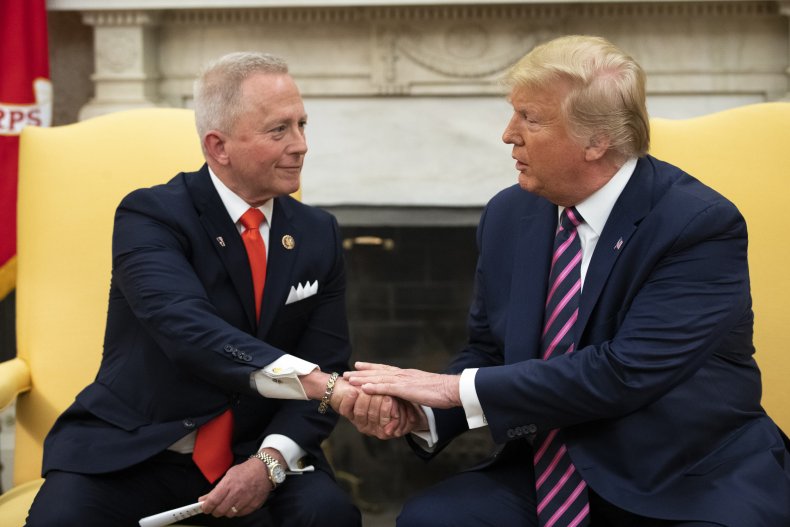 Gwen Meade of Margate, New Jersey, received Van Drew's voicemail. She had sent him a message through his website and was surprised to receive a call back.
"I think that this is a man who may not know his own mind," Meade told the Inquirer. "Cognitive dissonance. I don't know if he's experiencing that, but I am. And I don't think I'm alone."
Van Drew is scheduled to fly with Trump to a campaign rally in Wildwood, New Jersey, on January 28.
Prior to his departure from the Democratic Party, Van Drew voted in line with the party 89.7 percent of the time.
However, Van Drew did split from the party line on several telling issues. During his tenure as a state senator, he was one of two Democrats to vote against a 2012 bill to legalize same-sex marriage. That same year, he was the only Democrat to vote against raising the state's minimum wage.
At least six Democrats have announced plans to run against Van Drew in the 2022 House elections. Donald Trump won Van Drew's district by five points in 2016.
When contacted by the Inquirer, Van Drew said, "I've pledged my support for the president in the Oval Office, on the floor of the House when I voted against impeachment, in South Jersey diners and everywhere in between. My support for President Trump couldn't be more clear—and he'll hear it again from me in person on Tuesday night in Wildwood."
A request to clarify why the senator would tell his constituent that he did not support the president shortly before publicly supporting the president was not answered by Van Drew's press relations office.
Correction: A previous version of this story stated Van Drew changed his affiliation from Republican to Democrat.