Voicemail Warns School Board 'We're Going to Find You' Over Mask Mandate
A school board released a threatening voicemail it received earlier in the school year in response to its mask mandate.
The call was reportedly made on September 7, but not found by a Human Resources employee until two days later. The day after it was found, the voicemail was reported to local law enforcement. The district finally released the clip publically on Monday amid the ongoing investigation into the situation.
The voicemail, riddled with vulgar language, accused North Carolina's Moore County School District of intimidating parents into following a mask mandate. They then go on to warn the district, saying things like "We are going to come for you" and "We're going to have your a**es." They also compared the school board to Nazis and said they are "not going to play nice."
"We're going to find you," the unknown caller said. "We're going to find your houses, everything."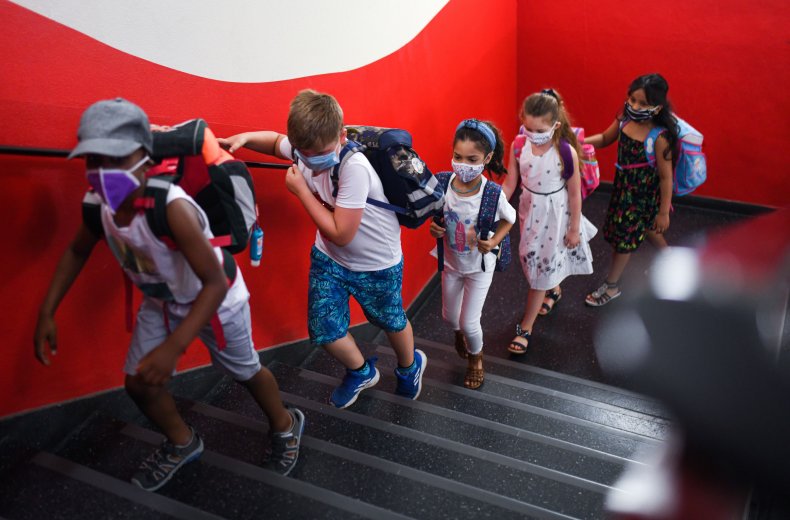 In its official release, the school district said that it made the report to law enforcement out of concern for the school board's safety. The call has also not been the only time when a member of the public seemed to present a danger to the board.
"In one incident this past July, MCS Police stopped a person from carrying a knife into a school board meeting," the district's statement read. "A subsequent search of that individual's vehicle resulted in the discovery of a loaded gun brought illegally onto school system property."
Moore County Schools Police Chief Arthur Frye said that his department cannot dismiss the danger posed by calls like these. He also stressed that the case remains open and called on the public to help identify the voice in the recording.
"It is the duty of law enforcement to take these matters seriously and investigate fully to determine if a crime has been planned or committed and to look out for the safety of school system leaders and the public," Frye said.
Anyone with information pertaining to the case is urged to contact Frye at 910-986-9747 or Police Captain Rodney Hardy at 910-986-0949.
Newsweek reached out to the Moore County Schools Police for comment.
Warnings of violence against schools over mask and vaccine mandates have become increasingly prevalent as they continue to be enforced. At an anti-vaccine rally on Halloween in Staten Island, New York, an unnamed speaker was recorded saying that school and city government buildings would be targeted in the near future over mandates.
"If they're going to push this on the kids," the speaker said, "I can guarantee you one thing: Town halls and schools will be f**king burned to the ground."