Video: Lava, Ash From Guatemala's Fuego Volcano Buried Woman's Family, She Says
Dramatic footage shows a woman emerging from the ashes of Guatemala's Volcán de Fuego saying that while she managed to escape, her entire family and neighbors were likely wiped out by a rogue lava flow.
The more than 12,000-foot Volcano of Fire west of Guatemala City exploded Sunday, sending out a rapidly moving pyroclastic flow of 1,200-degree-Fahrenheit lava and ash into the nearby villages of El Rodeo and San Miguel Los Lotes. The explosion sent ash thousands of feet into the air, but the fast-moving lava flows caught local officials off guard. Evacuation orders were only given to some 3,000 of nearly 1.7 million people in the surrounding villages. Video recorded by the National Coordination for Disaster Reduction of Guatemala (CONRED) shows the woman, identified by RBC Televisión as El Rodeo resident Consuelo Hernández, walking dazed down a smoky street to describe the horrific scene she'd just witnessed.
"Not everyone escaped. I think they were all buried. [I escaped] because we saw the lava was pouring through the cornfields and we ran toward the hills." When asked how many people are in her family, she responds, "We are plenty" before confirming she believes her family was buried entirely.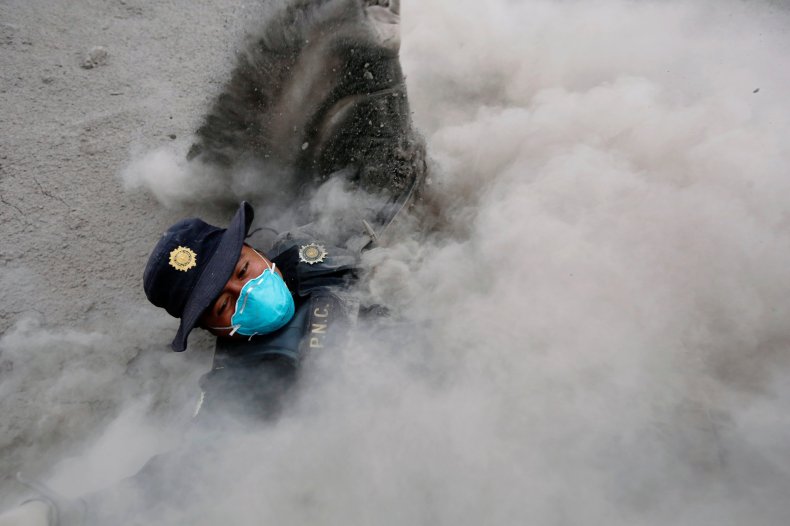 Government officials told the Associated Press that at least 25 people had died but that search and rescue efforts have been stalled because temperatures are too hot to look for survivors. They said more deaths are expected in the villages of Alotenango and La Libertad. Some residents told local news outlets they were unaware they were in direct danger because government officials failed to warn them in time. El Periódico newspaper reported that lava wasn't initially expected to hit homes, but the lava flow quickly changed direction on a deadly path with nearby residents' homes and farms.
La Aurora International Airport has been closed down following the evacuation, and the AP reports there are at least 2,000 missing persons as of Monday.
"CONRED never told us to leave. When the lava was already here they passed by in their pickup trucks telling at us to leave, but the cars did not stop to pick up the people," said Rafael Letran, a resident of El Rodeo, an interview with the Associated Press. "The government is good at stealing, but when it comes to helping people they lack spark."