Hawaii Kilauea Volcano: Vog, New Evacuations, Vents
After a series of earthquakes and the eruption of the Kilauea volcano on the Big Island of Hawaii, more evacuations were ordered Tuesday following two new vents that opened up. The vents are releasing hazardous gas, and evacuations in the area were updated accordingly.
The Hawai'i County Civil Defence Agency issued an updated alert Tuesday night that detailed the areas where the new vents opened and when residents would be allowed to check on their homes.
The vents—the 13 and 14 to open so far—were discovered along Leilani Avenue at the intersections of Kahukai Road and Kaupili Street, according to the alert. The vents caused additional road closures of Highway 130 between Malama Street and Kamaili Road, and Pohoiki Road was closed from Highway 132 to Hinalo Street. Those who live in Lanipuna Gardens would not be allowed back to their residences for the time being, but those who live at the Leilani Estates would be allowed between 7 a.m. local time until 6 p.m. local time until further notice.
Up-to-date maps showing the fissures in the land, lava and vents are is available from the United States Geological Survey online. Not only is dangerous lava flowing in some areas of the island, but there is also dangerous gas entering the air, which could cause serious health effects for those who breathe it.
What Is Vog?
Vog is a product of volcanic eruptions from the Kilauea volcano that is made up of water, carbon dioxide and sulfur dioxide, and it can cause health issues. The vog is especially irritating for those who already suffer from respiratory problems like asthma. The vog can have a smell similar to the one present when fireworks go off or a match is lit due to the sulfur dioxide present in it, according to the Interagency Volcanic Health Hazard Network.
When the sulfur dioxide in the air due to the volcanic eruption mixes with the moisture in the body, the reaction causes sulfurous acid, the compound known as H2SO3. That causes irritation, especially in the linings of the lungs, nose and windpipe, according to the Hawaii Emergency Management Agency.
"The best way to protect yourself and your family from the extremely dangerous volcanic gases is to leave the immediate area of the volcano defined by the police and fire department," said a notice from the agency.
The Hawai'i County Civil Defence Agency did not immediately respond to Newsweek's request for comment.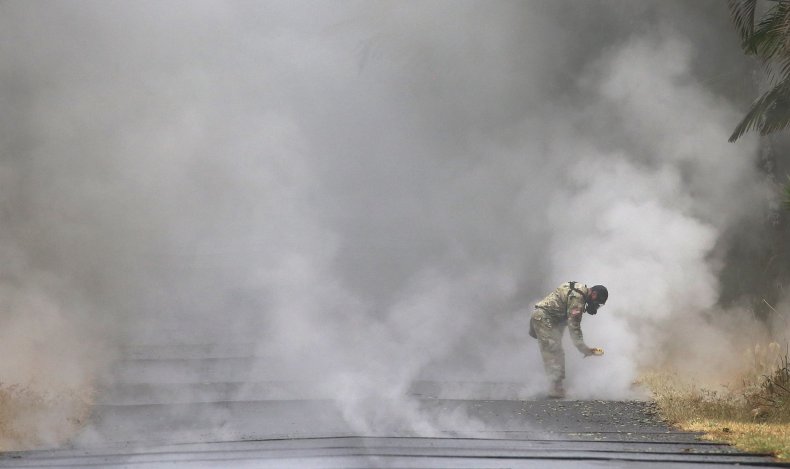 ​​