Philippines' Taal Volcano Starts Emitting Lava, Eruption Feared 'Within Hours' Amid Dozens of Earthquakes
Authorities in the Philippines have warned that the country's second most active volcano could suffer an "explosive eruption" imminently
Located around 45 miles south of the capital Manila, Taal volcano has been emitting ash and has started to spew lava, sparking the evacuation of around 8,000 people who live nearby.
Manila's international airport has been shut down with more than 240 international and domestic flights cancelled on Sunday.
Meanwhile authorities in the the province of Batangas, have declared a "state of calamity" with hundreds of thousands of other people expected to be evacuated in the coming days, the BBC reported.
Images of the volcanic aftermath show a thick black sludge covering cars and homes in towns nearby, due to the ash mixing with rain.
Taal is one of the world's smallest volcanoes, and sits in the middle of a lake, whose towns on its edges make it a popular tourism attraction. There are fears that an eruption could cause a volcanic tsunami in the lake.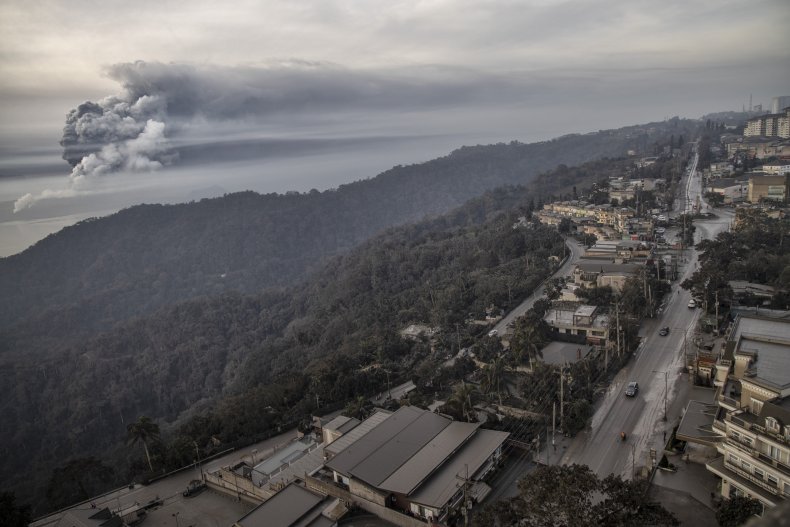 The Official United Nations Office for the Coordination of Humanitarian Affairs (OCHA) said around 450,000 people live within the eight-mile danger zone of the volcano and that 7,700 people are in 38 evacuation centers.
Wilson Maralit, who is mayor of Balete, a town which lies on Taal lake, told local radio."We have a problem, our people are panicking due to the volcano because they want to save their livelihood, their pigs and herds of cows.
"We're trying to stop them from returning and warning that the volcano can explode again any time and hit them," Maralit added, according to The Guardian.
The government volcano-monitoring agency, the Philippine Institute of Volcanology and Seismology, (Phivolcs) said that "steam driven" activity has ratcheted up into a "magmatic eruption" of weak lava flow which was accompanied by thunder and flashes of lightning.
It said there had been 75 volcanic earthquakes which signals that there may be "further eruptive activity."
The alert level has been raised to four out of a possible of five. "This means that hazardous explosive eruption is possible within hours to days," Phivolcs said in a statement.
Maria Antonia Bornas, from Phivolcs told reporters that the volcano had been closely monitored since March 2019 but the speed of its latest activity had taken them by surprise.
"Taal is a very small volcano, but a dangerous volcano," she said, adding, "It is unique because it is a volcano within a volcano," Reuters reported.
One of the most active volcanoes in the Philippines, having erupted more than 30 times in the past five centuries, most recently in 1977, according to Phivolcs. An eruption in 1911 killed 1,500 people and one in 1754 lasted for several months, according to Phivolcs.