Volcano Eruptions of 2021 in Dramatic Videos and Photos
2021 has been an eventful year for volcanic eruptions, with several major events occurring all over the globe.
Below are some of the most notable eruptions of the past year, alongside images and videos that highlight their awesome power.
Cumbre Vieja—La Palma, Spain
Among the most significant eruptions of the year was that of the Cumbre Vieja volcano, located on La Palma—one of Spain's Canary Islands off the coast of northwest Africa. The volcano began erupting on September 19 and did not stop until 85 days later. This made it the longest known eruption of a volcano on La Palma. It was also the first eruption on the island in almost 50 years.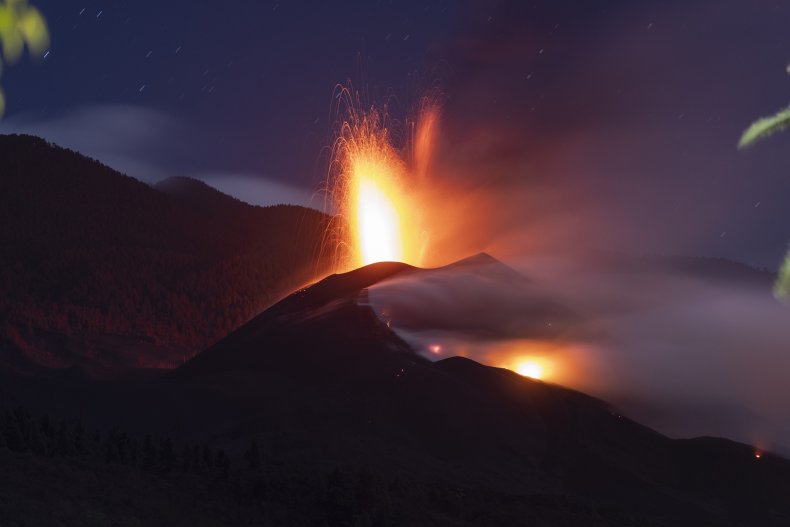 Lava flows from the eruption caused widespread destruction on the island, destroying thousands of buildings and swathes of farmland, while forcing the evacuation of more than 7,000 people. Fortunately, no serious injuries or fatalities were reported.
The video below, shared by the Canary Islands Volcanology Institute (Involcan), shows what officials described as a lava "tsunami" flowing out of the volcano, traveling at "amazing" speed.
Fagradalsfjall—Iceland
In March, Fagradalsfjall—a 1,263 foot high, long-dormant volcano in southwest Iceland's Reykjanes Peninsula—began erupting, after seismologists recorded tens of thousands of small earthquakes in the region.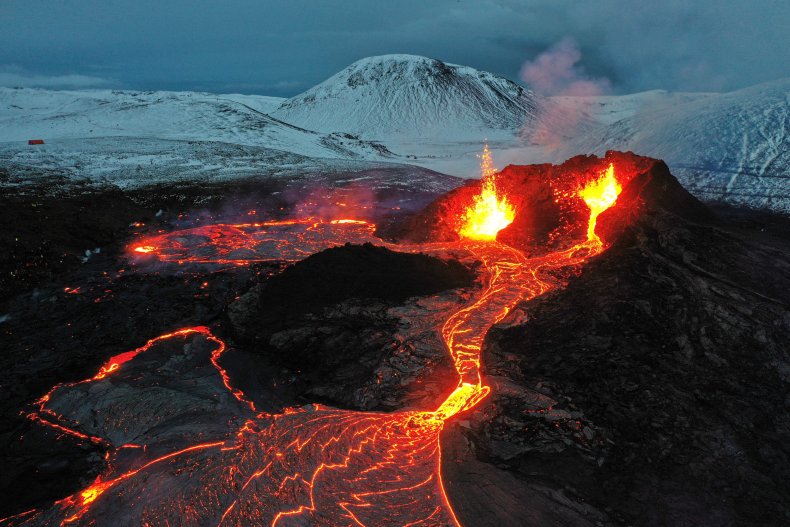 The eruption was the first to occur in the Reykjanes Peninsula for around 800 years, and thousands of people flocked to the volcano to observe the event. Some of these volcano tourists captured spectacular images and video footage of the eruption, including filmmaker Bjorn Steinbekk, who spoke with Newsweek earlier this year. You can watch Steinbekk's drone footage of the eruption below.
La Soufrière—Saint Vincent, Saint Vincent and the Grenadines
La Soufrière is a volcano located on the Caribbean island of Saint Vincent, part of Saint Vincent and the Grenadines. Toward the end of 2020, the volcano, which is the highest peak on Saint Vincent standing at more than 4,000 feet high, began spewing out lava, forming a lava dome in the crater of the volcano. This was the first eruption of La Soufrière since 1979.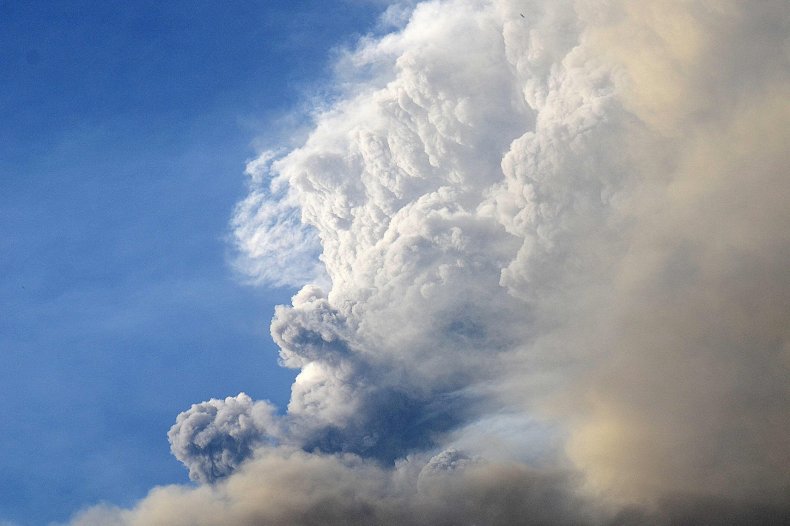 Then in April 2021, a series of explosive events began occurring, spewing out ash more than 20,000 feet into the air. Ash emanating from the volcano can be seen in the video below. Thousands of people had to be evacuated from the area around the volcano as a result of the eruption, which also produced dangerous pyroclastic flows.
Mount Semeru—Java, Indonesia
In early December, Mount Semeru—a volcano located on the Indonesian island of Java—erupted explosively, spewing out ash and generating several pyroclastic flows. The eruption resulted in the deaths of dozens of people living in the surrounding areas. The video below, filmed from a helicopter, shows villages blanketed in ash after the eruption of the volcano, which is one of the most active in the country.