Volcano Erupts Behind Children Playing Sports in Viral Video
Dramatic footage shared widely on social media shows a youth sports team in Italy training in front of an erupting Mount Etna.
The clip, filmed at the San Gregorio di Catania rugby ground in Sicily, shows the young players on a flood-lit pitch.
In the background, a stream of molten lava can be seen pouring down Etna's eastern flank, while a large plume of smoke hangs in the air.
The video, filmed last month, shows the team to be apparently unfazed by the eruption.
Europe's most active volcano regularly spews smoke and lava and has been in a state of eruption since 2011.
Lava fountains from the Southeast Crater rim have reached nearly a mile into the air—three times the height of New York's One World Trade Center—while a column of smoke, ash and volcanic gases has at times extended more than seven miles high.
The volcano and its eruptions are visible from the city of Catania, where the rugby team is based, and across the Mediterranean island.
In fact, the eruption has triggered such a large plume of smoke that it is regularly visible from space.
In a post on NASA's Earth Observatory website, the agency said "even experienced Etna watchers have been wowed by the intensity of the volcano's unrest" in recent weeks.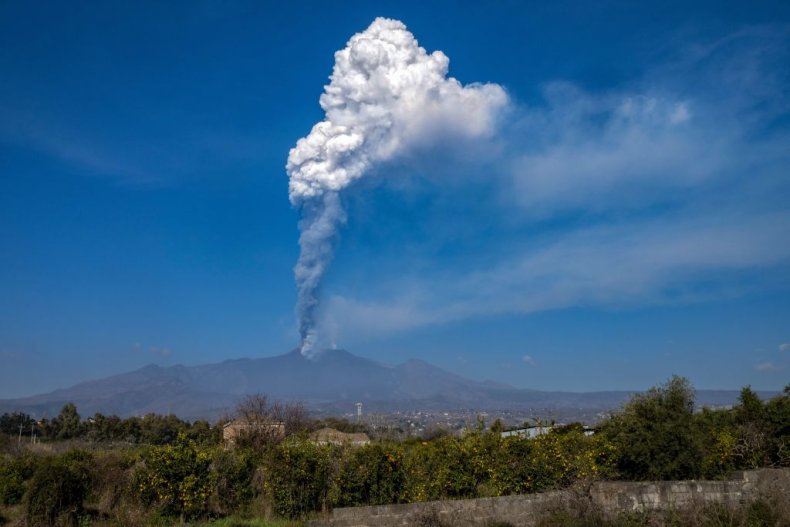 Etna's Southeast Crater, one of four summit craters on the volcano and the youngest, formed in 1971, has produced a string of lava fountains for nearly a week, starting on February 16.
Marco Neri, a volcanologist with Italy's National Institute of Geophysics and Volcanology, said: "The most recent novelty is that the last six eruptive paroxysms were among the most violent in the Southeast Crater's young history."
Catania airport was forced to close temporarily last month because of the eruptions and villages have been covered in volcanic stones as well as ash.
Alfio Cristaudo, mayor of the town of Pedara, told AP: "The entire territory of Pedara and all the streets are covered in volcanic ashes and lapillus," or volcanic stones.
To limit the spread of the ash, motorbikes and scooters were banned and the driving speed limit for cars was reduced.
Massimiliano Formica, a Pedara resident, said he thought it had been "raining in a weird way. I went out and I saw soil falling down. Also big stones."
In 1983, engineers had to use dynamite to divert lava that was streaming towards homes on the island and in 1992, the Italian army was called upon to build a protective wall around a village.