Photos: Volcano in Papua New Guinea Erupts, Spewing Fountain of Lava and Black Ash 63,000 Feet Into Sky
The Ulawun volcano, reportedly one of the most dangerous volcanoes in the world, has erupted—sending a 63,000-ft column of lava and black ash into the sky and forcing the evacuation of thousands of residents on the southwestern Pacific island of Papua New Guinea.
According to the volcano watching blog Volcano Discovery, the powerful explosion at the Ulawun crater sent ash and smoke hurtling 11 miles into the sky. The Volcanic Ash Advisory Center (VAAC) has revised its estimates as to the height of the massive eruption, expecting it to grow in size.
Images, captured by those on the ground and observers in the sky, have shown fountains of magma spewing out at the lower levels of the explosion. Satellite imagery shared online suggested the huge cloud of ash grew to a diameter of 93 miles.
The Australian broadcaster ABC reported that the eruptions began at around 7:00 a.m. local time Wednesday. An eruption warning prompted an evacuation.
In the following hours more than 5,000 people were forced to leave their homes. Flights to nearby Hoskins Airport were canceled, as access to the site has been cut off by lava flows. The area's regional highway has also been cut in three locations because of moving magma.
Local leaders have complained of government failures in properly addressing the risk posed by the powerful explosion. According to The Papua New Guinea Post Courier only five vehicles had been made available to facilitate the evacuation.
"The government did not come to help and we had to use whatever means we had to move people," Christopher Lagisa, a village elder, told ABC. He added that locals were waiting for water and food supplies that should arrive today.
Ulawun is one of the highest volcanoes in the whole of Papua New Guinea. The southwestern Pacific nation has a total of 67 volcanoes across its entire territory. Ulawun is one of six in the country considered to be high-risk, according to the Papua New Guinea Geological Survey.
The current eruptions are being compared to those at the Ulawun crater in September 2000 and May 2001, the last instances of dramatic volcanic activity at the site.Thus far there have been no reports of any casualties or homes destroyed by the current eruption.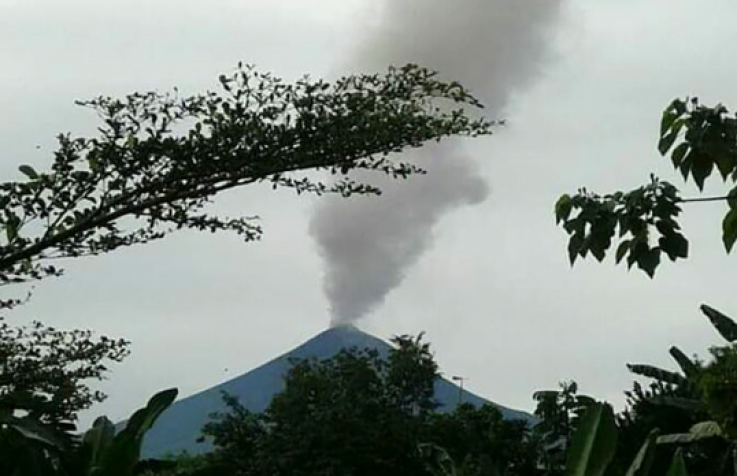 Photos: Volcano in Papua New Guinea Erupts, Spewing Fountain of Lava and Black Ash 63,000 Feet Into Sky | News