Who Is Volodymyr Zelenskiy? TV Sitcom President Leading Ukraine's Election Race
Ukraine may become the next nation to welcome a TV star as its president.
Volodymyr Zelensky initially found fame as a stand-up comic known for mocking the venality of his country's politicians. He then scored a global audience after Netflix picked up the Russian-language television program Servant of the People, in which he stars as a high-school history teacher who wins an election to become president of Ukraine.
Wildly popular in Ukraine, where citizens are sick of the graft of their elite, Servant of the People features Zelensky as Vasyl Holoborodko, whose rant against the kleptocracy of the government is filmed by a student and goes viral, propelling him into the presidency. More West Side Story than The West Wing, the show's dream sequences and flights of fancy highlight his dogged efforts at curbing corruption, as he shuns the sultan-like luxury associated with leaders of former Soviet states.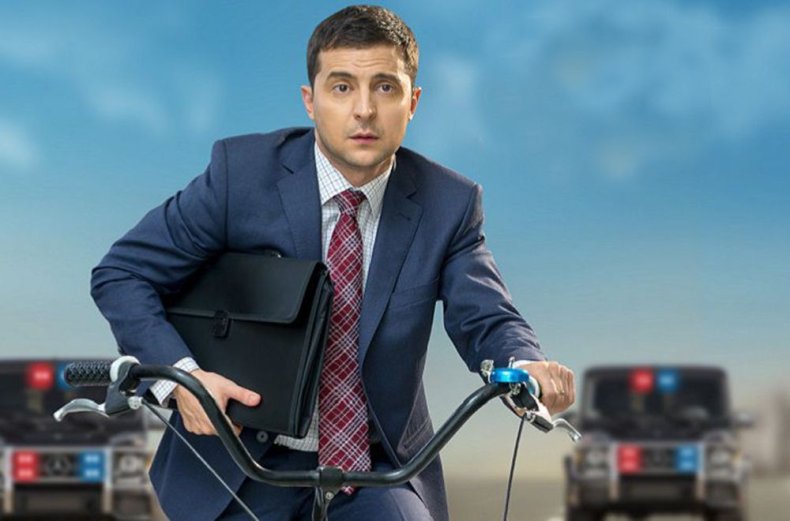 With 21.9 percent support in the polls, the 41-year-old Zelensky is ahead of former Prime Minister Yulia Tymoshenko's 19.2 percent and incumbent President Petro Poroshenko, who is now placing third, with less than 15 percent, according to Kyiv Post.
Zelensky told the Associated Press that, like his character in the TV series, he would focus on graft as president. "Corruption is everywhere. We need to reduce its impact on the government, on people's lives. People have grown tired of the old guard, so to say," he said.
Much like President Donald Trump, Zelensky makes a virtue of his political inexperience and courts anti-establishment voters, while critics have accused him of exploiting people's anger. His position in the polls appears to indicate that he is benefiting from Ukrainians' frustration with the failure of the political elite to deliver on the promises of the Euromaidan uprising.
"Zelensky has succeeded in attracting angry voters who have lost trust in the current politicians," Viktor Zamyatin, an analyst with the Razumkov Center think tank, told the AP.
In Servant of the People, Zelensky's character is unaware that pulling the government's strings is a group of oligarchs who want him to serve their interests. In the real race, he has faced similar claims that he is the stooge of the billionaire banker Ihor Kolomoisky, who is an enemy of Poroshenko.
The Center for Eastern Studies (OSW) a Warsaw-based think tank, has said Kolomoisky hopes a good result for Zelensky will help him send deputies allied to him to Ukraine's parliament in the elections in October, increasing his influence in the country.
"Kolomoisky is the main opponent of Petro Poroshenko, and has been seeking revenge for the revenues his businesses have lost by supporting the main candidates for the presidency, namely Tymoshenko, and now Zelensky," OSW wrote.
But Zelensky dismissed the claims he is following orders from his political patron Kolomoisky. "There is nothing to talk about," he told the AP. "I have no relation to him."
Timothy Ash, a senior emerging markets sovereign strategist for Bluebay Asset Management, wrote that Zelensky could beat Tymoshenko, but what would happen in a second-round run-off would depend on his political backers who support Tymoshenko and oppose Poroshenko.
His backers "will be asking whether their objectives are better served with a Tymoshenko or a Zelensky presidency. Zelensky might prove more malleable in their minds, hence they might still let him run, to defeat Poroshenko and Tymoshenko," Ash wrote, according to BNE Intelligence.