Zelensky Tells U.S. to 'Speed Up' as Russia Makes Gains in Bakhmut
Ukrainian President Volodymyr Zelensky has called on its Western backers to "speed up" the delivery of promised supplies to Ukraine as Russian forces claim to have advanced around the eastern city of Bakhmut.
Speaking in his nightly address on Sunday, Zelensky stressed the need to quickly "open up new weapons options for Ukraine." The Ukrainian leader said Moscow was hoping to "exhaust" Kyiv's resistance forces, telling his audience that the situation was "very tough" around Bakhmut.
He listed Bakhmut, along with the Donetsk town of Vuhledar, as under "constant Russian attacks," adding that the "enemy does not count its people and, despite numerous casualties, maintains a high intensity of attacks."
Heavy fighting has been reported in Vuhledar and Blahodatne, to the southwest of Donetsk city. Denis Pushilin, the Moscow-backed administrator in Donetsk, said Russian forces had gained a "foothold" in Vuhledar, according to Russian state media.
These reports haven't been independently verified.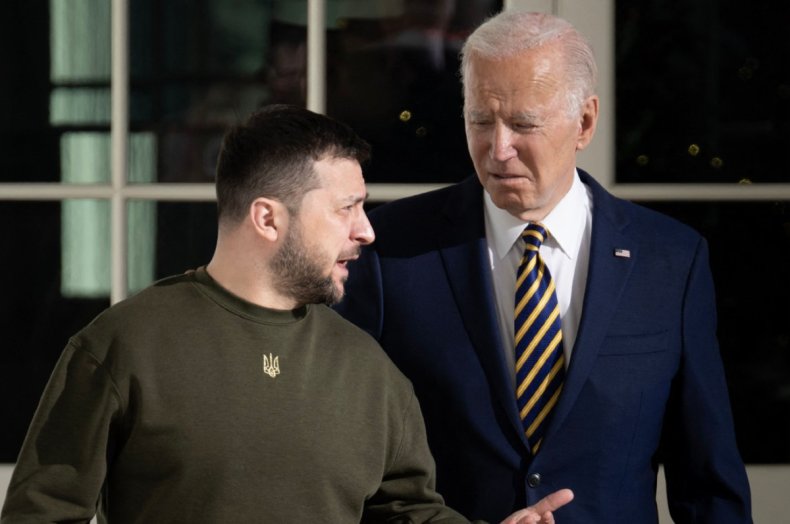 On January 25, the U.S. announced it would send 31 M1 Abrams tanks to Kyiv, which would equip a Ukrainian tank battalion. President Joe Biden said the donation was needed to for Ukrainian forces to "counter Russia's evolving tactics and strategy" in what he called "the very near term."
On the same day, German Chancellor Olaf Scholz confirmed Berlin would send 14 Leopard 2 main battle tanks to Kyiv, and allow the third-party transfer of the tanks from various other nations. The U.K. had already said it would transfer 14 Challenger 2 tanks.
But the deliveries were pledged with the caveat that the tanks wouldn't be rolling into Ukraine anytime soon. A senior White House official said in a briefing that "the deliveries will take some time because this is a procurement" through the Ukraine Security Assistance Initiative.
They added that the deliveries will take "months, as opposed to weeks."
Kyiv had long requested Western-made main battle tanks. An assessment published by the Study for the Institute of War on Sunday concluded that delays in Western supplies, including tanks, had prevented Ukraine's forces from launching sustained counteroffensives during the winter.
"The pattern of delivery of Western aid has powerfully shaped the pattern of this conflict," the ISW said.
Earlier this month, Professor Michael Clarke of the Department of War Studies at King's College London told Newsweek that speed was "of the essence" with the tank deliveries to Ukraine.
Germany's new defense minister, Boris Pistorius, said the Leopard 2 tanks would head for Ukraine's front lines by the end of March or early April. A similar message was echoed by British defense department minister Alex Chalk, who said the "intention" was to have the Challenger 2s arrive in Ukraine before the end of March.