Volodymyr Zelensky Calls for Mass Anti-War Protests Around the World
Describing Russia's invasion of his country as a "war against freedom," Ukrainian President Volodymyr Zelensky is calling for worldwide protests to end the conflict as it enters its second month.
Zelensky on Thursday called for the public show of support for Ukraine in a video posted online, marking the one-month anniversary of Russia's invasion. The former actor's celebrity has grown as he's appealed to Western powers for help, and the video was posted as President Joe Biden arrives in Europe to shore up support for maintaining pressure on Russia.
Speaking in English against the backdrop of a dimly lit street, Zelensky thanked those who've supported Ukraine.
"But the war continues, the acts of terror against peaceful people go on one month already," said Zelensky. "That long. It breaks my heart, hearts of all Ukrainians and every free person on the planet. That's why I asked you to stand against the war."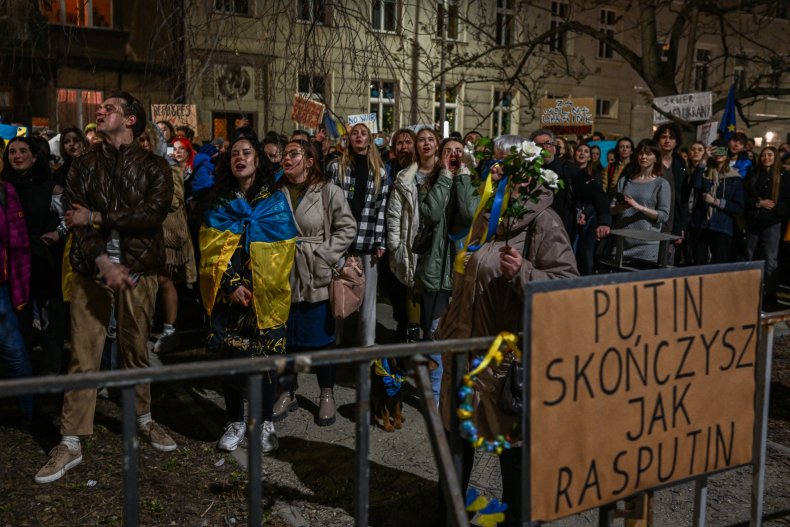 Zelensky asked supporters to come from offices, homes, schools and universities into the streets and squares carrying Ukrainian symbols to make themselves "visible and heard." He said Russia's attack on Ukraine had a broader significance.
"This is only the beginning for us on the Ukrainian land; Russia is trying to defeat the freedom of all people in Europe, of all the people in the world," he said.
Zelensky received a standing ovation last week after making a speech to Congress where he asked for new sanctions to be imposed on Russia until its "military machine stops." He also again asked for a no-fly zone over Ukraine to halt Russian air attacks, a request the U.S. and its allies have been unwilling to grant over fears of being ensnared into the conflict.
The U.S. and its European allies have enacted severe sanctions against Russia; Biden banned U.S. imports of oil and gas from the country this month. But Jake Sullivan, White House national security adviser, said earlier this week that Biden was "not going to pressure" European allies to stop buying Russian energy.
Oleg Ustenko, economic adviser to Zelensky, said in an interview with Newsweek that Russia has still been able to export oil and natural gas, providing the country a lifeline amid punishing economic sanctions. Ustenko called for an immediate embargo of Russian oil, acknowledging that cutting off natural gas will take longer.
While the European Union isn't likely to agree to an immediate halt to Russian oil imports, Ustenko said he expects the union's leaders to agree to cut off Russian energy exports, given the dire situation in Ukraine.
"We don't have a plan B," he said. "This is our plan. And we hope we are going to be heard."
Newsweek has reached out to the White House for comment.