Volodymyr Zelensky Fires Two Top Generals—Ukraine 'Traitors'
Ukrainian President Volodymyr Zelensky has decided to fire two of his top officials and has dubbed them "traitors."
In an address on Friday morning, the President announced that he had fired the chief of Main Department of the Security Service of Ukraine (SBU), Naumov Andriy Olehovych.
He also removed the head of the SBU in Kherson, Kryvoruchko Serhiy Oleksandrovych.
Zelensky posted this address on his Facebook page and also reflected on the low expectations people had for Ukraine's ability to stand up to Russia.
The Ukrainian president accused the two officials of failing to do their duty and protect Ukraine.
He also warned that they "will all be punished," but said he did not currently have time to deal with them.
"Now, I do not have time to deal with all the traitors. But gradually they will all be punished," Zelensky said in his address.
"That is why the ex-chief of the Main Department of Internal Security of the Security Service of Ukraine, Naumov Andriy Olehovych, and the former head of the Office of the Security Service of Ukraine in the Kherson region, Kryvoruchko Serhiy Oleksandrovych are no longer generals."
"Those servicemen among senior officers who have not decided where their homeland is, who violate the military oath of allegiance to the Ukrainian people in regards to the protection of our state, to its freedom and independence, will inevitably be deprived of senior military ranks.
"Random generals don't belong here."
Zelensky, who more generally communicates to praise his forces, did not go into further detail on why the two generals had been fired.
Before addressing the current situations on multiple fronts in Ukraine, Zelensky praised, what he called, the "heroes" within the Ukrainian forces.
"To the real heroes of the Security Service, the same absolute gratitude, just as to each and everyone who sincerely defends our state.
"There are really a lot of heroes among the servicemen, we are grateful to them."
Zelensky also commented on his diplomatic efforts to stop the conflict. He highlighted that he had spoken with European leaders on gaining more support, further sanctions for Russia and joining the European Union.
He closed his statement with a hopeful message about the future of the country.
"No matter what, we all have to think about the future," Zelensky said.
"About what Ukraine will be like after this war. How we will live because this is a war for our future.
"This is a war for our lives in which we have only one way, to gain peace for Ukraine. To gain Ukraine's security. Glory to all our heroes."
Newsweek has contacted the Ukrainian government and military for more information .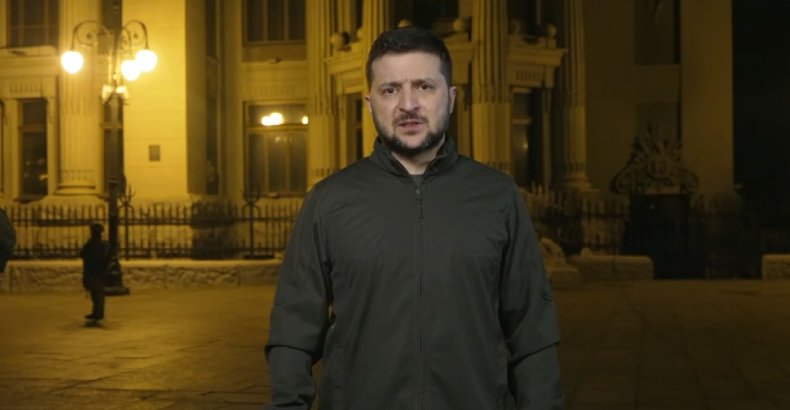 Update 04/01/22, 10:37 a.m. ET: This article was updated to include the fact that Ukrainian officials had been contacted for comment.