Zelensky Shows Off Powerful Friends on War Anniversary
Volodymyr Zelensky thanked Ukraine's "allies and friends" as he delivered a speech to mark the one-year anniversary of the Russian invasion of his country, stating the struggle has "united the world."
While the majority of his address was aimed at the Ukrainian people, he noted he was "glad that the international anti-Putin coalition has grown so much that it requires a separate address," one which he said would deliver shortly.
Zelensky's remarks came after a UN vote calling for an end to the conflict—which began with Russian tanks and armored vehicles crossing the border into Ukraine on February 24, 2022—as soon as possible, and an international show of continued support for Ukrainian victory.
Against the odds, in the first 12 months of the war, Ukraine has been able to hold off Russia's attacks and force its military into a series of retreats from regional capitals it was able to capture in the initial wave of the invasion. Russian occupation now covers the Donbas region and a land corridor in the south to the Black Sea.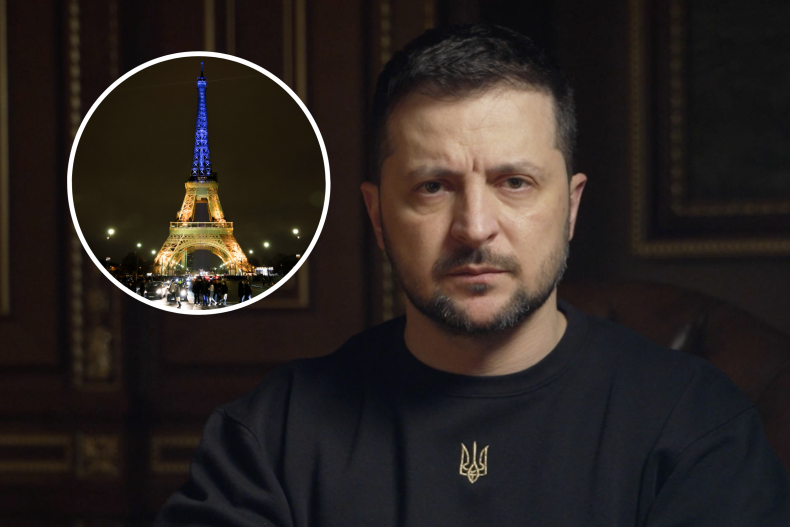 Ukrainian civilians have nonetheless suffered, with Russian armed forces being accused of war crimes including rape and murder. Over the winter months, it has adopted a policy of attacking Ukrainian infrastructure in an apparent bid to weaken the country's resolve.
In his speech, Zelensky vowed that the war would be won in 2023. He has previously repeatedly stressed his intention to take back all Ukrainian land, including Crimea, which Russia annexed in 2014.
"Ukraine has surprised the world," he remarked. "Ukraine has inspired the world. Ukraine has united the world. There are thousands of words to prove it, but a few will suffice. HIMARS, Patriot, Abrams, IRIS-T, Challenger, NASAMS, Leopard."
Since the war began, Western allies have supplied Ukraine with advanced defensive weaponry—some of which have become symbols of patriotism for Ukrainians. During a visit to Kyiv on Monday, U.S. President Joe Biden announced a fresh $500 million package of military aid.
Zelensky thanked "all of our partners, allies and friends who have stood side by side with us throughout the year."
On Thursday, the UN General Assembly adopted a resolution calling for a "comprehensive, just and lasting peace" in Ukraine. The resolution was backed by 141 countries, with seven against and 32 abstentions.
On the eve of the one-year anniversary, Zelensky described the resolution as a "powerful signal of unflagging global support" for Ukraine, and a "powerful testament to the solidarity of [the world] community with [Ukrainian] people in the context of the anniversary."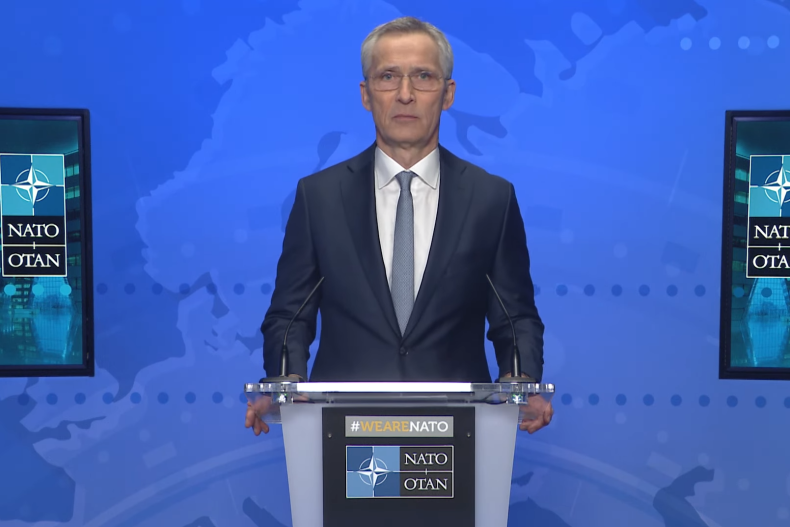 Meanwhile, Jens Stoltenberg, the NATO secretary general, said in a speech marking the anniversary that Russian President Vladimir Putin had "totally underestimated the resolve of NATO allies to stand united and to provide unprecedented support [to] Ukraine."
"NATO will stand with Ukraine for as long as it takes," he added. "We stand by your right to choose your own path, as a proud, sovereign and independent nation in Europe."
Tributes to Ukraine's resilience flowed in from allies around the world. In Paris, the Eiffel Tower was among monuments illuminated in the blue and yellow of Ukraine's national flag.
In London, the U.K.'s former prime minister Boris Johnson—who was recognized by Zelensky as a close friend for his support while in office—joined the capital's mayor, Sadiq Khan, and members of the Ukrainian diaspora for a service at a catholic church. Khan said that Ukrainian "valour inspired the world."
In a statement, the White House said the U.S. "rallied the world" in response to Russia's invasion as it announced additional actions to support Ukraine, including anti-drone systems and a third shipment of electrical transmission grid equipment to aid the nation's battered energy infrastructure.