Zelensky Frustrated Ukraine Military Made Decision Without Him
Ukrainian President Volodymyr Zelensky voiced frustration with military leaders after they added restrictions on the movement of military personnel without his input on Tuesday.
The new restrictions would require Ukrainian conscripts, reservists and others subject to military service to obtain permission from military territorial recruitment and social support centers to leave their territory, Ukraine's General Staff of the Armed Forces announced on Tuesday.
The public disagreement is rare among Ukrainian authorities, who have earned worldwide praise for their leadership amid Russia's invasion, which began more than four months ago in February. It came as Ukrainian defenders have fought back against the Russian military, containing fighting to the eastern part of the country.
"Dear citizens—conscripts and those liable for military service! I remind you that the war is going on. Your country needs you," Valeriy Zaluzhny, commander-in-chief of the Ukrainian Armed Forces, said in a Facebook post reported by Ukrinform, a Ukrainian news agency.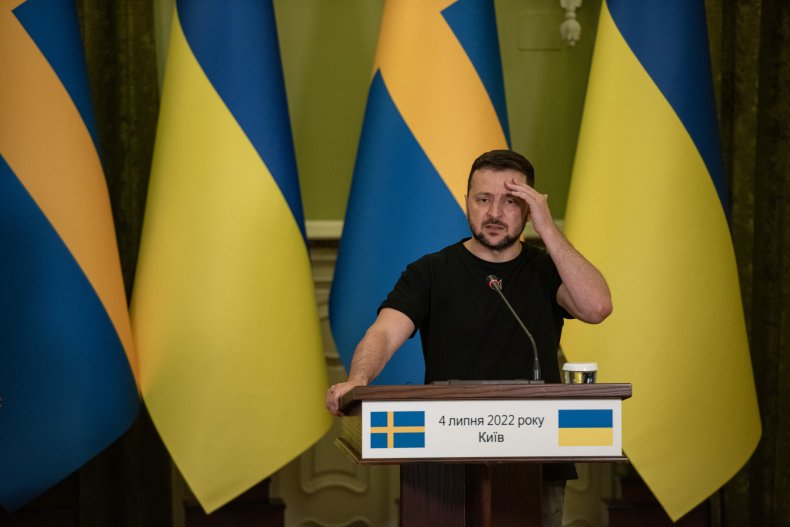 He continued: "Everyone who has not still registered or renewed their military registration should do so. Those of you who are planning to leave your districts and regions must obtain permission from the territorial recruitment and social support center."
Zelensky criticized the decision during a national address, saying it should not have been made without his input and that it caused "a lot of disputes."
"I see that there are different assessments of such a decision. There is misunderstanding, and even indignation in society," he said in translated video remarks, adding that he has instructed military leaders to provide him with more details about the decision in a meeting on Wednesday.
He continued: "I promise the people to figure it out. And I ask the General Staff not to make such decisions without me in the future. Glory to Ukraine!"
The General Staff made the decision to help "streamline the accounting of displaced persons," according to Ukrainian news outlet The Kyiv Independent.
The move was met with criticism from some Ukrainians, who took to the comment section of the announcement on Facebook to express concerns that it unfairly restricts peoples' ability to travel, could harm the economy and that the announcement was not clear about what movements would still be allowed under the newly enacted rule.
Russia-Ukraine War Continues
As the Ukrainian government deals with the issue of travel permits, soldiers are continuing to battle for control of parts of eastern Ukraine—and the Russian military has made some recent gains despite months of failing to make any substantive progress.
British intelligence said on Tuesday that Russia's recent capture of Lysychansk allows the Kremlin "to claim substantive progress against the policy objective it presented as the immediate purpose of the war."
Russian President Vladimir Putin announced the invasion in late February as a "special military operation" to "liberate" Donbas, a region of eastern Ukraine with a relatively high concentration of Russian speakers. World leaders, however, have raised concerns the Kremlin has its eyes set far beyond the region.
Still, the British Ministry of Defence said Ukrainian forces could "fall back to a more readily defendable, straightened front line."