Putin Could Attack NATO Next Year, Zelensky Warns
Ukrainian President Volodymyr Zelensky on Wednesday warned NATO leaders that Russian President Vladimir Putin could possibly spread his attacks to a NATO country within a year.
Zelensky made the comments during an address delivered via video to NATO's summit in Madrid. Russia has been at the center of much of the gathering's activity since it began on Tuesday. In a declaration, the 30-member alliance called Russia the "most significant and direct threat" to its members' peace, and NATO Secretary-General Jens Stoltenberg called Putin's invasion of Ukraine "the greatest security crisis in Europe since the Second World War."
Zelensky's virtual appearance came after NATO's Tuesday announcement that Turkey agreed to a deal that clears the way for Finland and Sweden to join the international alliance after the country had previously said it would block the two Nordic countries from joining due to security concerns. The move struck a blow to Putin, who has cited the possibility of NATO expansion as one of the justifications for the conflict in Ukraine.
Putin could still seek to attack other countries if further action is not taken against him, Zelensky warned the summit attendees.
"Next year, the situation may be worse not only for Ukraine but also for several other countries, possibly NATO members, that may be under fire from Russia," Zelensky said, according to CNBC. "Then it will be our common failure—both for Ukraine and for NATO."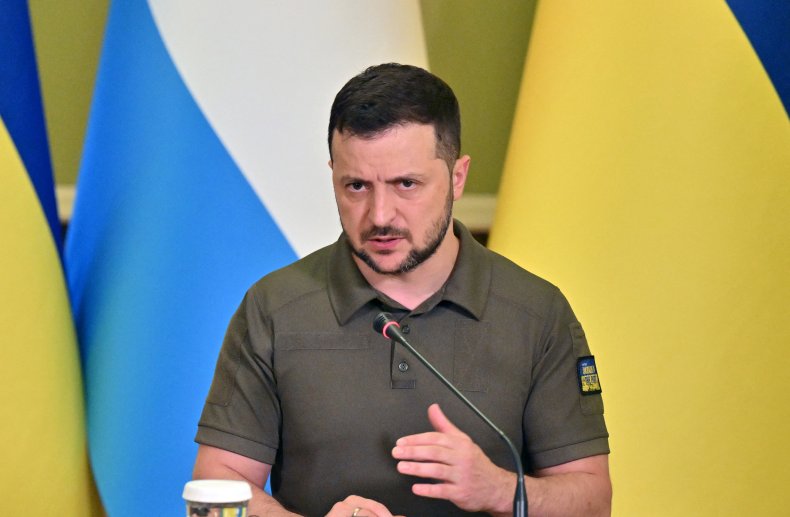 Elsewhere in his address, Zelensky said, "Russia's tactics are very simple. It destroys everything—houses, shopping malls, schools, hospitals. More than 2,800 missiles since February 24, and the vast majority were aimed at civilian targets."
The Ukrainian leader added that Russia would not stop even if it was successful in taking the Donbas region of Ukraine, saying, "It wants to absorb city after city, all of us, and then all in Europe, whom the Russian leadership considers its property, not independent states. This is Russia's real goal."
He then asked the NATO leaders which countries Putin may target next.
"Moldova? Or the Baltic countries? Or Poland? The answer is—all of them," Zelensky said.
As he has in recent weeks, the Ukrainian president asked the NATO leaders to send more weapons, including modern missiles and air defense systems, to help his country's forces fight off Putin's military. He also called for more financial sanctions against Russia that would hinder its ability to wage the war.
"This is not a war of Russia only against Ukraine, this is a war for the right to dictate conditions in Europe. For what the future world order will be like," Zelensky said.