Volunteers Fight President Trump's 'Attack on Science' by Safeguarding Data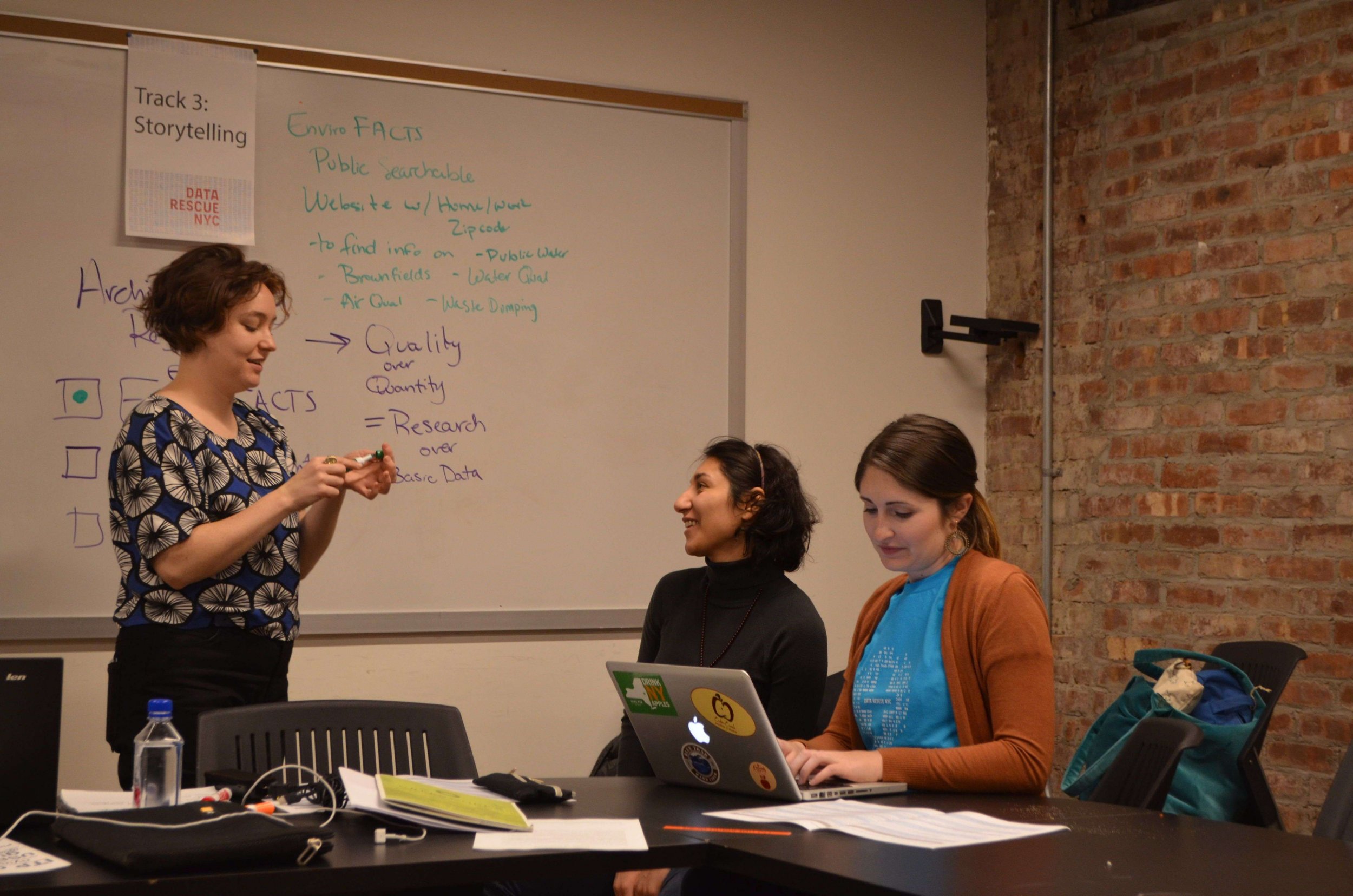 Pat Hackbarth has studied environmental data for years. Because of the Donald Trump administration's "attack on science," she and other volunteers came to New York University on Saturday to help safeguard the government's scientific data.
"The knowledge that the government collected is our knowledge," volunteer Julia Wapner said. "As a country, we have a right to it."
Scientists, lawyers, librarians, technology experts and other volunteers joined forces as part of an effort run by the Environmental Data and Governance Initiative (EDGI), to save data from federal agencies such as the EPA, NASA, NOAA and others. NYU hosted the event in the Tisch School of the Arts, and it was co-sponsored by the Department of Anthropology, Gallatin School of Individualized Study, the Institute of Public Knowledge, and Public Lab.
Amateurs and scientists alike sat hunched over laptops at tables with power strips a few feet long. Organizers trained volunteers at different stations to "seed" webcrawlers onto pages to copy their data. "We're mapping an infrastructure for the tool to follow," Wapner said. Volunteers also manually scraped pages that could not be copied by the webcrawlers, a time-consuming process for volunteers Brandyn Friedly and Sally Isaacoff. "It's a lot to learn, and I'm just taking it all in," Isaacoff said. She works with technology every day and found out about EDGI through a Wired article. "I'm really impressed by how organized it is," she said. "There is not a duplication of anything."
Friedly plans on getting more friends involved in EDGI. "The energy, talent and amount of people wanting to do good today is inspiring," he said. "That's what this is really about. The building of community will sustain itself over the next four years."
A "storytelling" track focused on narratives that would help the public understand the importance of environmental data. "We're finding stories related to databases that affect things in their businesses or in their daily life," Samira Darvishi said. One example was the need for first responders to be informed about air quality in places where chemicals have leaked and could react with air pollutants.
The "Next Steps" track involved conversations about the future of EDGI and the data rescue events. "In the future, we're looking at creating video and web tutorials so people can look through this data on their free time," said Jerome Whitington, a professor of anthropology at NYU and the event's main organizer.
EGDI has run data rescue events in cities across the nation, including Chicago, LA and Boston. Overall, the New York City's event archived more than 5,000 URLs; and downloaded, archived and provided metadata for about 100 gigabytes of data. The next EDGI data rescue event, "Data Rescue SF Bay," is on Feb. 11 at the University of California, Berkeley.
"We let people pick up where we leave off," Whitington said. "There is no risk of running out of data on the internet."